Return to Headlines
Weekly Update 10/22/20 Facebook Live with Dr. Jordan
Facebook Live Transcript from Dr. Jordan 10.22.20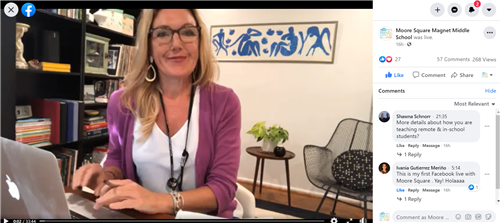 Click here to read the answers to the questions we received in the form we provided for parent questions on 10/12/20 and discussed on 10/15/20 Facebook Live. We will continue to update as we learn more and receive more guidance from the district.
Our first cohort of students will return to campus on November 9. We will begin our rotation with cohort 3. There will be so much excitement to have our students back in the building. Cohort 3 students and families will be receiving information in the next two weeks from their teachers. Please stay alert for Remind messages and email updates. We are also in the process of creating videos...starring our own Moore Square students....that provides an overview of for our students of what to expect when they return to school. Actual Moore Square students will be demonstrating each step of the day for our kids. Students will see the procedures for arrival in carpool, buses, and for walkers. They will see a simulation of the health screenings students will receive daily upon arriving at school. They will see the signage we have in the building to direct traffic flow. They will see students simulating how they will transition between classes and how they will sit in their classrooms and in the lunchroom. These videos are designed to help prepare our students for an easy re-entry on November 9, but as always there will be many staff members stationed all throughout the campus to assist students with any questions they have or to help direct them.
Teachers are preparing activities for their time back with students. We will be spending a great deal of time revising our ROAR expectations to meet the needs of the return to campus. Masking, social distancing, and handwashing procedures and expectations will be covered thoroughly and reinforced regularly. Students who are virtual and remote will also participate in these activities so they will be prepared for their eventual return to campus.
Many of you have had questions about how the school day will change when we begin having students return to campus
In most cases, we don't anticipate a change in teachers. In some cases where teachers are teaching the same core class (ie: Social Studies, Science, ELA) teachers may share the responsibility of teaching the VA, remote, and face to face students. In these cases, the teachers will plan together and use the same pacing guides to develop their lessons.
In some cases, teachers will deliver their live instruction (25) minutes to their virtual & remote students and then transition to their face to face students for the second half of the period. In other cases, teachers will be splitting up the responsibility for the remote/virtual students and face to face students.
This will vary due to the difference in the number of teachers we have who teach the same content areas.
Teachers are currently finalizing their plans for how they will deliver the instruction once we have students return to campus. The scenarios will vary, but students will still be following their daily schedule as they are doing now.
Once teacher plans are finalized, you will be notified of any changes to your child's schedule.
One final note about devices. If you have a school system issued a device, your child should bring that with them when they come to school. For students without school system issued devices, they may bring their own device from home. Students using their own devices should complete the BYOD Agreements. Your child's grade level teachers will collect these forms.
Reminders:
Tomorrow is the last day of the first quarter! Monday is a teacher workday, no school for students! There will be no asynchronous day next week. Please check Power School on 11/4 for the final grades. Report cards are not mailed home. Please check your child's schedule for quarter 2 in Powerschool to make sure they don't have any holes in their schedule. New classes for our second quarter will start on Tuesday, October 27th.

The Virtual Academy registration window for the spring semester has been extended until November 4.

Use this link:

https://www.wcpss.net/Page/46086

Please read over the

Student Accountability and Required Health Protocols

document and return a signed copy of

the last page,

stating you acknowledge that you have received and understand the expectations outlined if your student is returning to the building for Plan B, to Mrs. DiBlasi (

cdiblasi@wcpss.net

).

The

magnet application period

is open through January! If you have friends or neighbors interested in Moore Square, please have them visit our magnet information Google site-

https://bit.ly/M2MMSmagnetinfo

If you have a current 8th grader, check out our high school options slideshow. If you have a former M2 student and would like to add information about your current 9-12 grader, email lshepard@wcpss.net

Early voting has started!

Make a plan to vote! You can even

take the bus

to the polls, as

early voting locations

in Wake County are served by GoRaleigh, GoTriangle, GoCary & the Wolfline.

We are noticing that about 160 of our parents still do not have access to PowerSchool/Homebase. PowerSchool is also known as Homebase and gives parents access to real-time information including attendance and grades. Please email Mrs. Georgette Harrington at

gtolson-harrington@wcpss.net

to gain access to your child's grades. Quarter 1 ends on Friday, October 23rd and it is imperative that you are able to access your student's grades through the Parent Portal.

We'd like parents to let us know if they will be using carpool this year so we can have your carpool tags ready for you. This will also assist us in preparing for carpool on November 9. Getting you through the carpool line quickly is always our goal, but with health screenings and social distancing, it may prove a challenge this year. Knowing how many actual carpoolers we will have on November 9 will be a big help in planning. We will be sending out the link to the form in the transcript to this post via School Messengers.

School pictures will be on November 18. Pictures will be taken in the front main lobby. Schedule an Appointment: https://booknow.appointment-plus.com/cxhkghhs/ (Everyone must have an appointment, walk-ins not permitted). Picture Day ID - EVTDWGCBF. Order School Pictures: www.mylifetouch.com

Yearbooks are on sale right now through 10/23 for $35. After that, they will go up in price until we sell out. Also, please continue to submit your yearbook pictures to

https://images.jostens.com/415464728

or email them directly to

mooresquareyb@gmail.com

.

On Monday, October 26, we will have a makeup supply and spirit wear pickup from 8-3.

Mrs. Skinner is available during Q2 materials pickup, as well as, every Tuesday and Thursday until 4:00pm for

library book pickup

! You will be able to return any library or ELA books as well.

During our pickup, every student will also receive a mask holder lanyard courtesy of our amazing PTSA!

We are excited to announce that next week our Facebook Live post will be for our Spanish Speaking Families. Please spread the word! Dr. Maria Rosa Rangel from Wake County Public Schools will assist our school team in providing next week's post. We are excited!

PTSA Announcements:

Moore Square Votes selfie challenge" Post a photo to Facebook or Instagram of you outside of your polling place (remember it is prohibited to take photos INSIDE your polling place) or mailing your ballot or of your BallotTrax with the hashtag #MOORESQUAREVOTES and you will be entered to win 1 of 5 Moore Square car magnets.