Return to Headlines
Weekly Message 9/3/20 Facebook Live with Mrs. DePinto
Facebook Live Transcript from Mrs. DePinto 9.3.20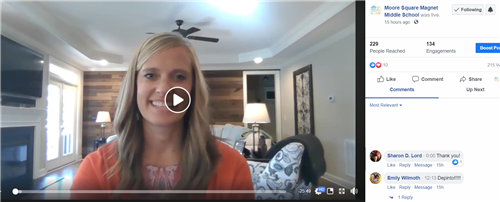 Hello Moore Square families,
I hope that everyone is doing well and getting the hang of our virtual learning. We know that this has been a different beginning, but you have ROCKED IT and we are so proud of you! We are thankful to be able to continue to connect with you through our weekly Facebook Live events. Tonight, I will be sharing some updates and tips as we continue to navigate this year.
Attendance
Thank you for hanging in there with us as we learn new attendance guidelines. As you can imagine, it is much easier for a teacher to glance around the room as students are entering and complete attendance. In our virtual world teachers have been trying various techniques to streamline this process. You will notice that for each period that a student is "present" you will see a "1R" in the attendance for that class, while you will likely see a "2A" for absent. The 1R code is "present off-site" and will be used for remote learning. If you have advanced notice of an absence (doctor appointment, dentist appointment, etc.) the student can email the teachers and make sure to catch up on any assignments from the missed class to stay engaged. If you have a doctor's note, you can email that to Ms. Harrington at gtolson-harrington@wcpss.net. If a student misses a live class unexpectedly (sickness, connectivity issues, etc.), please encourage them to email their teacher and check Google Classroom or Canvas for the assignments.
PowerSchool and Grading
As many of you already know, PowerSchool is a great communication resource for parents to be updated about their child's progress. If you have not signed up for PowerSchool, please email Ms. Harrington at gtolson-harrington@wcpss.net with your child's name and any siblings so that she can help you get set up. You should begin to see at least one graded assignment for each of your child's classes each week in PowerSchool. We have altered our grading policy slightly this year to accommodate for virtual learning. In the past, assessments have been 60%, classwork 30%, and homework 10% of a student's grade. Since it would be challenging to separate classwork and homework, we have combined those 2 categories for a total of 40% of the grade. This may include guided practice during a meet, asynchronous work time assignments, etc. and will be called classwork/independent work. Assessments will continue to be 60% of the grade and may include tests, quizzes, projects, papers, etc. Please communicate with your child's teachers if you have a concern about grading.
Daily Schedule
Congratulations on successfully completing the first full week of instruction! We hope that you are getting into the swing of things with the daily schedule, but we understand that there have been some questions about this that I will try to address here. Teachers have begun to dive into content and students should be engaged in 5-6 total hours of learning each day. The 5-6 hours includes a minimum of 2 ½ - 3 hours of live (synchronous Google Meet) instruction (although it could be more) and the remainder of the time will be independent work (asynchronous) learning. Students will log-on to their live instruction at the beginning of each period for approximately 25 minutes. The remaining class time will be for students to complete independent work. As we move forward with instruction, this time may include some small group time with a teacher, opportunities to pop back into a Google meet for questions, and/or independent work time. If it works better for your family, you can even build this asynchronous portion of the period in at another time during your day. Please note: Fifth Period is only 25 minutes on the schedule. This is correct! The district requires each school to include an hour lunch block in the schedule. In order to meet this requirement and fit in all 7 periods of our day, 5th period is only scheduled for the 25 minute live Google Meet. Students can certainly use 25 minutes out of the hour lunch break to complete any independent work OR complete that work at a later time. If your child needs support with the independent work for this period, please reach out to the teacher to coordinate a plan for support.
Cameras during Live Meets
Since we started teaching remotely this year, teachers have noticed that many students turn off the computer's camera when they are in "class" on a Google Meet. While we understand that there are many reasons for this that we respect and honor, we wanted to give you a little insight into some of the reasons that a teacher may ask students to turn on their camera, if they are comfortable doing so.
*Please Note: It is WCPSS policy that we can ask students to turn on their cameras for various reasons, but we cannot require it. We will continue to abide by this policy.
However, when students turn off their cameras, the following may happen:
Teachers cannot receive any nonverbal information from a child. If children give the "huh" look, they can quickly alter teaching to address any confusion. When teachers are able to "read" nonverbal cues, they have the ability to change instruction to meet students' needs much like in the face-to-face classroom.

Teachers don't always know if kids understand or not. Calling on students takes more time when they need to "unmute" their microphones. Often teachers ask questions or just want to know if kids understand. They look for a thumbs up or thumbs down which takes seconds for a child who is learning with his/her camera on.

In math (and other subjects too) teachers cannot ask to see students' work. They cannot share their knowledge or strategies with the class. Perhaps students harbor a misconception that can be cleared up, but teachers won't know if they cannot see their work until they are assessed, so grades MAY suffer.

When kids' cameras are on, teachers learn names and faces better, creating a meaningful student-teacher relationship which is VITAL for increases in academic achievement.
Again, we will never require a camera to be on, and we know there are times when kids want to turn their cameras off for good reason (bathroom break, blowing nose, baby sister is screaming, etc.), but we just wanted to give you a little more information about ways this can be helpful in the virtual environment. (Thanks to Ms. Rice for all of this great feedback!)
Clubs/Peer Engagement Opportunities
Quite possibly the most difficult part of this time is the limited social interaction. We hear you, we feel you, and we agree with you on this one! We miss it too! At this time, WCPSS has not lifted restrictions on extracurricular activities so we will not host formal clubs, but hope to reinstate these as allowed. We will keep you updated. We are currently working with PTSA and Student Council to see if there may be other opportunities to connect students and families. PTSA has developed a Student Connection poll to help facilitate this and help us strategize. For privacy reasons, we will not include the poll address here, but please check out the PTSA website at mooresquareptsa.com.
From the homepage (about mid-way down the page), you can click on "sign up for updates" and sign up for the MemberHub newsletters, or, even better, next to that click "Join" to join the PTSA to stay connected with events and information! From the MemberHub dashboard, we've linked the student connections spreadsheet in the lower left-hand corner.
Materials/Supplies
If your child still needs materials and/or supplies, like math workbooks, ELA novels, art class supplies etc. you may come by the school between 7:30-3 to pick these items up. You can also put media center books on hold through the link on the Moore Square website and pick those up until 4 PM on Tuesday and Thursday. Please contact an administrator or the main office if you have specific questions about needed supplies.
Yearbook
Our yearbook team is working hard to document this unique school year. Please send your virtual learning pictures to Ms. Meyers here or email them to mooresquareyb@gmail.com.
Google Classroom/Canvas: Parent Use. . . COMING SOON!
We have heard that some parents have questions about the parent options in Google Classroom. While I would love to answer these for you, I'm pretty sure I might confuse you more and I am going to leave this to the teachers that are truly the EXPERTS! Coming soon: We will either host another Facebook Live and/or create some videos to share some more detailed information about getting the most out of these learning platforms for parents!
Thank you for joining us tonight and continuing to work alongside us as we make this another great year of learning, growth, and development. We are truly amazed at the patience, understanding, support and grace you have shown us and we are so thankful! Stay safe, stay well, and we will see you next week!