Return to Headlines
Weekly Message 8/27/20 Facebook Live with Dr. Purvis
Facebook Live Transcript from Dr. Purvis 8.27.20

Greetings Moore Square Families,

I hope you have had a great first full day of instruction! The staff really enjoyed seeing everyone yesterday at the Beginning of the Year KickOff! As you know, today begins the first day of curriculum instruction so it is vital that all students have adequate technology access. This evening I will share information with you about Device Distribution, Technology Trouble-Shooting, and Parent Supports.
Focus One: Device Distribution
I want to start off tonight with Device Distribution for those of you who are patiently waiting for a Chromebook from the district.
Those who indicated they needed Chromebook devices in the original device request survey and those who made requests through the school will receive a notification via email when their devices are ready to be picked up. Please note that if you recently made a request, your device may not be ready for pick up at this time. Please be patient as the district works through thousands of requests.
All devices that have been requested for students in the same family will be available for pick up at the same time if they were made at the same time.
You may pick up your device at any one of the five high schools designated as an option. Choose the school closest to your home. Distribution Centers: Devices will be distributed at five distribution centers across the county: Apex, Enloe, Leesville Road, Knightdale, and South Garner high schools.
Please wait until your assigned pick-up date before going to a distribution site to pick up your devices.
If you go to a distribution site prior to your assigned date, there will not be any devices available for you.
You will be notified via email three days before your pick-up date. You can pick up any time on or after your pick-up date.
On or after your pick-up date, you will be able to pick up all of your requested devices for all of your students at the same time from any of the distribution sites.
The notification email will include information about distribution site locations, hours, and pick-up procedures.
If you need devices but did not submit a survey response, please contact the school. Either Ms. McCaskill, Mrs. Skinner, or I will assist you.
If you requested a device, you will be notified of your assigned pick-up date as soon as possible, if you have not already. Thank you for understanding that the district needs to limit the number of people who are notified to ensure distribution sites can maintain social distancing. This is for the protection of families, staff, and volunteers.
If you are still awaiting a device, please continue to work with your child's teachers to find ways to stay connected. Our teachers will be flexible and not leave any student behind because of limited technology access. (#grace)!
Again, we thank everyone for their patience and understanding. The district is committed to getting devices to everyone who requested them just as quickly as possible.
Focus Two: Trouble-Shooting
Now let's talk about troubleshooting your technology at home.

My first suggestion is for you to contact the Parent Help Desk. The tech specialists are equipped to answer your questions and support you. They can walk you through issues you may be experiencing. Although our teachers would love to help you, they are busy providing instruction. You can contact the Help Desk at 919-694-8100.
Contact the Help Desk
Having trouble? Families who have a technology issue and need help can contact the Student Help Desk at http://StudentTechHelp.wcpss.net or by phone on weekdays from 6:30 a.m. to 8 p.m. at 919-694-8100. Translators are available. They also have a FAQ page! https://staform.wcpss.net/

If a student has a physically broken device they can bring the device and the charger to any of the distribution sites to have it assessed by a specialist. The device will be repaired or replaced on site. Parents do not need an appointment to come to the high school distribution site if the device is broken or damaged.
We have also heard that some other schools are experiencing a black screen on Google Meets.
Here is what you can try to fix this if it happens at your home :
1. Clear cookies and history
2. Double-check log-in accounts (Make sure students are not using personal email accounts) ALL students should be using the WCPSS account.
3. Using Google Chrome browser.
4. When all else fails, restart the computer. If this doesn't help, then call the HelpDesk.
The most common issue we hear from parents and students involves the Z-Scaler login. If your student gets a prompt to login, they should put their full Wake ID in there, which is:
studentname@students.wcpss.net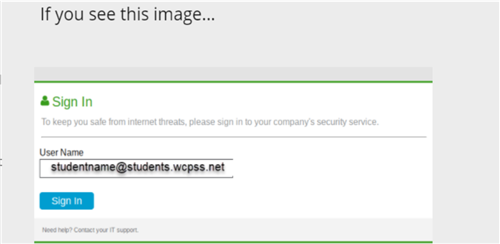 They should only need to do this once. This will enable content filtering on the device while the student is logged into the Chromebook with their Wake account.
Focus Three: Online Learning
Keeping up with your student as they learn online can be difficult. This can be even more challenging if you have more than one child in school. Online learning requires students to manage their time and assignments, often without adult supervision. This can be hard for students of any age, but especially for younger students. Here are a few tips the district shared that may help parents keep up:
A. Know the basic places your child's teacher shares information
Make sure you know where the teacher is posting assignments, announcements, and feedback. Teachers will be using Google Classroom or Canvas. This site https://www.wcpss.net/domain/17273 gives you and your student(s) guides on how to use both.
B. Know what resources are available
Get the login information to the WakeID portal for your student. This will allow you to login and see what resources are available to your student(s) and give you insight into the work that needs to be done.
C. Get notified of assignments
Download the Google Classroom and/or Canvas app to your smartphone or tablet. Once you download the apps needed, you can login as your student and get notifications when assignments are due. Download Google Classroom (Google | Apple) or Canvas (Google | Apple)
D. Keep track of grades
If you are a parent of a student(s) in grades 6-12, sign up for an account to the Parent Portal. Signing up for an account will enable you to keep track of your student(s) grades and assignments past due. You can also download the Powerschool app for your mobile device. Download Powerschool (Google | Apple). Mrs. Harrington, Data Manager, is also available to assist you with accessing PowerSchool. She can be reached at gtolson-harrington@wcpss.net or by calling the main office at 919-664-5737.

Thank you so much for joining me this evening during this facebook live. We look forward to you joining us next week to learn 'Moore' about what's happening at Moore Square.
Have a great evening everyone.
Helpful Links:
Instructions for Student Log in:
https://docs.google.com/document/d/172On3HTMSbrTsWN6kFOWsQyJE6yS3uvSVs5M9dtzkMY/edit?usp=sharing
Parent Technology Help Desk Link:
https://sites.google.com/wcpss.net/instructional-continuity-wcpss/technology-support-for-families
Guides to Technology:
https://www.wcpss.net/Page/35459

Parent Digital Resources Link: