Return to Headlines
Weekly Message 6/18/20 Facebook Live with Ms. Sweeney
Facebook Live Transcript from Ms. Sweeney 6.18.20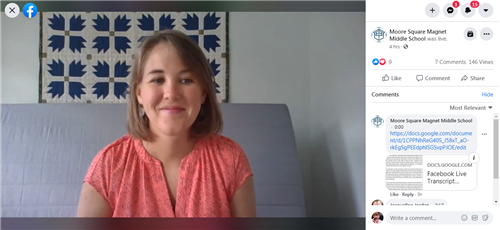 Rachel Sweeney
Good evening and greetings to the Moore Square community! I am pleased to be able to speak with you tonight and gain a little bit of connection to you all. I miss you! If we have not met, I am Rachel Sweeney and I teach 8th grade Social Studies.
So a little overview of what I'll be talking about tonight. I want to be able to give you ideas of how to connect to history and Social Studies over the summer and also to give you suggestions of ways to give back to the community in service.
This week we're finishing up our fourth week of summer break. It's pretty hard to believe and as some of you shared with me when I saw you at the yearbook pick up day, it really doesn't feel like it since we've been at home now for over three months. However, schoolwork isn't looming and it really is a time to recharge. My first hope for students is that they do make sure they take time to refuel and recharge for the new school year. I hope that students are taking time to get outside (especially on this first day without rain for a while!), pick up a book for fun, play games, exercise, draw or paint, dance, listen to music-- whatever it is that makes them happy! Because we are going to need everyone fresh and ready to go for the new school year-- whatever that may look like. I have been enjoying gardening, reading books for pleasure, and running and taking time to appreciate the time my family has been given to be together at home.
If your students are like me though, I'm also reaching a point in the summer where my brain is ready for a challenge again. I think that's one of the greatest things about this time is that students (and teachers) are able to pick up a topic or subject that interests them and learn for the sake of learning. Maybe they have been moved by the events of the past few weeks to educate themselves on race in America, or maybe there was something that came up in the remote learning time that peaked their interest and they want to do a deeper dive on the subject (like spending more than 2 hours on WWII!). Now is the perfect time for students to be able to do that on their own time and terms.
I may be a little biased, but I think history and Social Studies is perfect for this moment. And there are so many ways to dig deeper into history that are also fun! I hate when students come into my class hating history. Most likely they've been bored in the past by memorizing facts and dates and I agree that that is boring and I would hate doing that too. But there is so much more to history than just rote memorization. It's the people and the stories that come alive in different mediums that really made me fall in love with history when I was younger. There's also so much in our past that parallels or explains the events today that can help students make sense of the world they're living in.
So to start off with-- I really recommend picking up a good historical fiction book. There's so much more you can learn about history through a story and it's much easier for students to connect to and recall when in this format. I've often read a story and then followed up with research on the subject more and it's a great jumping off point to dive deeper- especially since a lot of these subjects we're not able to cover in very much depth in Social Studies class. I wanted to share a few of my favorites:
The Book Thief

by Marcus Zusak

While subjected to the horrors of World War II Germany, young Liesel finds solace by stealing books and sharing them with others.

Between Shades of Gray

by Ruta Sepetys

"Few books are beautifully written, fewer still are important; this novel is both."

Fever 1793

by Laurie Halse Anderson

Fever 1793 is based on an actual epidemic of yellow fever in Philadelphia that wiped out 5,000 people--or 10 percent of the city's population--in three months.

The Seeds of America Trilogy

by Laurie Halse Anderson

A series of historical novels that follows the story of thirteen- year- old Isabel, a Black American slave fighting for her and her younger sister's freedom while the Revolutionary War is occurring.

The Underground Railroad

by Colson Whitehead (For more mature readers-- horrific depictions of violence)

The alternate history novel tells the story of Cora and Caesar, two slaves in the southeastern United States during the 19th century, who make a bid for freedom from their

Georgia

plantations

by following the

Underground Railroad

, which the novel depicts as primarily a

rail transport

system in addition to a series of safe houses and secret routes.

Like a Love Story

by Abdi Nazemian (YA novel, but with mature themes.)

It's 1989 and three teens grapple with love, identity, activism, and the AIDS epidemic.

Anything by Ann Rinaldi-- She was my favorite author growing up and I devoured her books!
These are just a few that I've read and connected with. While researching for this though, I saw so many more that looked interesting and I would love to put on my list of books to read. If you or your student reads something good over the summer-- I would love to hear about it! Historical fiction is great for students who love history-- but especially for students who don't! Along the same vein, there are so many great movies and TV shows which explore historical issues. I can't watch an episode of the Crown without pulling out my phone and researching more about British history!
I also really enjoy listening to Podcasts and these can be great for students who are more reluctant readers as well as for those who want something to listen to while cleaning their rooms or walking/running. They are my go-tos when I'm running during the week. There are many I enjoy which don't have a history focus and I'm happy to recommend more if you reach out to me, but here are some of my favorite history podcasts.
Love it for reaching into the depths of history and hitting on topics your poor history teachers didn't have time to cover. Most recent episode about James Baldwin.

More academic than other popular podcasts- but great, in depth and analytical episodes about current events and how that connects to our history.

An 1839 assassination of a Cherokee leader and a 1999 murder case – two crimes nearly two centuries apart provide the backbone to an upcoming 2019 Supreme Court decision that will determine the fate of five tribes and nearly half the land in Oklahoma. 8 episode series which explores Native American land rights.

The history podcast for people who don't like history… and those who do. Greg Jenner brings together the best names in comedy and history to learn and laugh about the past. I've enjoyed recent episodes on Josephine Baker, Harriet Tubman, and the Mayflower. (May need to be previewed for language.)
I just wanted to point out two more general things I can recommend for students to stay engaged in Social Studies this summer.
First is iCivics.org. This resource is founded by Sandra Day O'Connor and it's mission is to teach students about Civics, government, and democracy. There are great conversations to be had about these topics and their connections to current events-- upcoming presidential elections, voting rights and suppression, first amendment rights to protest and speech, Supreme Court decisions, the census… iCivics is a great tool for teaching the foundations of civics and the kids love it! There are lots of great games to play. "Do I have a right?" and "Win the White House" are favorites.
Second, I really recommend that students document their experiences! We are living through a unique time where I can see the history books being written. Between the pandemic and national protests, the students are living and experiencing what their descendants will learn about in Social Studies class. I recommend that students spend time each day writing to preserve this history. We learn in class about primary sources-- and they can become one! If you're stuck on ideas of what to write about, view these journal prompts created by the New York Times. Most have information or an article to read and then a prompt for students to respond in the comments, or use it as a personal jumping off point for your journal. Also, the NC Museum of History and the NC Archives are collecting artifacts and first hand accounts of the pandemic to include in the museum. See "Your Story is North Carolina's Story" for more information about how to submit.
I also have provided a link in the transcript for other ideas I shared with my classes when we began the quarantine: More ideas for engaging with Social Studies!
Finally, I would like to provide some information and ideas for how students can help their communities during this time. With so much uncertainty and upset in the world, it can be a grounding experience to help others and also an outlet for some of the stress and anxiety you and your students may be feeling. It's helpful to DO. I know that Ms. Price has made over 300 masks for essential workers and those who need them and she's talked about how that helps her to process everything (on top of being an awesome service to the community).
So I found this website (https://ysa.org/covid/) from Youth Service America. I haven't seen or used it before, but I really like the way it's laid out and presented. I struggle with community service which is flat-- where you do something for someone but don't really understand the "why" behind it. The ideas that this site provides all have four steps-- Investigate, Prepare and Plan, Act, and Reflect. This way if you are going to donate to a food bank, there are resources for you to read about why food banks are struggling during this time and also to reflect on the impact that donation made. Some of the ideas provided include helping stop hunger, helping isolated seniors, providing child care, promoting healthy behaviors, advocating for policy changes, etc. There are ideas for short term and long term projects. There are also resources for Anti-Racism and Youth Service. (https://ysa.org/antiracist/)
Finally-- if you share these actions with the hashtag #DoGoodFromHome- Hasbro is donating 25,000 toys and games for each post. The website for the Do Good From Home campaign also has ideas about what you can do each day. This week was focused on Anti-Racism and has ideas for students to read, reflect, act, and respond. (https://www.dogoodfromhome.com/)
One of the benefits that the pandemic and working from home has brought us is the overabundance of learning tools and resources that students and families can use from home. I haven't even scratched the surface. I again want to reiterate that this is still summer-- there's plenty of space to relax, recharge, and participate in fun activities. But there is also plenty out there to do to keep making connections to history and current events-- and do so in an enjoyable way through reading, games, or movies. The biggest thing I hope is for students to explore their interests and learn for the sake of learning!
I hope you all are safe and doing well. Please feel free to reach out to me (rwsweeney@wcpss.net) if you have any questions, comments, resources to share. Have a great evening and a great weekend!