Return to Headlines
Weekly Message 6/4/20 Facebook Live with Ms. Covington
Facebook LIVE Resources from Ms. Covington 6.4.20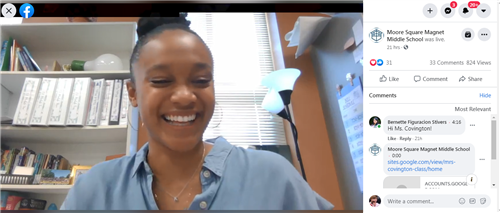 Ms. Covington is a 7th grade English Language Arts (ELA) teacher at Moore Square Magnet Middle School. In her 21-minute Facebook LIVE video, Ms. Covington shares some tips for helping students during this time of unrest surrounding police brutality and racial inequity. Listen and watch as Ms. Covington offers four things you can do to start helping our children.
Below are resources for parents and students
Keep in Mind:
Books may contain profanity and depictions of violence (you may want to read it before your student so that you can have a conversation with them about the content and context of the book's subject matter)

Even if the book isn't about racial inequality, it is CRUCIAL for students to read books about characters from different cultural backgrounds, beliefs, environments than their own.

Richincolor.com is a great resource for diverse YA books
Books & Discussion Questions for your student:
The Hate U Give by Angie Thomas
What is Starr's reaction to the detective's line of questions that deal with Khalil's past (102–103)? How does this change her?

Discuss the scene when Starr admits to Chris that she was in the car with Khalil and shares the memories of Natasha's murder ( 298–302). Why is this confession so significant?

How do the motifs of silence and voice support a theme?

Explain the connection between the title and the phrase "Thug Life."

Will a reader's race, environment, and socio-economic background have a major or minor effect on how they read and react to The Hate U Give?
Justyce and Manny's debate teacher puts the words "all men are created equal" on the board. (p. 21) Discuss the meaning of these words within their historical context and now. How and why has their meaning changed?

Answer Justyce's question to Dr. King, "What is the point in doing good when you're always profiled as bad?"

How does anti-Semitism through the character of Sarah Jane figure in the book's themes?

Is Blake a fully developed character or just a stereotype? Is Jared a fully developed character or just a stereotype?

What contribution does the media make to racism in the novel? How does the media influence our perceptions of racism-the perpetrators and the victims?
Ghost Boys by Jewell Parker Rhodes
What does O'Brien's assessment imply about the American justice system?

Explain the prison guard's statement, "It's a motion case. They go through the motions; they lock them up" (14).

Why do you think the book is called Monster?

How does the format of the story (screenplay) contribute to the development of character? of conflict? of theme?

Can the American justice system treat everyone fairly? Why or why not?
All American Boys by Jason Reynolds and Brendan Kiely
Why is the spray-painted tag "Rashad Is Absent Again Today" so effective?

How were the protests effective in bringing attention to police brutality? Do you think the characters believe that these protests could bring about lasting change?

What about the authors' use of "team" or "teamwork"? Is this ironic? Two teams that are featured are football and ROTC. What other kinds of teams are there?

Understand the references Rashad makes by researching the art of Aaron Douglas or read selections from the writing of Ralph Ellison.
Just Mercy (Adapted for Young Adults): A True Story of the Fight for Justice
Books for you:
White Fragility

by Robin DiAngelo

The New Jim Crow

by Michelle Alexander

Why Are All The Black Kids Sitting Together in the Cafeteria?And Other Conversations About Race

. by Beverly Daniel Tatum

Just Mercy

by Bryan Stevenson
Black Owned Bookstores:
Uncle Bobbies

Brain Lair Books

Turning Page Bookshop

Mahogany Books

Kizzy's Books & More
Helpful articles:
George Floyd. Ahmaud Arbery. Breonna Taylor. What do we tell our children? (helpful Q&A)
Talking to Kids about Racial Stereotypes