Return to Headlines
Weekly Message 5/28/20 Facebook Live with Ms. DePinto
Facebook Live Transcript from Ms. DePinto 5.28.20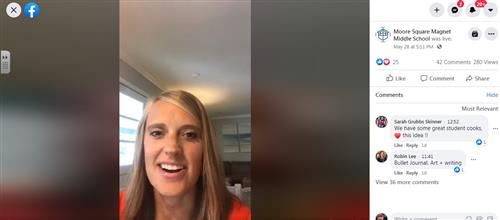 Good Evening Moore Square Families! We hope that you are enjoying your first official week of summer break and remaining safe and healthy. As we wrapped up our year as a staff we took some time to think about the positive things that came out of this last quarter and our non-traditional teaching and learning. One of those things was connecting with you each week on FaceBook Live! We will continue our weekly Live opportunities throughout the summer to share updated information and tips for continued growth and learning, so tune in each week at 5 PM right here!
It was so great to see many of you this week to pass out yearbooks, pictures, books ordered from the EBookFair, and personal items. We still have quite a few items remaining, so we are offering one additional pickup next Thursday, June 4 from 4-6 PM.
Thank you also to those who dropped off books and other items to the school this week. If you have library books and/or school Chromebooks please hold onto those for now. We will communicate when these items will be returned. No late fees or fines will be assessed for late library books, so don't worry if you have gotten a reminder about overdue books.
Those of you who came by on Tuesday may have had the pleasure of seeing Ms. Langston passing out some supplies. Well, she's at it again. . . She has applied for ANOTHER DonorsChoose grant to put more books in the hands of our students. As an added bonus, Bill and Melinda Gates will double any donations made today. If you would like to support this grant, go to the attached link: https://www.donorschoose.org/project/shhhhhhhhwere-reading/4935328/?utm_source=dc&utm_medium=directlink&utm_campaign=teacherhub&utm_term=teacher_2345549&rf=directlink-dc-2020-05-teacherhub-teacher_2345549&challengeid=399432. Thank you Ms. Langston!
Speaking of books and reading, many of you have asked how to keep your student engaged in learning while we are tracked out. Some of our RockStar teachers are continuing online opportunities over the summer that you may want to check out:
Mr. Hunter is hosting Science Chat & Trivia every Monday at 1:00 for any interested student. Students should log into their WakeID and use code "hunterscience" to join. Email Mr. Hunter at

jhunter@wcpss.net

if you have questions!

Dr. Kates and Ms. Price will be hosting Live Kahoots every Thursday this summer at 3:00 PM starting May 28, 2020. They are inviting all students at Moore Square to join using your WakeID and code "mooresquaremath". They will have a variety of questions from 6th-grade Math through Math 1. Email Ms. Price at

tprice3@wcpss.net

with any questions!

Mrs. Skinner will continue to meet with students once a week during the summer for her "Media Mix-up" where they discuss books, movies, and whatever else the kids are reading and watching. They will meet every Friday at 2pm. Please email Mrs. Skinner at

sgskinner@wcpss.net

for the Meet code.

Mrs. Oke will be doing a real aloud of the Artemis Fowl series via Google Meet on Wednesdays from 1-1:30 pm with the code "AFRead". Each session will be 30 minutes long and she hopes to finish the first book prior to the movie premier on Disney Plus this summer. If interested, please email roke@wcpss.net to ensure your student has a link.

On Tuesdays from 11:45am to 12:45pm Ms. Rice will host a lunch and learn for any

rising 7th grader

who wants to do fun math activities. E-mail Mrs. Rice at

brice2@wcpss.net

for more information.

Ms. K. Price will be hosting Minecraft meets and offer some summer science camp type options. Please email her at

kprice2@wcpss.net

for more information.

Every day over the summer, parents signed up for Mr. Anderson's remind will be informed by Remind text from him as to how important this day is in history. Students are welcome to check out the activities assigned through Google Classroom all throughout the summer, and to communicate with him by email at

randerson3@wcpss.net

.

Check out NC Museum of History for Kids at

https://www.ncmuseumofhistory.org/learning/kids

for kid centered, history related learning or

https://www.coolmathgames.com

for math games.
Some of your students' accounts that they have used throughout the school year will remain active over the summer, so you may want to encourage them to log-in to sites like Readtheory for Reading, ProdigyMath, Quill for writing, Khan Academy, iReady, ReadWrite.org, Math is Fun, and XL Math.
In addition to some of these specific opportunities for students, we encourage you to find creative and unique ways to stay engaged in learning (while having some fun) this summer! Take on the challenge of trying a couple of these options or create your own learning challenges!
Reading: Pick up a favorite book, comic book, magazine, or even website article and discuss your findings with your family. This is a great way to maintain your reading comprehension skills.

Journaling: Find a fun journal to write down your thoughts and feelings during this unique time and/or create a blog or Vlog to capture these things, while practicing your writing skills.

Scrapbooking: Online or the old-fashioned way, take some pictures and come up with creative captions. Maybe even have a family contest for best caption awards!

Writing letters: Have a friend, family member, or neighbor who you haven't been able to visit? Try writing them a letter and sending it. Not only is this a great way to continue writing and work on your penmanship, I promise it will brighten the day of the recipient. Who will be your new PenPal??

Cooking new recipes: Pull down an old cookbook or search Pinterest for new recipes and try them out. As an added bonus, try to half or double the recipe to keep those math skills sharp or create your own Chopped challenge with items in your pantry.

Practicing an instrument, talent, or hobby: Learn to play a new instrument, a new card game, chess, or other talent. Keep seeking your individual gifts and talents. . . we can't wait to see them!

Learning a new language: Some of the administrative staff has been logging on to Duolingo to learn Spanish. It's a free app and only takes a few minutes a day. Check out this or another app to learn a new language.

Crosswords or word puzzles: A proven strategy to keep those brains working!

Exercising: Ms. Williford shared some games and strategies on FB Live a few weeks ago. Try out some of those, go for bike ride, jog, hike, swim, or try out a new sport in the back yard.

Travel Planning and Activities: While many of you may not take a traditional vacation this year, maybe start planning for a future dream trip. Go ahead and look up places you want to go, plan out your budget, mileage, route, etc. for this summer or sometime in the future!
We hope that you have heard a few things to keep your family learning this summer and would love to hear from you about additional ways you plan to stay busy until we see you again. Feel free to comment here so that others may share in your ideas too!
We promise to keep you updated on any new information and we'll see you each Thursday at 5 PM here. As a reminder, the transcript from tonight's Live and all others will be on the Moore Square website for you to check back for links and email addresses.
Take care and good evening, Mountain Lions!