Return to Headlines
Weekly Message 3.26.20 FACEBOOK LIVE with Dr. Jordan
Facebook Live Transcript from Dr. Jordan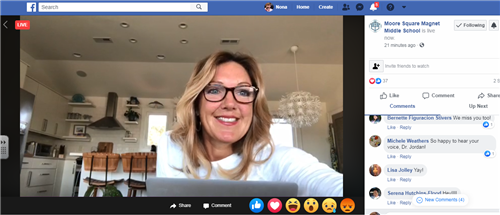 Hello Moore Square Families. This was not the welcome back from Spring Break and welcome to the start of the 4th quarter I thought I would be doing this week. I have missed seeing you all and welcoming you back in person. I pray that you and your families are safe and well. This is an interesting time, unlike any we've ever known before and with that comes many feelings and emotions. For all of us involved either student, parent, or staff member, it's a time of huge change and adjustment and yes, there are many questions to be answered.
Real quick points before we dive in...you will be getting several important emails from teachers. Information about field trip refunds, surveys about technology access and information about how to access their remote learning opportunities will be coming your way in the days ahead so please be on the lookout. Also, a transcript of this broadcast will be sent out to all families from me via school messenger with all the hyperlinks I am referencing. We plan to do more Facebook Live broadcasts in the coming weeks to stay connected with you.
Hopefully by now you have accessed the Wake County website and become familiar with their Remote Learning Resources page. Kudos to Wake for getting this resource out so quickly. This comprehensive resource offers links to support learning at all levels and includes some tech support information too!
Speaking of resources...I'm excited to let you know that Mrs. Hardy is currently working on a new section of the Moore Square website under STUDENTS which will house enrichment resources. Teachers are currently submitting them to her and it should be up soon. Likewise, the Media/Technology Committee are compiling all the available web based tutorials for the programs teachers are using so that we can house those on our Moore Square website for families who need some help understanding how the program works as they support their children at home with on line learning.
There are other ways teachers are working to create more connections with students. An email will come out through your child's teacher about a "Library Lunch" with Mrs. Skinner that students may want to join. At the district level, staff are working to make sure all students have meals who need them. Sites have been established all over Wake County for meal pick up. Teachers are currently reaching out to families to assess needs for technology equipment and access. The district has also created a resource for families to help when addressing emotional safety of students during this time. Look for more opportunities like this in the weeks ahead. I'm so proud of all the ways, big and small, our school system is working to support students and their families.
So, tomorrow we expect to hear more from WCPSS about the expectations for full remote learning. In the meantime your awesome Moore Square teachers are already hard at work planning and building material for the April 6 roll out. I'm excited by this creative process and so proud of them. Please be sure to be checking emails from them regularly. There are a few time sensitive emails coming out. Also, we hear you that it is getting a bit overwhelming going to all the various platforms and we are exploring solutions. Know that you are heard and we understand it can be crazy making trying to keep them all straight. There has been talk of putting them all on a grade level home page. Stay tuned for more clarification. It takes time to figure out and we will all get the hang of it soon.

As we move toward the implementation of full remote learning on April 6, there will be many logistics to work out and there will certainly be some rough patches. We ask for your grace as we do our very best to provide a rich and meaningful experience for all our students. I am going to ask that you all also show grace with yourselves and your children. Trying to balance being a parent and a teacher at the same time while many of you are simultaneously trying to do your own jobs in a new way is not easy and you need to give yourselves time to adjust. Similarly, this new routine is a lot for our kids to adjust to and it may take them time. Be kind to each other and to yourselves. It is okay if it's not all perfect right away. Try to embrace the process as an opportunity to learn about growth. Embrace the teachable moments that come within change and going into the unknown. Teaching our kids to have trust when things are uncertain is one of the greatest gifts we can give them. Coming out on the other side of this situation, just imagine all the lessons of resiliency we will all have to draw from and how much more confident we will be taking risks and accepting challenges in the future.

There are many other teachable moments that I hope you are pointing out and discussing with your children throughout this situation. Your kids have heard about 21st century skills since Kindergarten, but we are currently living through one of the greatest, most relevant examples that illustrate why we focus on those skills. Help your kids see the need for creativity during this time, the need to think way outside the box, the need for diverse people across different agencies, different fields, different beliefs and different areas of expertise to exchange ideas and talk with them about why that matters. Look for examples of that happening on a local, national and global scale and talk about it. Global awareness is one of the skills we try to build in the classroom but look at all the ways that global awareness and its importance are playing out in our current events now. I hope that you are taking time to engage in these conversations now because first they are great teachable moments, but also they will connect you with your children in a way that lays out the talks in terms of opportunity. The news and social media can be super scary for kids but by focusing on all the ways that people can and will work together, we help our children see problems as opportunities and help them see the importance of thinking beyond just ourselves.
If you are like me, before all of this happened you longed for time to sit on a phone call with a beloved family member or old friend without anxiously watching the clock and worrying about the other things you need to be doing. If you are like me, now you are enjoying walking the dog and letting her sniff as long as she likes before moving along rather than jerking at her leash to hurry up. This opportunity to let life happen is something most of us have quietly yearned for as our worlds have become busier and busier. For our children, their afternoons and weekends looked so different than the ones we had growing up, hurrying from language lessons to science competitions, to soccer games and so on. Remember growing up and being outside in the neighborhood for hours and hours engaging in creative play, riding bikes, playing in the creek, starting our own "clubs" with no adults to guide or steer our organization, sitting curbside at the end of the block watching lightening bugs or even just swinging on a swing set. We passed so much time that way and came home dirty, tired, and covered with mosquito bites but content. Yes, we want our kids to continue to be learning and growing academically, but I hope this time gives us a chance to see the other ways we can all be growing and to embrace them. There is power in the stillness and the mental vacancy that becomes fertile soil for creativity, ingenuity, invention and discovery...all the things we need right now. So I pray that each of you, child and adult alike, are finding ways to embrace this time.