Return to Headlines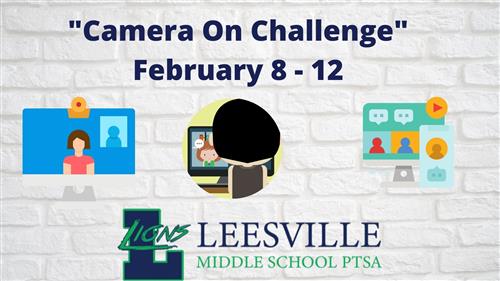 Cameras On Challenge
Remote learning can be so much more engaging when we get to see our student's faces. We understand that it is not always an option, but on February 8 - 12 let's try to make an extra effort to be "cameras on" as much as possible.
Want to change your google meet background but don't know how to? Watch
this video
.
If the option is not in your google meet, follow
this video
to enable it. Thanks Mr. Gaggia for the tips!
Cameras on:
Creates stronger student/teacher connections and engagement
Helps students be accountable and stay focused
Helps teachers in areas like receiving nonverbal feedback and knowing if students are engaged
Creates a more social classroom environment
LRMS PTSA is teaming up with the teachers to encourage our students to learn with their cameras on! All LRMS students are invited to take a picture, or a screenshot of themselves in a google meet with their camera on and email/share it with our librarian, Lisa Nelson at lnelson4@wcpss.net.
Each picture a student submits is an entry into a daily drawing for some LRMS swag! You can send one picture per class period - so up to 6 entries per day.
Winners will be drawn each day between 3 and 3:05 PM and posted here and the student will be notified by email. Ms. Nelson will let you know when you can come by to pick up your prize.
Thanks for participating!
Monday items: Navy LRMS Tshirt, Gray LRMS Tshirt

Congratulations Madeline and Natalie

Tuesday items: LRMS Cinch sack, LRMS Magnet

Congratulations Henry and Kylie

Wednesday items: Gray LRMS Tshirt, LRMS Magnet

Congratulations Jason and Grace

Thursday items: LRMS Cinch sack, LRMS Magnet

Congratulations Kylie and Natalie

Friday items: LRMS Cinch Sack, LRMS Navy Tshirt

Congratulations Jonathan and Tyler
(*note: if you win a Tshirt I will be contacting you for a size)