Return to Headlines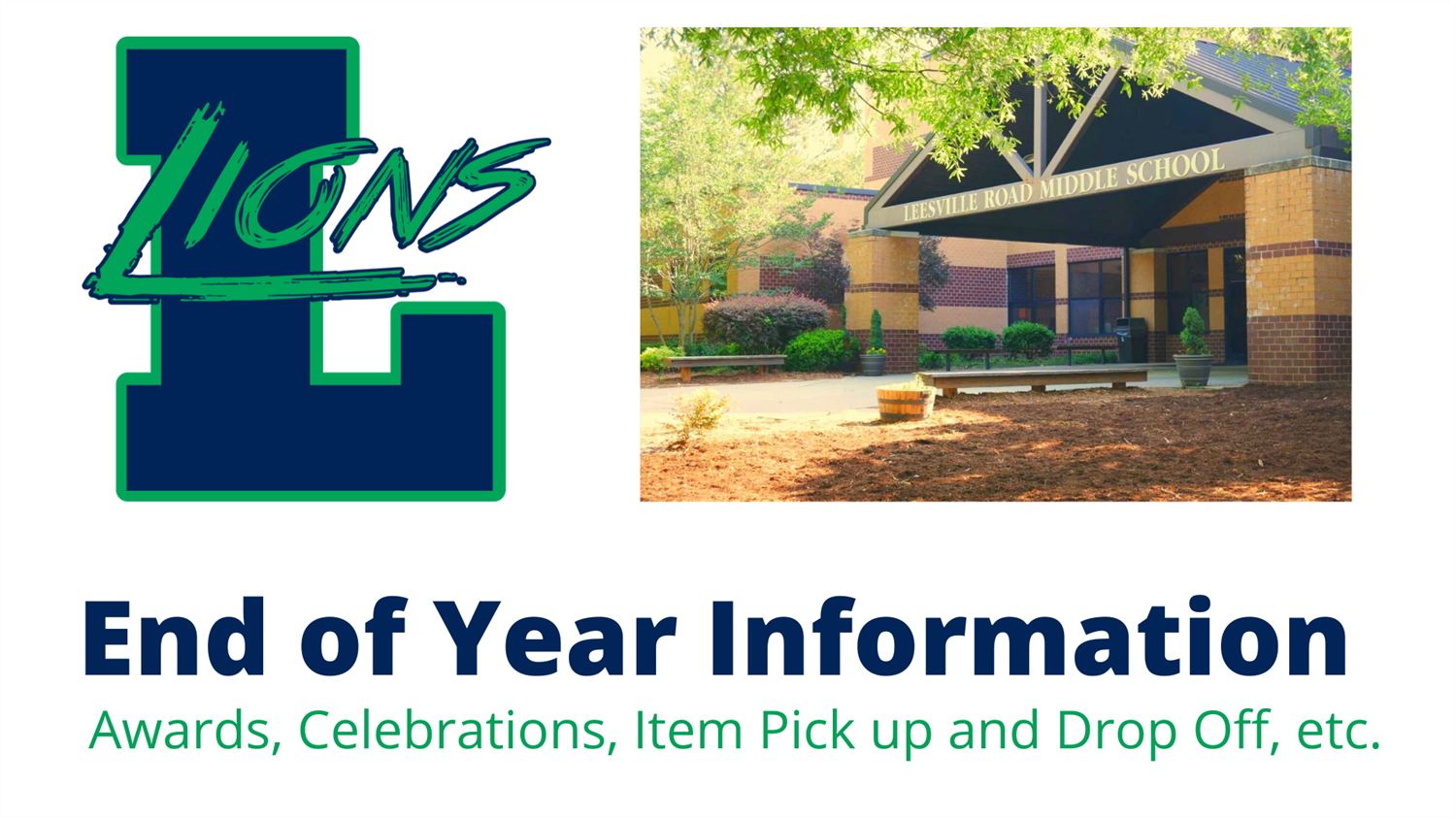 Item pick up and drop off
Monday, June 8th – 8th Grade Students Pick Up Items – 3:00 – 7:00 PM

Tuesday, June 9th – 7th Grade Students Pick Up Items – 3:00 – 7:00 PM

Wednesday, June 10th – 6th Grade Students Pick Up Items – 3:00 – 7:00 PM
Pick UP - Please plan to come on the date and time above to pick up items from your student's lockers. The pick up will be carpool style only. As you pull up, have the student name and homeroom teacher's name on a piece of paper you can hold in the car window. We will bring the items out to your car and you can pop your trunk or we will use social distancing protocols to return the items to you.
Drop Off: Students are able and encouraged to return items at this time. Items will be accepted with social distancing protocols. Items you can return:
EL novels

Library Books

Any books that students have borrowed from teachers. Put your name on a ziploc bag and have the book inside or label the book with a sticky note.

Athletic Uniforms - there are boys' soccer uniforms that are still out

WCPSS Chromebooks and hotspots - if you are

NOT returning

to a WCPSS School next year you can turn in these items. If you

are returning

to a WCPSS School you are allowed to keep the items checked out to you for the time being. A procedure for returning these items will come at a later date.
Guitars from Mr. Stiles' flex class - the guitar cases (cloth bags) have an identification tag with the students' name and instrument serial number attached to the zipper of the front pocket.
Orchestra students can keep the school-owned instruments over the Summer unless you are changing schools or not returning. If you are not returning to Leesville, please return your instrument.
Band Instruments - Ms. Vernon will contact the 8th Grade students that need to return instruments on the process for that. Any concert uniform items that you wish to donate can be put in a bag and brought when you return other items. All donations of concert uniform items are appreciated.
Lost and Found - Items from our lost and found will be made available for parents to look at during the summer. This includes locker room items. More information soon.
Medication - If you were unable to pick up at our previous medication pick up event, please email Pam Draughn at pdraughn@wcpss.net to schedule a time to pick up your medication.
Yearbooks
The yearbook has arrived and will be a part of the distribution at item pickup. Yearbooks will be distributed carpool style at the crosswalk directly in front of the school. Yearbooks have been sold out as of 6/2/2020.
End of Year Celebrations/Awards
8th Grade

8th Grade Awards Ceremony will be virtual this year. Mark your calendars for Tuesday, June 9th at 7 PM when the awards will "go live" on youtube. The link to the Youtube video will be shared by the teachers. The awards are all pre-recorded, at 7PM on June 9th will be the first chance anyone will be able to see them - so if you watch the video at that time, it will be like it is "live." It will be able to be viewed and shared after that time as well.
If your student is receiving an individual award, they will be notified by their teachers in their WCPSS Student email by June 3, 2020. All eighth-grade students' names will be scrolled on the screen to recognize their promotion to High School.

8th Grade Spotlight on Students and Parent Shout-Outs are another way we are celebrating our 8th graders. Please use this

link

to find out more.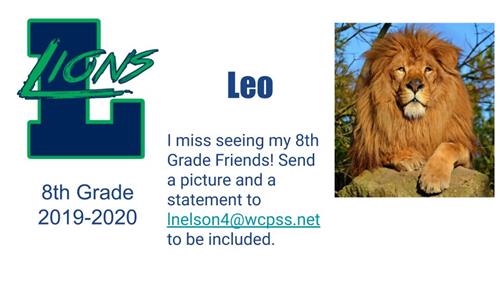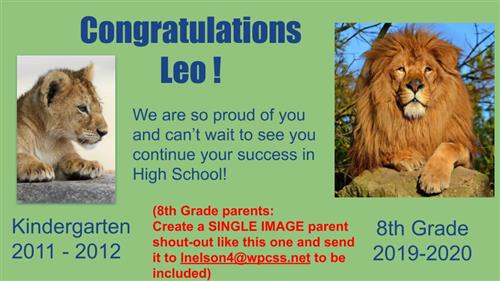 7th Grade

7th Grade Team awards will be held virtually. The video will be available on June 12, 2020. The link to the Youtube video will be shared through the teachers.

6th Grade

6th Grade Team awards will be held virtually. The video will be available on June 12, 2020. The link to the Youtube video will be shared through the teachers.
Additionally, teams from all grades may have live Google Team Meetings to celebrate the end of the 2019-2020 school year. Please be on the lookout for information from your teachers about these events.
FINAL REPORT CARDS
Report Card procedures will be different for WCPSS students due to the unique circumstances with COVID-19. WCPSS guidelines are:
6-8th Grade students can review final grades in PowerSchool on June 5, 2020. ALL students have a PowerSchool account that they access through their wakeid portal. Their username is their student number, no password is required if the student accesses homebase/powerschool through their wakeid portal.

If you have any questions here is how you can contact us:

If you want a printed copy of the report card, email bacrawford@wcpss.net after June 12, 2020.
Questions regarding promotion to the next grade should be directed to your grade level administrator.


8th Grade - Kelly Ward - kward1@wcpss.net
7th Grade - Tonalisa Edmunds - tedmunds@wcpss.net
6th Grade - Angela Day - aday@wcpss.net
How will promotion / retention decisions be made at the middle school level?
Promotion decisions are made by the principal within guidelines set by the school district. Where retention was already underway prior to March 13 based on student performance data, the school will ensure there is an effective communication and collaboration plan between the school and the family to determine the most effective path forward for the student. Students who were not a retention candidate prior to March 13 are not a retention candidate as a result of the closure / remote learning period. No student will be retained based on their inability to engage in learning during the period of remote learning.
"PC-19" is a grade that will represent a "Pass" for the course while also noting that the grade was issued during the school closure due to COVID-19. "WC-19" indicates that the student was withdrawn from the course during the COVID-19 closure and is used when a student is not yet passing the course as of March 13 and/or through additional work during remote learning.
TOURS & OPEN HOUSES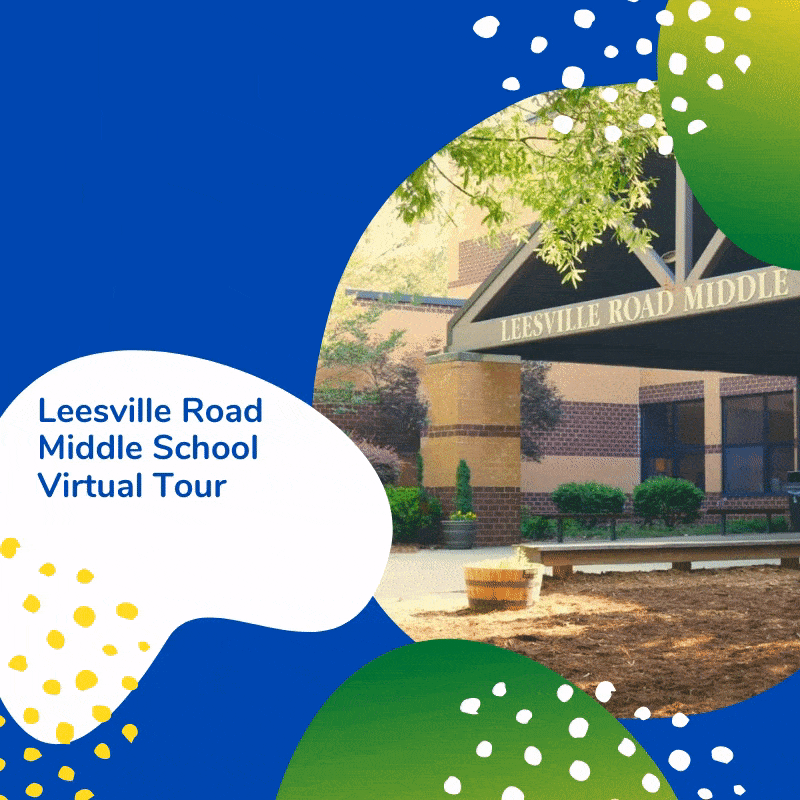 Since we cannot predict what restrictions and parameters we may need to honor in the future, we have created a brief tour of LRMS here. More virtual Open Houses and a virtual Lion Camp for rising 6th Grade Students are being created. We look forward to sharing those links with you very soon!