Return to Headlines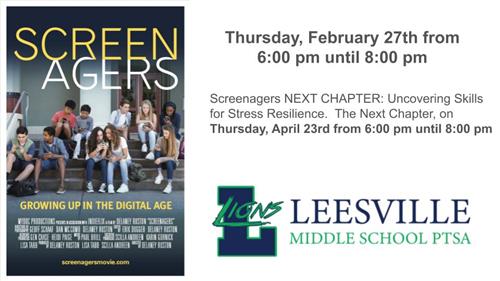 PTSA General Meeting & Screenagers - 2/27 @ 6:00 in the Library
RSVP HERE
Are you a Leesville parent or a Leesville student aged 10 and older? If so, you are invited to join us for a viewing of Screenagers: Growing up in the Digital Age on Thursday, February 27th from 6:00 pm until 8:00 pm at Leesville Middle School Library, located at 8406 Pride Way, Raleigh, NC 27613.
This is not a drop off event for students and parents are welcome to attend with our without their children.
We encourage all parents to attend to help start a conversation about technology in our lives.
Gretchen Campbell, Licensed Professional Counselor, will be in attendance to facilitate a disussion immediately following the movie.
This event is free and we will be offering Mega Pizza for $2 per slice ($15 for whole pizza) and drinks for $1.
PLEASE RSVP AS SPACE IS LIMITED! See the synopsis below for more details about the movie:
Are you watching kids scroll through life, with their rapid-fire thumbs and a six-second attention span? Physician and filmmaker Delaney Ruston saw that with her own kids and learned that the average kid spends 6.5 hours a day looking at screens. She wondered about the impact of all this time and about the friction occurring in homes and schools around negotiating screen time—friction she knew all too well.
In SCREENAGERS, as with her award-winning documentaries on mental health, Delaney takes a deeply personal approach as she probes into the vulnerable corners of family life, including her own, to explore struggles over social media, video games, academics and internet addiction. Through poignant, and unexpectedly funny stories, along with surprising insights from authors, psychologists, and brain scientists, SCREENAGERS reveals how tech time impacts kids' development and offers solutions on how adults can empower kids to best navigate the digital world and find balance.
Recommended Age: 10 and older
We will have an a viewing of the sequel, Screenagers NEXT CHAPTER: Uncovering Skills for Stress Resilience. The Next Chapter, on Thursday, April 23rd from 6:00 pm until 8:00 pm in the LRMS Library. Look for more details on this in March communications.