Return to Headlines
To help keep parents, students, and our staff safe - here are a few reminders about our school's parking lot and carpool lane.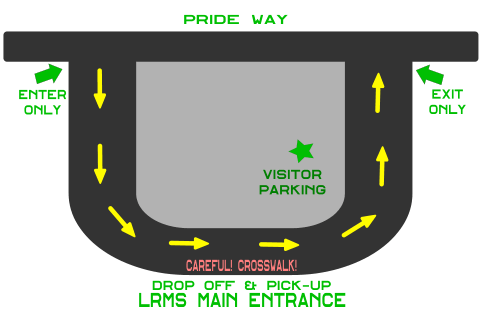 There is only one entrance to our parking lot / carpool lane. Coming in from Pride way, the entrance would be on the Southern, or "right" side of the school building.
If you're dropping a student off, continue forward through the carpool lane. It continues on to the exit, which would be on the Northern ("left") side of the school.
Be careful near the main entrance - a crosswalk permits people to cross safely between the building and the parking lot. Look for staff members directing traffic in this area.
Consult the map pictured to see where visitor parking spaces are located. Note only adult visitors to our campus are permitted to park in these visitor spots. Leesville Road High School students are not permitted to park in the Leesville Road Middle School parking lot at any time. Please do not park in a space marked with a number, these spots are assigned to our staff.
Always drive slowly and pay careful attention; there can be a lot of movement happening in the minutes before/after school.
If you would like to attach your digital device to the school Internet network while waiting to pickup a student, use the WCPSS Guest Network. No other networks maintained by WCPSS should be used by parents or students. Usage of other WCPSS networks actually slows down connections within the building, making it much more difficult for students to work on digital devices while still in class.
Thanks for your help in keeping our campus running smoothly and safely!