Alston Ridge Middle School
Return to Headlines
7/8/19 Open House Info: Our inaugural Open House is right around the corner!. The Open House is informal in nature and families may arrive any time during the allotted time for each track. See the image below with additional information: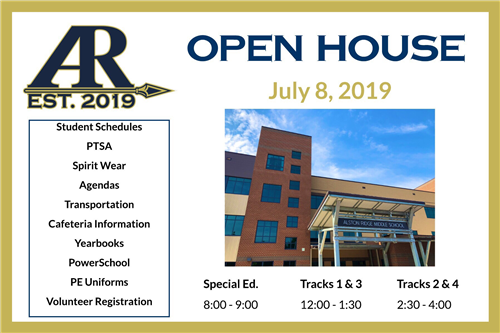 Please also view this special message from Mr. Williams regarding Open House and the upcoming school year: Mr. Williams Video Message.
Track 4 Building Tour: Many Track 4 families have been seeking an opportunity to tour the building toward the end of July. We have scheduled a short building tour for Track 4 families and students on Thursday July 25th from 5-6pm. Please note this is not a "meet the teacher" event rather an opportunity to see the new building. Open House for Track 4 families will still occur on July 8th. Any information missed during the Open House will be available when students track-in at the end of July and school starts. PTSA is also working on being present on 7/25 to provide families with information and to purchase items.
ARMS Bus Routes: WCPSS recently released specific bus information for our 2019-20 bus routes. Please see this link for specific information if you were unable to view routes in PowerSchools or didn't receive an email from WCPSS Transportation: ARMS Bus Routes 2019-20. For additional transportation questions, please contact Assistant Principal Tevin Jones at tjones13@wcpss.net. WCPSS Transportation will also be present at our Open House on 6/8/19 to help answer additional questions or concerns.
PE Uniforms: The Alston Ridge Middle School Healthful Living Department is in the process of creating an outstanding program for students. During the physical education weeks, it is mandatory for students to dress-out for exercising. Students must wear a GRAY shirt and BLACK/NAVY BLUE athletic shorts/pants each day for PE. While these outfits don't have to be Alston Ridge Middle specific apparel, we will have ARMS shirts for sale to purchase at Open House. Shirts will be $10 and cash/check (made out to Alston Ridge Middle School Athletics Boosters) will be accepted.
Immunizations: Attention parents of rising 7th graders. NC law requires Tdap and Meningococcal vaccines for entry into the 7th grade. Immunizations need be to complete before your child tracks-in for the 2019-2020 school year. Please bring proof of your child's immunization records to our open house on July 8th. There will be drop off locations near the front office. Please click the following links for additional information on immunizations: English Version, Spanish Version
Video Tour/Interviews of ARMS: If you didn't have an opportunity to view the virtual tour and interviews with staff members, check out this WCPSS Virtual Tour of ARMS. Stay tuned for additional videos with staff members and an explanation on carpool.
PTSA Updates!
July 8th Open House - HELP!: Join the PTSA as we help welcome students and parents to Alston Ridge Middle. Visit ARMS PTSA Open House Interest Form to sign up for a time to help PTSA distribute Spirit Wear, Student Agendas, and assist parents/students signing up for PTSA memberships. Also, we will be supporting our staff with Snack Packs during the Open House, so sign up to provide a goody to give them energy for the busy day! If you'd like to donate money for Teacher Snacks instead, please let us know!
Car Magnets: Car magnets are now available in the ARMS MemberHub store. Visit now to reserve yours for Open House July 8th. Showcase our awesome new school as you proudly drive around our new community!
PTSA Committees: Just a friendly reminder, if you have not had a chance to register for involvement of a PTSA committee, there is still time! Please complete this interest from: ARMS PTSA Committee Interest Form. Feel free to also reach-out via email to let us know if you are interested in helping to get committees off the ground!