Alston Ridge Middle School
Return to Headlines
Parent Information Sessions: We've had two highly successful Parent Information Sessions last week. Thank you to all the families who attended them and for your enthusiasm around Alston Ridge Middle School. There are two more opportunities this week to attend:
Monday February 25th - Horton's Creek Elementary - Media Center

Wednesday February 27th - Panther Creek High School - Auditorium
All sessions will be from 6:30-7:30pm. Additionally, all sessions will be identical so there is no need to attend multiple events. During the meeting we will discuss our school vision, share construction updates, provide course offerings information, and to meet staff. We hope to see you there!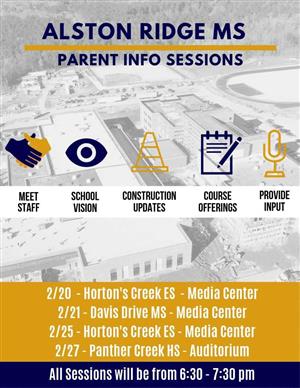 Track Request Form: As a reminder, all families should complete the track request form for the 2019-20 school year. The form can be found on this link: Track Request Form Alston Ridge MS. Please let me know if you have any questions or concerns. Thank you for your attention to this matter.
Parent Feedback Form: During the Parent Information Session, there is an opportunity to provide feedback and input on what you'd like to see at Alston Ridge Middle School. Please consider completing the form and we will certainly share the results in a few week. Use this link: Alston Ridge MS Parent Feedback Form
Save The Date!: Please add the following date/time to your calendars for our PTA Formation Meeting:
Tuesday April 9th at 6:30pm - Mills Park Middle School - Media Center
The WCPSS PTA Council will lead a parent meeting to help with the formation of our first PTA at Alston Ridge Middle School. The four main officers will be nominated at the meeting (President, Vice President, Secretary, & Treasurer) as this informational meeting will last until 8pm. We would love a large parent presence at this meeting as the partnership between Alston Ridge and the PTA is vital for our success!