Return to Headlines
Remote learning will resume on Monday, April 13. Teachers will engage students in teaching/learning new material. I would like to thank everyone for their patience during this time. As you can imagine there are a lot of logistics we had to rework and create since the state-mandated that all schools move to remote learning.
Teacher Schedules – Live Class & Office Hours
You can find when teachers will have "Live Class" and office hours can be found here: Alphabetical List or Departmental List. If you have concerns, please address the concern with the teacher first, then involve the administrator that supports the department.
Senior Information
Seniors are encouraged to continue to engage in Remote Learning activities with their teachers. We are still waiting on directions on how Senior grades and activities will be handled for WCPSS. Thank you for your patience and understanding as we finalize this information.
Students Needing Laptops & Hotspots
Any family that missed the laptop distribution, another event will be planned. Families that requested a laptop will be contacted based on the survey completed. All students are not promised a laptop as supplies are limited.
The school has not received hotspots needed by students. Once they arrive, we will contact families that requested a hotspot. All students are not promised that they will receive a hotspot once they arrive.
East Wake High Virtual Schedule
Remote learning will be on Monday, April 13 for East Wake students. The instructions provided will be "flipped" (recorded instruction) which will allow students to watch the video(s) at their convenience but should be done prior to "Live Class" denoted on the schedule below which will last for one hour during the range of time highlighted. Teachers will also have one hour of office hours daily. For the specific time, a teacher will have "Live Class" and office hours will be shared on our school website next week. The link to the "Live Class" and office hours can be found in the teacher's Canvas or Google Classroom.
We highly encourage all students to participate in "Live Class" and office hours when a teacher is hosting them. The teacher will announce when they will offer a live session. Live sessions are optional, and students will not receive a grade for attending them. This time is meant for students to see the teacher model a concept or have a discussion around a specific topic. Office hours are meant to provide additional support just link tutoring.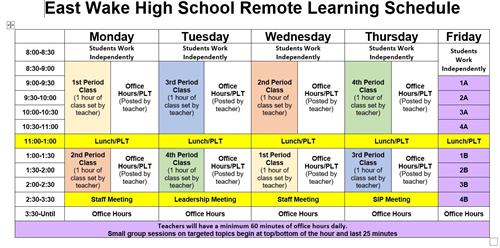 Although there is no "class" on Friday, students should still use this time to complete assignments for the week. The teacher will schedule small group instruction on Friday based on the needs of the students at a designated time on Friday.
Student Expectations during Remote Learning
Students are expected to continue to adhere to all WCPSS rules as outlined by the WCPSS Student Code of Conduct. This is even more important as we engage virtually. Students should be mindful they are logged into their account and WCPSS can view any and everything they are doing on their laptop when they are engaging in classwork. Teachers and Administration will reach out to parents if students are not adhering to the policy. We also ask that all students are appropriately dressed when they are engaging live in their classes.