Return to Headlines
Community Partnerships More Important Than Ever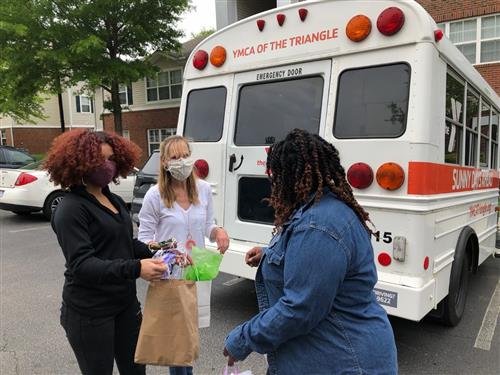 Our work to serve our community has not cease during the COVID-19 crisis. We continue to facilitate and promote the building of strong neighborhoods and healthy families through collaboration, programming and leveraging resources across and between partners. We know that in these unprecedented and uncertain times, our entire community is in need and it will require us all working collaboratively to support those needs.

Over the last two months, SERP has been working closely with community partners to respond to the immediate and long-term needs of our community. We launched an emergency needs assessment and so far, we have had several food distributions at Southeast Raleigh Elementary School, in the neighborhoods where our students live, and a large community-wide distribution that provided over 40,000 pounds of food to more than 805 households.

In collaboration with the Inter-Faith Food Shuttle, YMCA of the Triangle, Seasons Village and community volunteers, we have delivered hundreds of food bags and boxes to homes of SE Raleigh residents who do not have transportation to access meal and distribution sites. We've connected with local businesses and contributed to celebrating Southeast Raleigh High School Class of 2020.

Additionally, we have provided 40 tents and 40 sleeping bags as well as ready-to-eat shelf stable food to individuals experiencing homelessness in our impact area to encourage better social distancing where people have been forced to share outdoor shelter.

As information and recommendations change, we will remain flexible and adaptable in our approach to service and collaboration along with our partners. We will continue to collaborate and serve our community.
View the full SERP Newsletter here.