Return to Headlines
Principal's Post | April 25, 2022
Greetings, Jets! In preparation for the week ahead, please review the important information below:
This Week at BCES | April 25-29
Tracks 1, 2, & 4 have school Monday-Friday.

The Spring PTA Family Night and General Meeting is Thursday at 6:00 pm.

In Positivity Project, Track 1 will study the character strength of

Appreciation of Beauty and Excellence

this week. Track 2 will study

Purpose

and Track 4 will study

Other People Matter: Identifying and Appreciating the Good in Others.

The

P2 for Families

website has information you can use to dive into deeper discussion about character with your child. The password is

P2

.

NEXT WEEK: This coming weekend will be a 3-day weekend for students. Monday, May 2, is a whole-school Teacher Workday.
2022 EOG Dates
Please use this document to mark your calendars for the upcoming EOG's for 3rd-5th grade students. It is important for students to be present for EOG testing.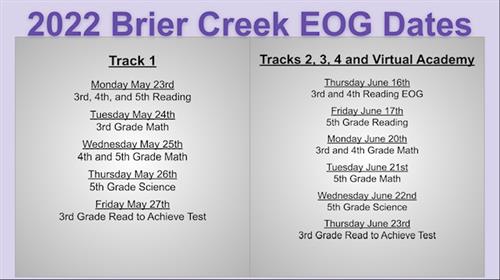 Preparing for the 22-23 School Year
To help you prepare for the 22-23 school year at Brier Creek, we are posting information on this page on our website. I encourage you to refer to it for information pertaining to the start of the new school year in July.
Track Placement Requests Due Thursday
Students who will be new to BCES in 22-23 or will be returning to in-person learning at Brier Creek from Virtual Academy should complete a Track Placement Request no later than April 29.
Please remember, this is a request, not a guarantee. While the administration would love to grant all requests, there are multiple factors to consider, such as class size and keeping families on the same track, therefore not all requests will be able to be granted. Families whose track change requests are granted will be notified by the end of April. Track assignments for new families and VA students returning to in-person learning will be sent in early May.
PTA Updates
Yearbook | If you have purchased a copy of the BCES Yearbook ($12.74+shipping), THANK YOU!! Please complete custom pages by April 29th to be sure your content appears in your book as you wish. You may still purchase yearbooks after this date. Click here for more details. If you have questions, please contact the Yearbook Chair, Andrea Bertole (andreabertole@hotmail.com).
May Staff Appreciation Weeks | In one week's time, the lights will be cued to shine thanks on the amazing BCES Staff for Appreciation week! Make note of ways to take part in celebrating from May 2-6 for Tracks 1,2,4,& VA and May 11-13 for Track 3! Links to additional details, email information, Staff Favorites and SignUp opportunities are available on the PTA's website.
May 2-13th – For all tracks - Spotlight on BCES staff - the staff appreciation committee will be arranging ways for students and families to fill out a "Shout Out" card to tell staff how much we appreciate them - cards will be featured on the PTA's message board near the front office. Look for cards in Friday folders! You can also link to a Shout Out Card here to print and complete at home then send in with your child, or connect to the cards link via the PTA's website.
May 2 – For all tracks - Keep their light bright! (grab & go treat bags for the Teacher Workday – see SignUp)
May 4 – For Tracks 1, 2, 4, & VA - Highlight their favorites (wear your teacher's favorite color or draw a picture of one of their favorite things - be sure to check out the Staff Favorites )
May 9 – For all tracks - You spark the light of curiosity in our children! (the PTA will host a lunch for staff)
May 10 – For all tracks - Let the BCES staff shine with a cold sweet treat (the PTA will sponsor an Ice Cream Social for staff)
May 12 - For Track 3 - Highlight their favorites (wear your teacher's favorite color or draw a picture of one of their favorite things - be sure to check out the Staff Favorites )
I hope each of you has a wonderful week!
In partnership,
Kathy Livengood
Principal