Return to Headlines
Principal's Post | January 25, 2021
Greetings Jets Parents!
We have had a productive track out here at Brier Creek and are excited t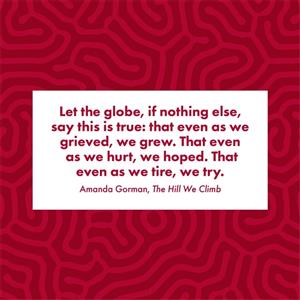 o begin 2nd semester! Since we were last together a lot has changed in our world. As I reflect on our school year, and envision what is left to come, I am struck by the words of Amanda Gorman's poem, The Hill We Climb. There have been times this year that the pandemic, and resulting changes in our world, have felt unbearable. Yet, together, we really have continued to grow, to hope, and to try. I am so proud of the work of our staff, our students, and our families. The perseverance that everyone has shown is a testament to our commitment to kids and making sure they are excited, empowered, and engaged in their learning!
Because we value parents as partners as learners, leaders, and advocates with and for our children, keeping you informed about school events is important. Please take a few moments to read the updates below:
Learning This Week
ALL STUDENTS will be learning virtually through at least February 12. This week, we will have synchronous instruction each day, beginning promptly at 9:15 am. Specials this week will begin with Day 1 on Monday through Day 5 on Friday. To learn more about our calendar and schedule, please visit the Spring 2021 page on our website.
Google Classrooms for Specials
Every student should have received an invitation to join a Spring Specials Google Classroom. They will need to ACCEPT the invitation in order to access Specials classes. Your assistance in making sure they have accepted the invitation in Google Classroom is greatly appreciated! For assistance on how to join a Google Classroom, click here.
Q3 Material Distribution
All students will need to pick-up instructional materials from school for the 3rd quarter. We will have two distribution events on campus:
Tuesday, January 26 from 4:00-7:00 pm

Wednesday, January 27 from 8:00-10:00 am
We are also planning a remote distribution for our Raleigh Gardens and Casa del Sol communities on Monday, February 1, from 11:00 am to 12:00 pm. If you would like to pick-up your child's materials during this remote distribution (corner of Deep Hollow and St. Giles), please complete this form.
All students will receive a pair of earbuds that will be theirs to keep. They will also receive a math manipulatives kit that will need to be returned at the end of the school year.
Positivity Project This Week: Perseverance
In P2 this week, students will be learning about Perseverance. Perseverance means to keep going to achieve worthy goals, despite obstacles. Not giving up when the going gets tough. For resources you can use at home with your child, visit the P2 for Families Portal and use the password P2.
Continuing Communication
The weekly Principal's Posts are posted on our website and shared directly with parents via email and text message. PowerSchool (our data management system) is undergoing some upgrades, which could affect parents receiving messages from the school. If you notice that you are no longer receiving messages in the next few weeks, please reach out to our Data Manager, Mark Flynn at mflynn2@wcpss.net, to make sure you continue to receive communications.

Have a wonderful week, Jets!
Your Proud Principal,
Kathy Livengood