Return to Headlines
Principal's Post | May 11, 2020
Greetings Jets Parents!
I hope all of our Jets moms had a wonderful Mother's Day yesterday! As you know, last week was Teacher Appreciation Week at Brier Creek and across the country. On behalf of all of us at Brier Creek, thank you for the cards, drawings, notes, and gifts you sent! You, our community, make us feel appreciated every week of the year, but we are grateful for the extra words of encouragement and tokens of thanks that you gave last week. We also want to thank our PTA for going above and beyond to celebrate us even though we can't be together. They made personalized goodie bags according to each staff member's Favorite Things list, and then delivered them along with a front yard sign that said, "A Brier Creek Superstar Works Here!" It truly brought smiles to so many faces! Thank you, PTA!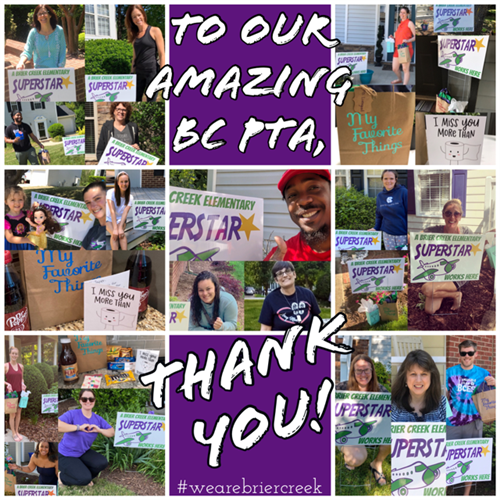 Also, some congratulations are in order! Althea Hrbek, EBS I Teacher, earned her MSA from East Carolina University this spring, and Kasmira Armstrong, 3rd Grade Teacher, earned her Master of Education degree! Congratulations to both of these Soaring Jets!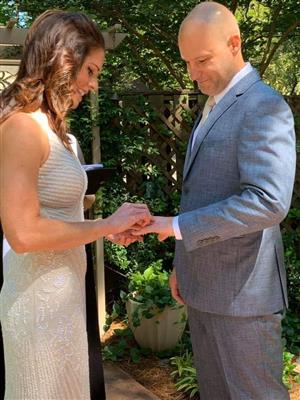 We also want to congratulation Lauren Handley, Kindergarten Instructional Assistant, on her marriage last weekend! Now Mrs. Bell, we wish her and her family a lifetime of happiness!
End of Year Feedback/Grading
By the end of the semester (June 4 for Track 1, June 11 for Tracks 2, 3, & 4), you will receive your child's final report card for this year. It will not have Quarter 4 grades, but it will have a narrative summary of your child's progress through March. Where possible, your child's teacher will send this electronically through email, but we will mail home copies upon request or if we do not have a valid email address. If you would like an end-of-year conference with your child's teacher, please let him or her know soon. Teachers only have 1-2 workdays after the semester ends, then they will be on vacation until we begin our new school year in July.
As we move into Week 5 of Remote Learning, please remember that we understand everyone's situation is different. While we hope your child is able to complete most, if not all, of the assignments from their teachers, we understand that sometimes, it's just not going to happen. That's okay. We promise we will continue to be flexible and supportive. Your child's completion rate on remote learning activities will not affect his/her promotion to the next grade.
Planning for Next Year
At this time, we are planning to open as scheduled, however, we are also making contingency plans in case we are unable to do so. Track assignments for new students are being finalized and we are moving forward with planning for a great year!
The Kindergarten Orientation planned for early June has been cancelled. As the situation become clearer into June, we will make plans for both KinderJet Orientation as well as Meet the Teacher events. We know that school events, and school in general, may not look the same as it did prior to March, and we will make sure we keep you informed of events moving forward.

Student Services Updates
Parents, please click here for updates from our Student Services Team.
Lunch with Livengood
Lunch with Livengood will continue on Mondays for 3-5 and Tuesdays for K-2 through the week of June 8. We have lots of fun - I hope your children will join us! Please reach out to your child's teacher if you need the Google Meet code. Your child MUST be logged in to his/her WakeID in order to access the Meet.
PTA News and Updates from your PTA President, Brittany Wells
The Staff Appreciation Committee would like to thank all of the families who participated in Virtual Staff Appreciation Week! Thank you to everyone who wrote a special note, drew a picture, or sent a gift card to the staff at BCES. We hope the staff was able to see how much they mean to us!

Congratulations to all of our winners in the PTA free raffle! Visit

http://briercreekpta.org/free-raffle/

to see a list of all of the winners.

Save the date for our Virtual General PTA Meeting on June 1st at 6:30pm. We will be voting on 2 budgets, and electing the new PTA officers for next year. We will be announcing the slate of officers, and the proposed budgets no later than May 22nd.

The BCES PTA is excited to offer EduKit School Supply kits again for the 2020-2021 school year. This is a chance for all returning families to pre-purchase school supplies for the next school year. All orders will be made exclusively online this year. No checks or cash will be accepted. Please keep a look out for more information coming from the PTA later this week with a link to order. To check out what supplies will be required for your grade level and grade wishlists, check out

http://briercreekpta.org/school-supplies-for-2020-2021/

. Tracks 1, 2 & 3 have an order deadline of May 31.

The Nominating Committee is continuing to seek volunteers for next year's Board and Committees. Please email Andrea Bertole at

andreabertole@hotmail.com

to learn more. You can find information about PTA roles at

http://briercreekpta.org/2020-21-volunteer-opportunities/
I hope you have a wonderful week! Please reach out with questions or kudos to share!
Take care,
Kathy Livengood
Principal