Return to Headlines
Principal's Post 4 | August 26, 2019
Greetings Jets Families! In this Principal's Post, you can find information about:
Upcoming Events on the Calendar

Counselor's Corner

BYOD Program

Young Rembrandts is Now Registering for the Fall

Volunteer Registration and Reactivation

PTA News and Updates
BCES SCHOOL EVENTS CALENDAR
Click Here for the Full Calendar
THIS WEEK (Aug 26)
Monday

Tuesday

Wednesday

Thursday

Friday

No Events Scheduled

Ukulele Club

Science Olympiad

7:45-8:45 am




PTA Family Night

McTeachers' Night

5:00-7:00 pm at the Brier Creek McDonalds

T3/T4 Fall Pictures




Chorus Club

4:15-5:30 pm




No Events Scheduled

< COLLEGE DAY > Everyone wear gear or colors to represent favorite college or universities!

Last Day of PTA Invest in Your Child Campaign for T1/T4
NEXT WEEK (Sept 2)
Monday

Tuesday

Wednesday

Thursday

Friday

Labor Day Holiday

No School

Ukulele Club

Science Olympiad

7:45-8:45 am





Chorus Club

4:15-5:30 pm

Young Rembrandts

4:00 in the Art Room

No Events Scheduled
Counselor's Corner Newsletter
Our amazing counselor, Jennifer Lee, would love for you to take a look at the July/August Counselor's Corner Newsletter. In it, you will find important information, like:
Meet Ms. Lee

Student Services Family Needs Survey

Backpack Buddies

Classroom Guidance Lessons Updates

Steps to Success Updates

Lunch Bunch

Small Groups Coming Soon

Individual Counseling Information
Also, please check out our Student Services Website to learn more about our Student Services Department at Brier Creek. It includes all kinds of helpful information for parents!
Bring Your Own Device Program (BYOD)
Brier Creek is proud to be a Bring Your Own Device (BYOD) School! We participate in the BYOD program because it aligns with our school's Mission, Vision, and Values. Technology is always used as a supplement to instruction and not a replacement for the high-quality, rigorous instruction provided by our teachers.
For a student to be allowed to bring his/her device to school, parents and students must first sign the WCPSS BYOD Contract found below and return it to school. Copies of this form are available in the front office or can be sent home with your student when you request your child's teacher to do so. Student devices must always be in plain view, used only when given explicit permission to do so, and be used in accordance with the contract. Permitted devices are laptops and tablets. Cell phones are not permitted to be used at school. Smart Watches must be in Airplane Mode to disable text messages and phone calls to the device. The device is considered a cell phone unless it is in airplane mode.
Sending a device to school with your child is NOT required or necessary for your child to learn and grow. If you do not wish for your child to bring his/her device to school, do not fret! When technology is required, teachers will provide devices for students to use. We have multiple Chromebooks, laptops, and tablets for students and teachers to use. For more information regarding the BYOD program, please visit our website.
Young Rembrandts Now Registering for Fall Session
Young Rembrandts Drawing is back at Brier Creek! Young Rembrandts is open to Kindergarten through 5th Graders and will meet on Thursday afternoons from 4:00-5:00 in the Art Room beginning on September 5th. During Young Rembrandts, artists receive drawing lessons that encompass a fascinating world of color, pattern, and design. Students will strengthen their marker rendering skills as they draw a detailed gumball machine. A drawing of a sandwich will make them hunger for more art. They will travel back in time to the age of the pharaohs as they illustrate a decorative, Egyptian headdress. An illustration celebrating the fall season will introduce our colorists to warm and cool colors. All this and more await your child in a Young Rembrandts classroom! To register your child, please visit the Young Rembrandts website.
Volunteer Registration and Reactivation
For the safety of our children, all volunteers must be cleared through the WCPSS Volunteer Registration System. This includes room parents, field trip chaperones, testing proctors, lunch bunch leaders, and any person who may be alone with a child or group of children in our school. Please review the following information for those registering as a volunteer for the first time in 2019-2020 and for those who had volunteer clearance in 2018-2019.
New Volunteers for 2019-2020
All new volunteer applicants must register and have an approved criminal record check prior to engaging in volunteer work. Registration can be done in the main office at Brier Creek during office hours - 8:00-4:30, Monday through Friday. If another site is more convenient for you, know that you can complete the registration process at any WCPSS work site.

Applicants will be notified by email once their application has been approved. Applicants who are not approved will receive notice from Employee Relations.

Please be mindful that the background check process can take several weeks.
Reactivation for Continuing Volunteers
All continuing volunteers approved for the 2018-2019 school year

MUST

reactivate as a volunteer

no later than 4:00 p.m. on October 31, 2019

. Reactivation can be done in the main office at Brier Creek during office hours - 8:00-4:30, Monday through Friday. If another site is more convenient for you, know that you can complete the registration process at any WCPSS work site. Reactivation is automatically granted upon completion of the application.

Current volunteers who provide a valid email address will receive an email 15 days and 30 days prior to the expiration of their volunteer status reminding them to reactivate.

After October 31, 2019, individuals previously approved may not volunteer without a new criminal record check. To avoid unnecessary costs to the school system, please reactivate your status prior to it expiring.
Registered volunteers, and the school to which they are attached, will receive a letter from Employee Relations if volunteer status is revoked for any reason. For any questions about registering or reactivating volunteer status, please contact our Receptionist, Kay Self, at kself@wcpss.net or call the front office.
PTA News and Updates- from your PTA President, Brittany Wells
*The Invest Campaign for Tracks 1 and 4 is off to a great start! Every dollar raised will support student experiences and teacher support. Please return your Invest card by Friday, August 30th. Everyone who returns their brochure will get a card for a free ice cream cone at McDonald's. The grade with the highest percentage of returned brochures will receive a popsicle celebration. Here is a link for more information about Invest, and it also has a link where you can print a new brochure if you have misplaced yours: http://briercreekpta.org/invest/ .
*Join us for our first family night of the year at McDonald's in Brier Creek on Tuesday, August 27th from 5pm-8pm. Come let the BCES teachers and staff serve you food, and enjoy a fun night with other BCES families.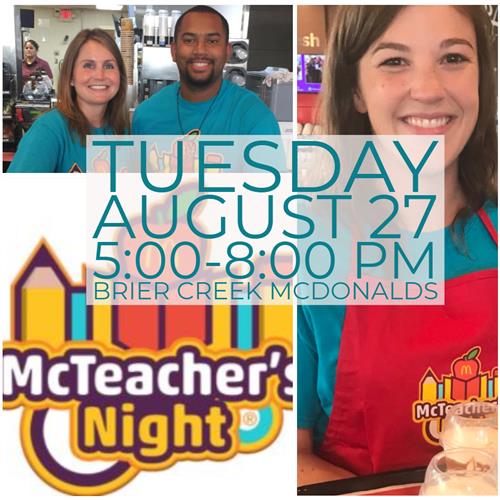 ---
Please look for the weekly email from your child's teacher and check your child's grade-level website for additional information. Grade-level websites can be found here. Please reach out to your child's teacher with any questions.
My Jets Best,
Kathy Livengood, Principal
klivengood@wcpss.net