Return to Headlines
Greetings Jets Parents and Community!
In this week's updates, you will find information about:
Track Out Spots Available at Laurel Hills Park

WCPSS is Hiring

Student Password Resets

Repeating from Last Week: Preparing for 2019-2020
Calendar of Coming Events
This Week

Monday

June 24

4th & 5th Grade Math EOG (T2/T3/T4)

Tuesday

June 25

Wednesday

June 26

Thursday

June 27

Friday

June 28

T3 5th Grade Soaring Ceremony, 9:30

T2/T4 5th Grade Soaring Ceremony, 10:10

Last Day of School!
Click Here for the Full Calendar
Raleigh Parks & Rec Track Out Camp - Spots Still Available at Laurel Hills Park
Are you still searching for track out camp options for 2019-2020? Raleigh Parks & Rec has spots still available at Laurel Hills Park for all tracks for the upcoming year! Also, you can check out RaleighTrackOutCamps.com for a comprehensive listing of camps for all interests around our city.
WCPSS is Hiring!
The Wake County Public School System has an immediate need for responsible and caring bus drivers as well as bus mechanics, HVAC technicians and Child Nutrition Services team members. If you are looking for a rewarding career, we encourage you to check out these opportunities and apply today.
Child Nutrition Services will hold a Job Fair on Thursday, July 11 from 3:30 to 5:30 p.m. at Green Hope High School, 2500 Carpenter Upchurch Rd, Cary. Register to attend the fair and start your application here.
Find more information about job responsibilities, qualifications and benefits for these important positions on the WCPSS Careers site under Opportunities.
Student Passwords Reset
New for the 2019-20 school year, students in grades 3-5 will be required to change their WakeID password. Previously, these students were able to use their student ID as their password, however, creating a unique password will improve security for our students.
On July 1, 2019, students in grades 3-5 will be prompted to create a 6-character password on first login. (Instructions for grades 3-5) Passwords must be at least 6-characters in length and cannot be their student ID.
Preparing for 2019-2020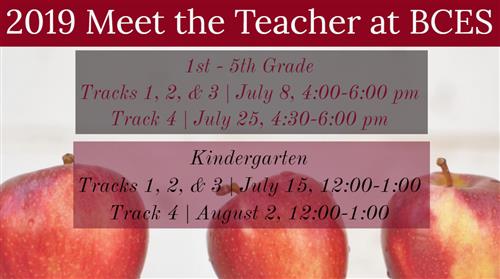 Meet the Teacher - Please make sure you calendars are marked for your child's Meet the Teacher event.
Bus Routes - The bus routes for 2019-2020 have been posted on our website. It is important to check this, as routes change year to year and you cannot assume your child will necessarily have the same route or bus stop in the new school year. NOTE: We only have 5 routes scheduled in 2019-2020 instead of 6. Please check the WCPSS Transportation Website for updates and further information. More information about transportation can be found on our website.
School Supply Lists - The 2019-2020 School Supply lists for each grade level are available here.
Dismissal Numbers - If your child is a carpooler or a walker, you will need to obtain a new dismissal tag for the 2019-2020 school year. These are available now in the front office or will be available at the Meet the Teacher events. Walker Contracts for 2019-2020 are available here.
Teacher Assignment - Postcards will be sent home with tracked-in students the week of June 24. They will be mailed for those students not tracked in.
School Meals - Your child's lunch account can be managed at www.MySchoolBucks.com, where you can add funds, set purchasing limits, and more! You will also receive low-balance alerts - a helpful tool for busy parents!
Free and reduced meal applications must be re-submitted each year. You can apply online here. For more information about school meals, visit our website.
Volunteer Registration/Reactivation - If you might volunteer in 2019-2020, please make sure you have registered or reactivated your registration with the WCPSS Volunteer System. This can be done at Brier Creek or any WCPSS school.
---
Didn't get a chance to read last week's message? Click here to get caught up now. Please reach out to your child's teacher with questions.
Thank you and take care,
Kathy Livengood