Return to Headlines
Road Closure Alert - 5/17/2019
UPDATED at 1:15 pm
5/17/2019 @ 1:15 pm | Update on Bruckhaus Street Closure
The Site Supervisor from the City of Raleigh has told me that the crew is currently cleaning after successfully repairing a sinkhole on Bruckhaus Street. They anticipate that Bruckhaus will completely re-open by 1:30 this afternoon. There was no damage to utility lines and no danger was ever posed to the school or our students and staff.
I look forward to seeing you at the PTA Spring Carnival tonight!
Take care,
Kathy Livengood, Prinicpal
5/17/2019 @ 10:45 am | Parent and Community Advisory
Please be advised that Bruckhaus Street is currently closed as crews repair a sinkhole that developed this morning. The sinkhole does not pose a threat to the school and students are safe. I do, however, want to give you important information regarding the impact of this closure on our school. The Site Supervisor has communicated with me that they predict they will complete the project and re-open Bruckhaus between 3:00 and 6:00 this afternoon.
As I receive updates from him through the day, I will also update you, our community via posting on our website, SchoolMessenger alerts, and social media. If you do not currently receive text alerts from SchoolMessenger, please opt in by texting YES to 67587. More information about SchoolMessenger can be here on our website. You can also follow us on social media via Twitter (@BrierCreekES), Facebook, and Instagram.
Accessing the School
The parking lot of the school remains accessible if vehicles turn onto Bruckhaus from Globe Road. On the map below, the section identified in red indicates where the road is fully closed and the green routes indicate alternate ways to get to our school.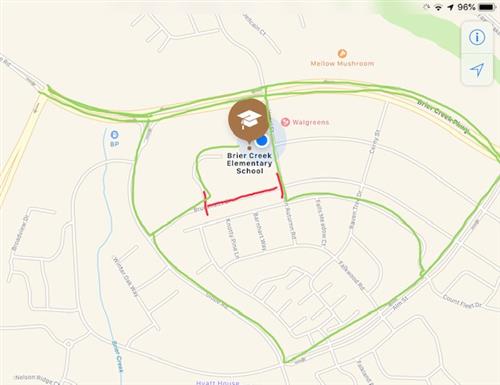 Carpool This Afternoon
If Bruckhas is still closed this afternoon, we ask that vehicles access the carpool loop via Globe Road from the south by turning right onto Globe from Alm Street and then a right on Bruckhas. By approaching this way, we will be able to ensure traffic does not back up to Brier Creek Parkway and that the left-turn lane on Globe Road does not become a hazard. We ask that you exit the school via a right turn back onto Bruckhaus followed by a right turn onto Globe Road. If your destination is south of the school, you will be able to come back into our neighborhood via Vogel St. or Alm St.
PTA Carnival Tonight
We are excited about tonight's PTA Carnival that will be from 5:00-8:00 in our bus loop and playground. I ask that you use the same traffic patterns for accessing our school parking lot outlined above. To learn more about tonight's Carnival and to pre-order your wristbands, please head to the PTA Website! Remember, the Silent Auction is currently open with some great items and activities to bid on! The auction will close at 7:00 pm tonight.
Thank you,
Kathy Livengood, Principal