Return to Headlines
#EngageEmpower
Brentwood Families,
This past week in our Raleigh community, a lot has occurred with the tragedy that took place in Northeast Raleigh. The Brentwood school community sends our thoughts and love to the Knightdale school community, their families, and all those affected. Our top priority is our students, families, and staff. If you need additional support, please do not hesitate to reach out to the school at (919)850-8720. We are always here for you!
Please see information below for updates:
Important Dates to Remember
Week of October 17 = Book Fair
Tuesday, October 25 = Fall Picture Day
---
IMPORTANT UPDATES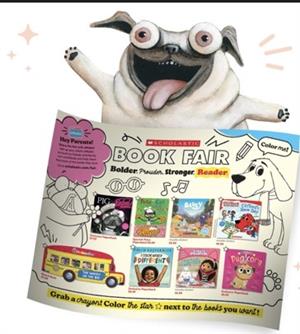 Book Fair Begins This Week!
The PTA Book Fair will take place this week! Information has been sent home with all families.
Did you know you can set up an eWallet for your child, so that you don't have to send in cash?!
Cashless, stress-less shopping. Yes, Please! Friends and family can even contribute funds! Set one up now here: https://www.scholastic.com/bf/brentwoodelementaryschool9
Book Fair Volunteers NEEDED
We need volunteers for the Book Fair that begins this week! If you are interested in volunteering, we have many 2 hours slots open. Here is the link to sign up:
https://bmesepta.memberhub.com/w/GetInvolved
Picture Day is October 25th
Our Fall Picture Day will be October 25th. 🍁
Visit https://www.strawbridge.net/ to see additional package options, order and pay online! Our school order code is FM407131
If you have any questions or concerns please call 919-850-8720 or email pnochoa@wcpss.net.
United Arts Performance - Thanks Brentwood PTA
This week students will have the opportunity to check out the United Arts Performance "Didgeridoo" this week thanks to our Brentwood PTA! Pictures to come soon!
Picture Day is October 25th for students.
---
PREVIOUS ANNOUNCEMENTS
DON'T FORGET: Join our Brentwood Parent Teacher Association (PTA)
We need your help in helping support our Brentwood students and staff. You can help us by joining the Brentwood PTA. Click the following link to join the PTA today! We are striving for 100% membership!
https://bmesepta.memberhub.com/
Reminder: Free and Reduced Lunch Forms COMPLETE TODAY
If you have not already, please complete the Free and Reduced Lunch forms for your child(ren). These numbers are used in determining our Title I funding at Brentwood. Forms can be completed online or a hard copy that can be turned into the office. If you need a hard copy, contact (919)850-8720. Below is the link to complete the online form: https://www.wcpss.net/Page/1849
Reminder: Important COVID Procedures and Protocols
Please make sure to refer to the Safe to School Plan for Families for all Health and Safety Guidelines.
IMPORTANT: Please know that parents will be contacted if their child experiences any of the following symptoms while at school, and will need to be picked up.
Symptoms:
Fever or chills | Cough | Shortness of breath or difficulty breathing | Fatigue
Muscle or body aches | Headache | New loss of taste or smell | Sore throat
Congestion or runny nose | Nausea or vomiting | Diarrhea
Please refer to the following link for more information: https://www.wcpss.net/WhenToReturn.
School Communication
Please make sure that you are receiving school communication from Ms. McKinley. There have been some families that have stated that they are not receiving the school communication. It is important that you are receiving this information as it contains important announcements. Please check out the following link for more information on school messenger: https://www.wcpss.net/schoolmessenger.
If you are not receiving school communication, contact our front office at (919)850-8720 so that we can verify what information you have in our system.
Please visit our website, www.wcpss.net/brentwoodes for more information about Brentwood Magnet Elementary. Ms. McKinley will send home a weekly School Messenger to all families every Sunday evening. These messages are located on the Brentwood website at the following link.
REMINDER: Brentwood Afterschool Program
We will continue partnering with Raleigh Parks and Recreation for our After School program. The program will be held on the Brentwood campus on school days from 3:00 - 6:00 for a cost.
The program strives to make available a high-quality program at a low cost. The goal is to include a variety of curriculum-based programs such as arts & crafts, fitness & nutrition, and homework assistance.
Registration needs to be completed through Raleigh Parks and Rec. For more information and the registration process, please visit:
https://raleighnc.gov/SupportPages/after-school-x-press
REMINDER: Follow us on Social Media
Check out the wonderful things going on at Brentwood Magnet Elementary School of Engineering!
Twitter: @BrentwoodMESE
Facebook: BrentwoodMESE
Feel free to contact the school at (919)850-8720 if you have additional questions or contact your child's teacher if you need any assistance.
Sincerely,
Melissa McKinley, Principal