Return to Headlines
Brentwood Families,
Hope you had a great weekend! I want to give a HUGE THANK YOU to all our Brentwood families and Brentwood PTA for showing our teachers how much they are appreciated this week.
Please see the information below for updates:
Important Dates to Remember
Friday, May 13 - Last Day of Brentwood Spiritwear Sale: https://www.adsnartspiritwear.com/
Monday, May 30 - Memorial Day Holiday - No School for Students and Staff
---
Important Updates
UPDATE: Brentwood PTA Spiritwear For Sale (Shirts & Sweatshirts)
Have you been waiting to purchase Brentwood Spiritwear? Well the time has come, check out the following link to purchase today: https://www.adsnartspiritwear.com/
All items will be delivered to the school. The deadline to purchase is Friday, May 13th.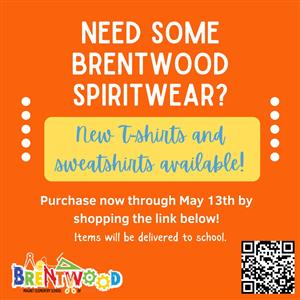 REMINDER: Brentwood Beautification Day (Saturday, May 14)
We have set a new date for our Brentwood Beautification Day. This will be scheduled on Saturday, May 14th from 9am-1pm.
Reminder: Library Volunteers
We are in need of volunteers to help Ms. Benson (Media Coordinator) throughout the week to shelve library books. If you are interested in volunteering, please contact Ms. Benson at mbenson@wcpss.net
Reminder: MAKO COVID-19 Testing at Brentwood
Our school, in partnership with MAKO Medical, has begun offering weekly, on-campus COVID-19 testing for students and staff. Learn more about pooled testing.
REMINDER: COVID reminders
If a Brentwood student or someone in the home tests positive for Covid-19 please contact the office at 919-850-8720 to speak to either Ms. Ochoa or Ms. Blankenship for further guidance.
REMINDER: COVID-19 Protocols and Procedures
Please view and follow the information below as the safety of our students and staff is our top priority: https://www.wcpss.net/covid19
Reminder: Join our Brentwood Parent Teacher Association (PTA)
Do you want to help support our Brentwood students and staff? We need your support by joining the Brentwood PTA. Click the following link to join the PTA today!
https://bmesepta.memberhub.com/
Also, you can support our school by checking out the following deals:
https://bmesepta.memberhub.com/store/givebacks
REMINDER: Follow us on Social Media
Check out the wonderful things going on at Brentwood Magnet Elementary School of Engineering!
Twitter: @BrentwoodMESE
Facebook: BrentwoodMESE
Feel free to contact the school at (919)850-8720 if you have additional questions or contact your child's teacher if you need any assistance.
We are Stronger Together!
Sincerely,
Melissa McKinley, Principal