Return to Headlines
Brentwood Families,
Hope you enjoyed your weekend! Please see the information below for updates:
Important Dates to Remember
Wednesday, February 16 = Spring Picture Day
Friday, February 18 = Teacher Workday (No school for students)
Monday, February 21 = No School for students and staff
Wednesday, February 23 = Engineering Week begins at Brentwood
---
Important Updates
GREAT NEWS: National Magnet Schools of America School of Distinction for 2022
​​I'm excited to announce that Brentwood Magnet Elementary has been named a National Magnet Schools of America School of Distinction for 2022.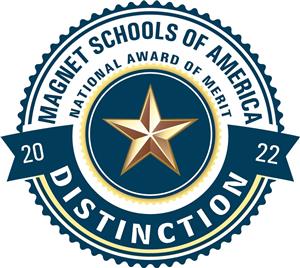 We are so proud of this wonderful accomplishment for our school!
REMINDER: COVID reminders
If a Brentwood student or someone in the home tests positive for Covid-19 please contact the office at 919-850-8720 to speak to either Ms. Ochoa or Ms. Blankenship for further guidance.
REMINDER: Smart Watches and Gab Watches
We have noticed an increase in Smart Watches and Gab Watches in the building since the winter break. Please review the expectations for these devices from the WCPSS Student/Parent Handbook:
" Except when permitted for instructional use by the teacher, no student may use a personal device (laptop, phone, tablet) during instructional hours. See Board Policies regarding Technology Responsible Use and Code of Student Conduct. Students are expected to comply with these policies when students use a school or personal device on school property, at school-sponsored events, on school-based transportation, or any time a personal device is connected to district technology resources. Any device used in violation of these policies will be confiscated and returned to the student's parents. See www.wcpss.net/ GuidesToTechnology for additional information"
If you have any questions about this policy, please contact school administration.
REMINDER: COVID-19 Protocols and Procedures
Please view and follow the information below as the safety of our students and staff is our top priority:
Reminder: Join our Brentwood Parent Teacher Association (PTA)
Do you want to help support our Brentwood students and staff? We need your support by joining the Brentwood PTA. Click the following link to join the PTA today!
https://bmesepta.memberhub.com/
Also, you can support our school by checking out the following deals:
https://bmesepta.memberhub.com/store/givebacks
We're excited to bring your family these deals while you support our school! Choosing our featured products at the link above is an easy and fun way to SHOP, SAVE, and HELP us reach our fundraising goals to support our organization! They make great gifts, and you can even support local businesses through your purchases.
We'll be updating the store regularly with new special savings on featured products. Up to 20% of ALL sales from these product fundraisers goes back to our organization!
Share your purchases on social media - the more you share, the more funds we raise.
REMINDER: Follow us on Social Media
Check out the wonderful things going on at Brentwood Magnet Elementary School of Engineering!
Twitter: @BrentwoodMESE
Facebook: BrentwoodMESE
Instagram: BrentwoodMESE
Thank you for your patience with us as we continue to receive updated district information. Again, we will communicate all of our plans for Brentwood once it is finalized.
Feel free to contact the school at (919)850-8720 if you have additional questions or contact your child's teacher if you need any assistance.
We are Stronger Together!
Sincerely,
Melissa McKinley, Principal