Return to Headlines
Brentwood Families,
Hope you had a great weekend! Please see information below for updates:
Important Dates to Remember
Thursday, November 11 = Holiday, No school for students and staff
Friday, November 12 = No School for students
Important Updates
Congratulations to our 21-22 Teacher of the Year (Mrs. Katy Womack - 2nd Grade Teacher) and our Instructional Assistant of the Year (Mrs. Shannon Rogers - 1st Grade Instructional Assistant)
Mrs. Katy Womack - Teacher of the Year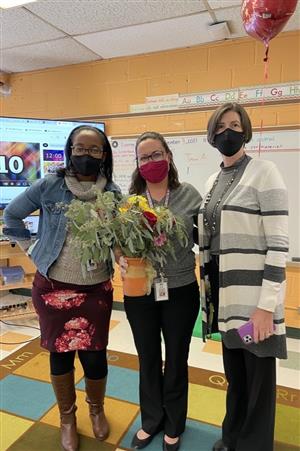 ---
Mrs. Shannon Rogers - Instructional Assistant of the Year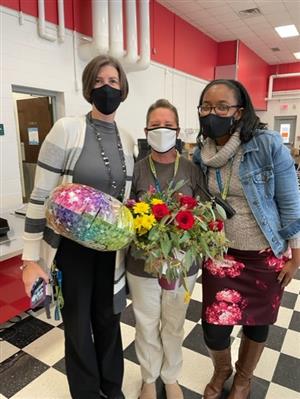 UPDATE: Thursday, November 11 - Friday, November 12 : No school
There will be no school for students on Thursday, Nov. 11 and Friday, Nov. 12 due to a holiday and workday.
UPDATE: THANK YOU Brentwood Families
Thank you to all the Brentwood Families who provided items to show appreciation for our staff for Fall Staff Appreciation. We will be showing staff appreciation this coming week! If you see a staff member, let them know how much they are appreciated.
THANK YOU!
Reminder: Join our Brentwood Parent Teacher Association (PTA)
We need your help in helping support our Brentwood students and staff. You can help us by joining the Brentwood PTA. Click the following link to join the PTA today!
https://bmesepta.memberhub.com/
Reminder: Important COVID Procedures and Protocols
Please make sure to refer to the Safe to School Plan for Families for all Health and Safety Guidelines.
All students should have their temperature taken every day at home before coming to school. You may not enter a WCPSS facility if you are:
Diagnosed with COVID-19 within the last 10 days
Exposed to COVID-19 within the last 14 days and not fully vaccinated
Instructed to quarantine
Sick or experiencing any of these symptoms of illness

Fever or chills
Cough
Shortness of breath or difficulty breathing
Fatigue
Muscle or body aches
Headache
New loss of taste or smell
Sore throat
Congestion or runny nose
Nausea or vomiting
Diarrhea
IMPORTANT: Please know that parents will be contacted if their child experiences any of the above symptoms while at school, and will need to be picked up.
COVID like symptoms will require a negative PCR test OR alternate diagnosis by a medical provider AND the student must have felt well and been fever free for 24 hours without medication to return. Please refer to the following link for more information: https://www.wcpss.net/WhenToReturn.
REMINDER: Follow us on Social Media
Check out the wonderful things going on at Brentwood Magnet Elementary School of Engineering!
Twitter: @BrentwoodMESE
Facebook: BrentwoodMESE
Instagram: BrentwoodMESE
Thank you for your patience with us as we continue to receive updated district information. Again, we will communicate all of our plans for Brentwood once it is finalized.
Feel free to contact the school at (919)850-8720 if you have additional questions or contact your child's teacher if you need any assistance.
We are Stronger Together!
Sincerely,
Melissa McKinley, Principal