Return to Headlines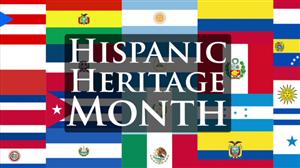 Stronger Together
Brentwood Families,
Hope you had a wonderful weekend! Happy Hispanic Heritage Month!
Please see information below for updates:
Important Dates to Remember
Thursday, October 21= Picture Day
Monday, October 25= End of Quarter 1
Important Updates
UPDATE: Celebrating Hispanic Heritage Month
This month we will be celebrating Hispanic Heritage Month. Students will be learning all about the Hispanic culture and history in classes.
REMINDER: Teacher/Parent Communication
If you have any concerns or questions please reach out to your child's classroom teacher. Teachers are open to listening to your concerns and working together to resolve any classroom issues. Please know that teachers will respond to you within 24-48hrs.
REMINDER: Carpool and Dismissal Procedures
Carpool is continuing to get better each week! Thank you all for your patience during this time.
We are still having some families choose not to follow carpool procedures and traffic patterns. It is important that all families follow these procedures in order to ensure the safety of our students and run carpool efficiently. Administration will begin passing out reminders of carpool procedures to those who choose not to follow these procedures.
The SAFETY of our students is a TOP PRIORITY!
Here is how you can help:
Join the line on Ingram toward Brentwood, do not turn left into the parking lot and interrupt the line

Please follow all traffic patterns. In the event families choose to not follow traffic patterns, school administration will be notified to then provide a warning to families.

WATCH OUT FOR WALKERS!

We have many walkers at our school. Please make sure you are adhering to the speed limit in the neighborhood and pay close attention to walkers crossing the street. Remember, the safety of our students is our top priority. Therefore, we need EVERYONE to ensure the safety of our Brentwood students.
Have carpool number posted/hung in the car (if you do not have a carpool number, call the main office, 919-850-8720)
Stay in your car. Families that walk up will be directed to the office to check out the student
Help your student learn their carpool number
Remain in car, if you need to help student buckle, please get them into the car and then pull ahead into a parking spot to help them buckle
Please see the graphic below or click the following link regarding Brentwood carpool traffic pattern:
We appreciate all your patience and understanding as we ensure that all students get home safely.
If you have any questions about dismissal procedures, please contact our Assistant Principal, Emily Hardee.
Reminder: Important COVID Procedures and Protocols
Please make sure to refer to the Safe to School Plan for Families for all Health and Safety Guidelines.
All students should have their temperature taken every day at home before coming to school. You may not enter a WCPSS facility if you are:
Diagnosed with COVID-19 within the last 10 days
Exposed to COVID-19 within the last 14 days and not fully vaccinated
Instructed to quarantine
Sick or experiencing any of these symptoms of illness

Fever or chills
Cough
Shortness of breath or difficulty breathing
Fatigue
Muscle or body aches
Headache
New loss of taste or smell
Sore throat
Congestion or runny nose
Nausea or vomiting
Diarrhea
IMPORTANT: Please know that parents will be contacted if their child experiences any of the above symptoms while at school, and will need to be picked up.
COVID like symptoms will require a negative PCR test OR alternate diagnosis by a medical provider AND student must have felt well and been fever free for 24 hours without medication to return. Please refer to the following link for more information: https://www.wcpss.net/WhenToReturn.
REMINDER: Brentwood Afterschool Program
We will continue partnering with Raleigh Parks and Recreation for our After School program. The program will be held on the Brentwood campus on school days from 3:00 - 6:00 for a cost.
The program strives to make available a high-quality program at a low cost. The goal is to include a variety of curriculum-based programs such as arts & crafts, fitness & nutrition, and homework assistance.
Registration needs to be completed through Raleigh Parks and Rec. For more information and the registration process, please visit:
https://raleighnc.gov/SupportPages/after-school-x-press
REMINDER: Follow us on Social Media
Check out the wonderful things going on at Brentwood Magnet Elementary School of Engineering!
Twitter: @BrentwoodMESE
Facebook: BrentwoodMESE
Instagram: BrentwoodMESE
Thank you for your patience with us as we continue to receive updated district information. Again, we will communicate all of our plans for Brentwood once it is finalized.
Feel free to contact the school at (919)850-8720 if you have additional questions or contact your child's teacher if you need any assistance.
We are Stronger Together!
Sincerely,
Melissa McKinley, Principal