Return to Headlines
Stronger Together
Brentwood Families,
I want to first off thank you all so much for being patient with us during our first two weeks of school. Your patience and understanding is greatly appreciated during this time. As you can imagine, our staff is working hard every single day to ensure that we are providing a safe learning environment for your child. Please know that the safety of our students is a top priority at Brentwood. Our current practices are based on the guidance provided by the district and the individual needs of our school. Please know that if you have any questions or concerns about protocols or procedures implemented at Brentwood you can contact me at mmckinley@wcpss.net.
Please see information below for updates:
Important Dates to Remember
Monday, September 6= No School due to Holiday
Tuesday, September 7= Teacher Workday (No school for students)
Important Updates
IMPORTANT: Brentwood Lunch Protocols
Brentwood staff have reviewed the updated COVID-19 Health Guidance as it pertains to implementation procedures. Last year, we had only half of our students on campus, and were able to have students eat in their classroom as we had enough staff to provide coverage during that time. Unfortunately, this is not the case this year as we have over 90% of our students back on campus, and not enough staff to cover during lunch if students eat in their own classrooms.
After reviewing the guidance and the needs of our school, Brentwood will be implementing the following lunch protocol:
We are operating the cafeteria using only 50% capacity in the space. Therefore, we will only allow half of the number of staff and students that we can accommodate in this space. That is a total of 132 maximum. The number of students in the cafeteria during lunch can range from 99-129 students.
Students have assigned seats so that they are not directly facing each other.
Students do not sit at the same seats as the previous group
Tables are cleaned and disinfected between group
If you have any other specific concerns, please do not hesitate to contact me.
IMPORTANT: Carpool and Dismissal Procedures
Thank you very much for your patience as we work with students to learn the carpool routines. We are putting over 50% of our Brentwood students into cars during carpool. We are making improvements every day and cutting the wait time.
Here is how you can help:
Join the line on Ingram toward Brentwood, do not turn left into the parking lot and interrupt the line

Please follow all traffic patterns. In the event families choose to not follow traffic patterns, school administration will be notified to then provide a warning to families.

WATCH OUT FOR WALKERS! We have many walkers at our school. Please make sure you are adhering to the speed limit in the neighborhood and pay close attention to walkers crossing the street. Remember, the safety of our students is our top priority. Therefore, we need EVERYONE to ensure the safety of our Brentwood students.
Have carpool number posted/hung in the car (if you do not have a carpool number, call the main office, 919-850-8720)
Stay in your car. Families that walk up will be directed to the office to check out the student
Help your student learn their carpool number
Remain in car, if you need to help student buckle, please get them into the car and then pull ahead into a parking spot to help them buckle
Please see the graphic below or click the following link regarding Brentwood carpool traffic pattern: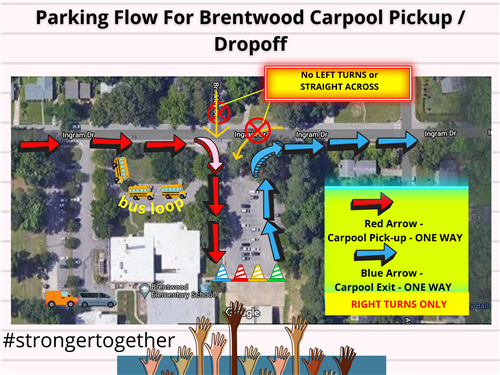 We appreciate all your patience and understanding as we ensure that all students get home safely.
If you have any questions about dismissal procedures, please contact our Assistant Principal, Emily Hardee.
Reminder: 2021-2022 Beginning of the Year Information
Please make sure you have reviewed information that was sent to all families via School Messenger on August 13 for the beginning of the school year. To view this message, please click the following link.
Also, view our Brentwood Parent Handbook for detailed information about our school.
Reminder: Important COVID Procedures and Protocols
Please make sure to refer to the Safe to School Plan for Families for all Health and Safety Guidelines.
All students should have their temperature taken every day at home before coming to school. You may not enter a WCPSS facility if you are:
Diagnosed with COVID-19 within the last 10 days
Exposed to COVID-19 within the last 14 days and not fully vaccinated
Instructed to quarantine
Sick or experiencing any of these symptoms of illness

Fever or chills
Cough
Shortness of breath or difficulty breathing
Fatigue
Muscle or body aches
Headache
New loss of taste or smell
Sore throat
Congestion or runny nose
Nausea or vomiting
Diarrhea
IMPORTANT: Please know that parents will be contacted if their child experiences any of the above symptoms while at school, and will need to be picked up.
COVID like symptoms will require a negative PCR test OR alternate diagnosis by a medical provider AND student must have felt well and been fever free for 24 hours without medication to return. Please refer to the following link for more information: https://www.wcpss.net/WhenToReturn.
School Communication
Please make sure that you are receiving school communication from Ms. McKinley. There have been some families that have stated that they are not receiving the school communication. It is important that you are receiving this information as it contains important announcements. Please check out the following link for more information on school messenger: https://www.wcpss.net/schoolmessenger.
If you are not receiving school communication, contact our front office at (919)850-8720 so that we can verify what information you have in our system.
Please visit our website, www.wcpss.net/brentwoodes for more information about Brentwood Magnet Elementary. Ms. McKinley will send home a weekly School Messenger to all families every Sunday evening. These messages are located on the Brentwood website at the following link.
Reminder: Supply List
In addition to parent provided school supplies, the school will also provide some supplies for all students. Please see the supply list below.
REMINDER: Brentwood Afterschool Program
We will continue partnering with Raleigh Parks and Recreation for our After School program. The program will be held on the Brentwood campus on school days from 3:00 - 6:00 for a cost.
The program strives to make available a high-quality program at a low cost. The goal is to include a variety of curriculum-based programs such as arts & crafts, fitness & nutrition, and homework assistance.
Registration needs to be completed through Raleigh Parks and Rec. For more information and the registration process, please visit:
https://raleighnc.gov/SupportPages/after-school-x-press
REMINDER: Follow us on Social Media
Check out the wonderful things going on at Brentwood Magnet Elementary School of Engineering!
Twitter: @BrentwoodMESE
Facebook: BrentwoodMESE
Instagram: BrentwoodMESE
Thank you for your patience with us as we continue to receive updated district information. Again, we will communicate all of our plans for Brentwood once it is finalized.
Feel free to contact the school at (919)850-8720 if you have additional questions or contact your child's teacher if you need any assistance.
We are Stronger Together!
Sincerely,
Melissa McKinley, Principal