Return to Headlines
4/18/21
GRACE, PATIENCE, and FLEXIBILITY
Brentwood Families,
I hope you had a great weekend! Please see information below for updates:
Important Dates to Remember
Wednesday, April 21 = Regular Live instruction Day; In-person students will be on campus
---
Important Updates
UPDATE: Grades 3-5 Students EOG Dates
3rd-5th grade students will begin taking the EOG in May. Below are the dates:
May 5th: VA students Reading EOG
May 6th: Face to Face students Reading EOG
May 19th: Some 3rd grade students
May 26th: VA students Math EOG
May 27th: Face to Face students Math EOG
June 2nd: ALL 5th Grade Science EOG
Any testing questions can be directed to your child's teacher or testing coordinator Kristen McBryde (kmcbryde@wcpss.net)
UPDATE: WCPSS will offer Virtual Academy in 2021-2022
See WCPSS updates for detailed information.
UPDATE: Live instruction Day on Wednesday, April 21
Students will have a regular live instructional day on Wednesday, April 21. In-person students will be on campus.
UPDATE: VIRTUAL ACADEMY STUDENTS ONLY - Supply Pick Up
If you were unable to pick up your student's supplies for 4th quarter, please stop by the office to pick them up Monday-Friday 9-2pm.
UPDATE: Plastic Containers Needed for Engineering Challenges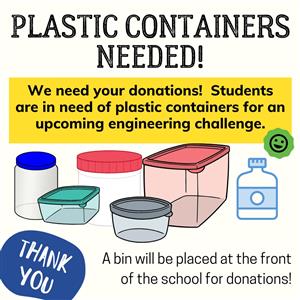 REMINDER: Daily Health Screenings Discontinued
The district will no longer require on-site health screenings. Therefore, students who enter the building (i.e. walkers, bus riders, and carpool students) will NOT be screened.
However, we need your help to keep our school communities healthy by keeping your student home if they are not feeling well or have been diagnosed with or exposed to COVID-19. Thank you for your cooperation. Read More. Refer to this document to help us prevent the spread.
REMINDER: PreK Registration
Apply Before April 30 for Pre-Kindergarten for the 2021-22 School Year
WCPSS offers a free, high quality pre-kindergarten program for children who will be 4 years old by August 31. Students spend the full day at school with their classmates learning skills appropriate for their age through exploration and discovery. The goal is to prepare children to enter kindergarten ready to learn and succeed.
Applications must be submitted by April 30. Learn more and apply today.
REMINDER: Brentwood Afterschool Program
We will continue partnering with Raleigh Parks and Recreation for our After School program. The program will be held on the Brentwood campus on school days from 3:00 - 6:00 for a cost.
The program strives to make available a high-quality program at a low cost. The goal is to include a variety of curriculum-based programs such as arts & crafts, fitness & nutrition, and homework assistance.
Registration needs to be completed through Raleigh Parks and Rec. For more information and the registration process, please visit:
https://raleighnc.gov/SupportPages/after-school-x-press
REMINDER: Check out what students will be learning at Brentwood this month
REMINDER: Follow us on Social Media
Check out the wonderful things going on at Brentwood Magnet Elementary School of Engineering!
Twitter: @BrentwoodMESE
Facebook: BrentwoodMESE
Instagram: BrentwoodMESE
Feel to reach out to me if you have additional questions or contact your child's teacher if you need any assistance.
Thank you again for your GRACE, PATIENCE, and FLEXIBILITY.
Sincerely,
Melissa McKinley, Principal