Return to Headlines
GRACE, PATIENCE, and FLEXIBILITY
Brentwood Families,
Hope you had a great weekend!
Please see information below for updates:
Important Dates to Remember
Monday, March 22 = All PreK-5 In-person students in the building
Wednesday, March 24 = Remote Learning (Asynchronous) Day- No students on campus
Thursday, March 25 = 3rd Quarter Ends
Monday, March 29 - Friday, April 2 = Spring Break and Holiday (April 2) for students. No school.
Monday, April 5 = No school for students
Tuesday, April 6 = Teacher Workday - No school for students
Important Updates
CONGRATULATIONS Kohen Kurisu
Congratulations to one of our 2nd grade students, Kohen Kurisu for being selected to have his Matisse inspired art collage "Big Nose Bob" showing in Gifts of Gold.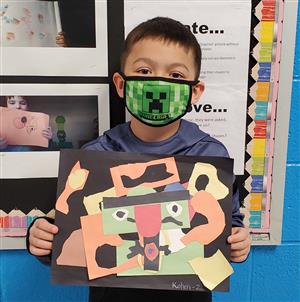 UPDATE: Remote Learning (Asynchronous) Day on Wednesday, March 24
There will be a Remote Learning (Asynchronous) Day this week. No students will be on campus. Please reach out to your teachers if you have any questions regarding assignments for the day.
UPDATE: ENGINEERING WEEK was a SUCCESS!
Engineering week was a SUCCESS!
Check out our Twitter feed: @BrentwoodMESE for exciting pictures of our students.
REMINDER: 4th and 5th Grade In-Person Students Daily Instruction
All 4th and 5th grade in-person students are receiving daily instruction on campus.
Important links for returning back to school:
**IMPORTANT - Please Read: Information on joining Virtual Classrooms due to absence
In-Person students should ONLY join Virtual Classrooms if they have been sent home due to illness, illness in the home, exposure to Covid19 or a positive result. Front office staff or the classroom teacher will inform you if your child needs to join a virtual classroom.
In-Person students should NOT join virtual classrooms if they are absent from school that day and have not been informed by Brentwood staff to join that class. For example, if your child has an appointment or a planned absence, they would NOT join a virtual classroom as this causes a disruption to that particular classroom. Families should still communicate with your child's teacher about their absence.
Please review the WCPSS attendance policy below for students that participate in on-site instruction (in-person students).
WCPSS Attendance Policy Code 4400:
Attendance Status
1) On-site Instruction Days
To be counted present during on-site instruction days a student must be in attendance at least one-half of the student school day. This shall include attendance at official school activities at a place other than school with the approval of the principal. A student shall be in his/her assigned area at the beginning of the school day and the beginning of each class or be recorded as tardy.
If you have any questions please contact the school at (919) 850-8720.
REMINDER: Single-Subject Acceleration(SSA) Spring Testing Request Window is Open
Single-Subject Acceleration (SSA) testing window is here! If you are interested in nominating your child, please contact Shanlee Meyers at smeyers@wcpss for more information or complete the Brentwood SSA Testing Request Google Form.
Click the following link for more information: http://bit.ly/3ejZ9rJ
REMINDER: PreK Registration
Apply Before April 30 for Pre-Kindergarten for the 2021-22 School Year
WCPSS offers a free, high quality pre-kindergarten program for children who will be 4 years old by August 31. Students spend the full day at school with their classmates learning skills appropriate for their age through exploration and discovery. The goal is to prepare children to enter kindergarten ready to learn and succeed.
Applications must be submitted by April 30. Learn more and apply today.
REMINDER: Brentwood Afterschool Program
We will continue partnering with Raleigh Parks and Recreation for our After School program. The program will be held on the Brentwood campus on school days from 3:00 - 6:00 for a cost.
The program strives to make available a high-quality program at a low cost. The goal is to include a variety of curriculum-based programs such as arts & crafts, fitness & nutrition, and homework assistance.
Registration needs to be completed through Raleigh Parks and Rec. For more information and the registration process, please visit:
https://raleighnc.gov/SupportPages/after-school-x-press
REMINDER: Check out what students will be learning at Brentwood this month
REMINDER: Follow us on Social Media
Check out the wonderful things going on at Brentwood Magnet Elementary School of Engineering!
Twitter: @BrentwoodMESE
Facebook: BrentwoodMESE
Instagram: BrentwoodMESE
Feel to reach out to me if you have additional questions or contact your child's teacher if you need any assistance.
Thank you again for your GRACE, PATIENCE, and FLEXIBILITY.
Sincerely,
Melissa McKinley, Principal