Return to Headlines
Mr. Clark's Bengal Message for the week of 02/07/2021
Good Evening Bengal Family, this is Mr. Clark, Principal at Fuquay-Varina Middle School, with your weekly Bengal Message.
New Announcements
Plan B Students Return
As you may know by now, the WCPSS Board voted on Tuesday, February 2nd to return Plan B students to in-person instruction the week of February 15th on cohort rotations. The cohort rotation calendar will remain the same with Cohort 2/B returning to school the week of February 15th. In addition, February 15 & February 16 remain a calendar out day and teacher workday respectively, so students will begin in-person instruction on Wednesday, February 17th.
A simplified version of the cohort rotation calendar may be found at this LINK.
Please review the Plan B Guidelines for Plan B students returning to campus. We have not made any major changes from when students first attended in-person instruction earlier this school year. If you have any questions about the Plan B guidelines, please don't hesitate to email Mr. Clark at clarkh@wcpss.net.
Carpool Students
If your child will be a carpool rider and you no longer have the carpool placard that was issued to you earlier this year, please fill out this Google Form. We will give you another tag when you pick them up in the afternoon.
If this is your child's first time attending in-person instruction and you were never issued a carpool placard, we will assign your child a carpool number and issue you a placard when you pick them up in the afternoon. You do not need to fill out the Google Form.
Asynchronous Day
There is no asynchronous day this week. Students will attend their live Google meets each day of the week.
2nd Semester Elective Schedule for the Week of February 8th.
This week, students will begin the week attending their 2nd elective class on Monday, February 8. The calendar is listed below.

FVMS Spring Musical
I can now officially announce that our Spring musical this year will be FROZEN JR. and we need your super talented kiddos to audition as performers and join our tech team! For more information about the production process, the timeline, and to send in their virtual audition or their tech team interviews, students should join google classroom code z35mbop. The performer and tech kits are on the classwork page. Auditions and tech interviews are due no later than this Monday, Feb 8 at 3pm. Please note, this is only available for current FVMS students. If you have any questions about the musical, you may email Ms. Lundberg at klundberg@wcpss.net.
Yearbook Portrait Pictures
Did you miss picture day? No need to worry!
Submit your own photo following the guidelines below to ensure your student is included in the portrait section of the yearbook.
DEADLINE TO BE INCLUDED IN THE YEARBOOK: Saturday, February 13th.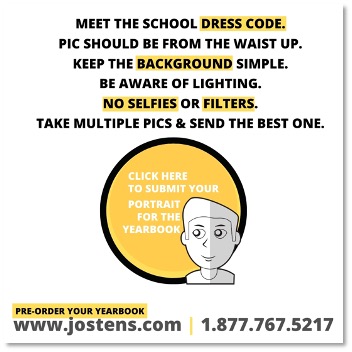 If you are asked for an ID number in order to submit your photo, please use this code: 415464935
For questions regarding yearbook sales or submitting your portrait, you may email Ms. Rion at hrion@wcpss.net.
2nd Quarter A & A/B Honor Role Students
Students that made the A & A/B Honor Role for the 2nd Quarter will receive their Honor Role certificate this week from Mr. Barbalato. If they do not receive it by the end of the week, please have them email him at nbarbalato@wcpss.net.
Career Connections Virtual Event
We will be hosting a virtual Career Connections event for 8th grade students on February 24th. Interested 8th grade students may register by completing a Google document that has been posted in their teachers Google classroom. If you or your child have any questions about this event, they may email Mr. Barbalato at nbarbalato@wcpss.net.
Ongoing Announcements
Middle School Athletic Activities
At this time, middle school athletic activities have been suspended. The district will communicate to us if we will host athletic activities. We do ask that if you are still interested in participating in athletic activities to please complete the Google Form. In addition, you will need to complete the Middle School Athletic Participation Form found at this LINK.
One correction to make is we will accept physical forms dated on or after March 1, 2019 not 2020. So if your child received a physical on or after March 1, 2019 and it was turned into Coach Umphrey, we do not need another physical form from you.
Lastly, athletic activities are open to all 7th and 8th grade students. After assessing interest and determining available space, we will decide if interested 6th grade students are able to participate in that sport.
If you have any questions about athletics, you may email Coach Umphrey at vumphrey@wcpss.net
Yearbook
The last day to purchase an 8th grade ad in the yearbook is on February 11. If you would like to purchase an 8th grade ad or if you have any questions, you may email Ms. Rion at hrion@wcpss.net.
Upcoming Holidays/Teacher Workdays (No School)
February 15 & 16: Calendar Out Day & Teacher Workday - No school for students
Stay Connected with what's happening at FVMS