Return to Headlines
Mr. Clark's Bengal Message for the week of 01/10/2021
Good Evening Bengal Family, this is Mr. Clark, Principal at Fuquay-Varina Middle School, with your weekly Bengal Message. Please listen and read carefully as I have several important announcements to make concerning 2nd semester.
New Announcements
Cohort Assignments
If your child has been assigned to Plan B for the 2nd semester, at 6:00 pm this evening, you will receive a separate email, text message, and phone call indicating which cohort your child is assigned to for 2nd semester. Cohorts were assigned based on transportation, sibling alignment, and classroom balance. We will only change cohorts if siblings are assigned to different cohorts. Cohorts will not be changed for personal preferences. If your child is registered for Plan B and you do not receive this message, please email me at clarkh@wcpss.net.
2nd Semester Schedules
Below you will find a timeline of when and how students will be notified of their 2nd semester schedule and teachers.
Wednesday, January 13th

- Students will receive an email and Google classroom invite from all of their 2nd Semester teachers. Here is a

VIDEO

detailing how students should access and check their email. The email from the teacher will be an introductory email containing information about the class, the teacher, during what period/time the class meets, and Google classroom info. Students do not need to take any action at this time, as this information is intended to inform the students of who their 2nd semester teachers will be. Students should not delete their 1st semester classes from their Google classrooms at this time because they will be expected to log into those classes on Thursday and Friday of next week. Powerschool will still reflect 1st semester classes and not their 2nd semester schedule.

Monday, January 18th

- While this is a holiday, parents and students will be able to log into Powerschool and see their 2nd semester schedule.

While the teachers may have changed, students should still be enrolled in 4 core classes (Math, Science, Social Studies, & ELA) and 2 elective classes. If you do not see this reflected in powerschool, please email their grade level counselor.

Wednesday, January 20th

- This is the first day of the semester. During 1st period, students will spend time with their teachers ensuring their google classroom is set up properly and they know where to go for each of their classes. Teachers will not cover new content on this date but instead use the time in class to get to know their students and ensure students are familiar with their classroom procedures and how to navigate their google classroom.
Again, some students will experience a change in teachers as a result of changing from Plan B to Virtual Academy and vice versa. Other students will experience a change in teachers due to us collapsing a class and needing to balance classes. If you have any questions about your child's schedule, you may email their counselor.
Material Distribution
We will distribute 3rd quarter material from Wednesday, January 13th - Friday, January 15th from 8:00 am - 4:00 pm each day. All of the material will be placed in the carpool lane organized by grade and Math level. 8th grade students will pick up their material from the carpool lane instead of the bus loop. When picking up the material, you will need to know what grade and Math class your student is enrolled in. We will also need you to return the novel from their ELA class that was given to them earlier this year. A staff member will be in the carpool lane to receive the novel and note they have returned it.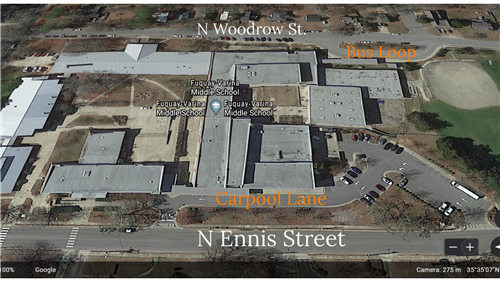 Asynchronous Day
Wednesday, January 13th is an asynchronous day for students. Students will not have live class sessions on this date but instead complete work assigned to them by their respective teachers. In addition, students will receive an email from their 2nd semester teachers.
Middle School Athletic Activities
Based on feedback from middle school principals and athletic directors, any interested middle school student-athlete will have the opportunity to participate in skill development, conditioning workouts and, for some sports, intramural competitions beginning in the second semester. Students will be able to participate in athletic activities only on days when they are in school for face-to-face instruction. Virtual Academy students wishing to participate will be assigned to a cohort and allowed to participate during the week that cohort is at school. This means contests and games between schools will not be held. Circumstances will continue to be reviewed as conditions change. The scheduled dates for when each sport is in season is listed below. Students will be permitted to participate in multiple sports but only if the sports are in different seasons. Students can only participate in one sport per season.
Season 1- January 25-February 19.

Boys' Basketball, Girls' Basketball and Cheerleading

Season 2- February 22-March 26

Volleyball, Girls' Soccer, Football and Cheerleading

Season 3- April 7-May 14

Softball, Boys' Track and Field, Girls' Track and Field, Boys' Soccer
Students will have to follow all current protocols including wearing a mask over the mouth and nose at all times. Locker rooms will not be available for student use so students will need to wear clothes to school that they will participate in during practices. Students will only be able to use the water fountains to fill up water bottles. They will not be permitted to drink directly from the water fountain. Virtual students will have to undergo a health screening before entering the school.
Coaches will share specific details and procedures about athletic activities related to their sports with students and parents once rosters are finalized.
If you are interested in participating in athletic activities this school year, please complete this Google Form. In addition, you will need to complete the Middle School Athletic Participation Form found at this LINK. The participation form includes the physical form that must be completed if your child did not receive and turn in a physical form to Coach Umphrey on or after March 1, 2020. If you wish to participate in Basketball or Cheerleading, you will need to turn in the full athletic participation form including the physical form by January 22nd. The form may be returned to the school when you pick up your child's 3rd quarter course material or to our front office.
Lastly, athletic activities are open to all 7th and 8th grade students. After assessing interest and determining available space, we will decide if interested 6th grade students are able to participate in that sport.
If you have any questions about athletics, you may email Coach Umphrey at vumphrey@wcpss.net
Upcoming Holidays/Teacher Workdays (No School)
January 18 & 19: School Holiday & Teacher Workday - No school for students
Stay Connected with what's happening at FVMS