Return to Headlines
Principal's Message 2.5.2023

Receive push messages by texting "YES" to 67587
Dear Reedy Creek Families,
February is a busy month for us at the Creek. We look forward to the opportunities for our students to have a little fun, to spread an extra layer of kindness throughout the month, and to see each of you at our upcoming family night event next week.
As a reminder, report cards go home on Tuesday. If you have any questions or concerns about your scholar's progress, please reach out to your his/her teacher before or at your upcoming conferences for the quarter. We ask that you continue to communicate with us as your support is essential for the success of your scholar.
Do you have a little time on February 14th to lend a helping hand? 4th & 5th grade Friendship dance has two remaining volunteer slots. Feel free to sign up to support the event as a chaperone. Sign up to chaperone here: https://signup.com/go/qEnLPSD.
Please take a moment to read about the events for this month. As always, thank you for supporting our school community.
Kenya Moore-Kerr
Principal
National School Counselor Week
This week, February 6th - 10th is National School Counselor Week! This year's theme for National School Counseling Week is "School Counselors: Helping Students Dream Big". We have two amazing counselors, Ms. Hall and Ms. Dudek. Please take time to show your appreciation to them for all that they do for our school community.
Black History Month
February is observed as Black History month. Black History is our history and black voices, experiences, and accomplishments are integrated into our scholar's learning all year long. This month, we will highlight some of the contributions of Black and African Americans in our local and national communities. Here are some additional resources you can explore at home with your scholars:
National Geographic - Black History Month
Love the Bus Month
February is "Love the Bus" month. Take an opportunity to thank our hard-working bus drivers. Our drivers often take on additional routes in order to get our scholars to and from school. During the week of February 13th-17th, work with your scholar to write a note, draw a picture, or some to show them you appreciate them. You may also bring treats at Family Night on the 16th to celebrate them.
Friendship Week at the Creek
February 13th-17th, we will be celebrating and focusing on friendship and kindness. Students may participate in our spirit week, in which each day has a theme of dress. On Tuesday 2/14, students will have a friendship dance during their specials in the gym. An "Affirmation Station" will be created in the front lobby with kind messages that students may add on heart paper. Lessons are being done during students' guidance special highlighting important friendship skills. We are looking forward to celebrating this special week!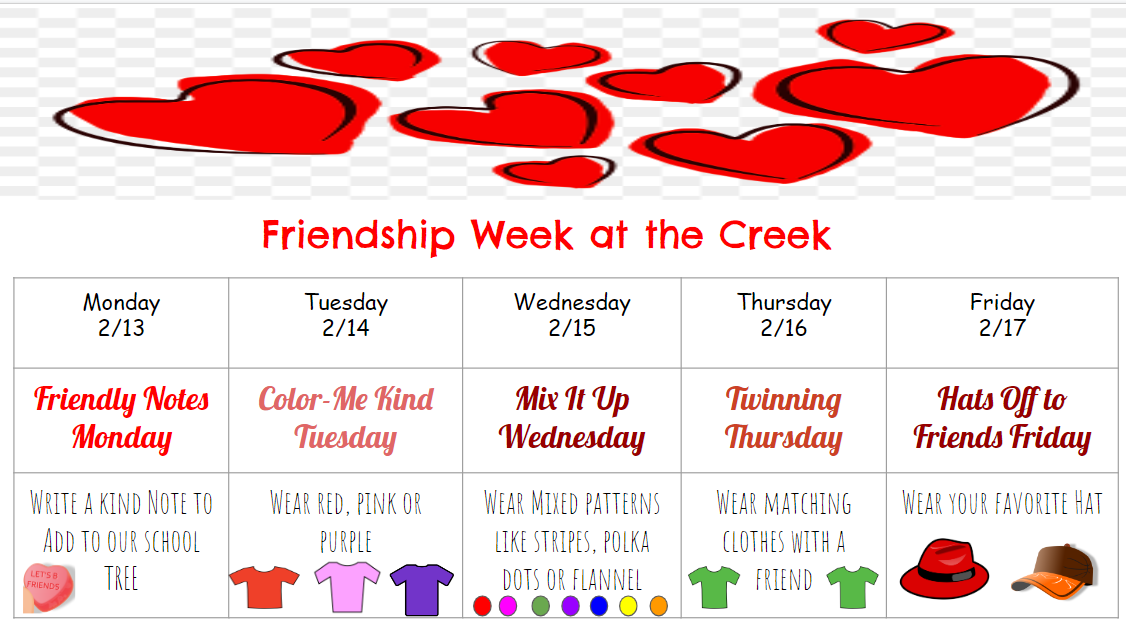 Valentine's Day Events
As we approach Valentine's Day please adhere to following guidelines for sending items to school to celebrate friendship. Classes will not have Valentine's Day parties. Therefore, we ask that you not send food items on Valentine's Day (e.g. cupcakes, cookies, etc). The distribution of valentines with commercially prepared and individually wrapped candy (allergy free – no peanuts) is acceptable for our scholars to share. If your scholar is participating in passing out valentines to his/her classmates, they must prepare one for each student in the room.
Love of Reading Family Event
Cultivating early literacy skills is critical for student achievement in academics and in life! Join us Thursday, February 16th for an evening devoted to developing a love of reading. The event is full of options for connection, creativity, community partnership, information and celebration… You won't want to miss it!
5:00-5:30 is a PTA meeting followed by a 2nd grade performance of "Frog & Toad"
5:30-6:30 is WCPSS Family Academy "Reading Is Fundamental" sessions presented in English, Spanish and Arabic. Childcare for school-age children will be provided for this hour.
6:30-7:30 is Choose Your Own Family Adventure
Connect With Our Cary Public Library Partners and our RCES PTA

Get to Know myON (your child's digital library)

Help Create the RCES Unity Quilt

Participate in our Black History Month Challenge

Visit K/1, 2/3, and 4/5 Book Tasting Rooms to explore grade level texts and reading strategies with some delicious sides
Family Night Event - Reading is FUNdamental!
Meet Your Child's Bus Driver and bring in treats to celebrate them

Meet our School Counselors - bring in treats to celebrate them

Black History Month
February Calendar of Events
February 6-7 - Report Card Go Home in student folders

February 6 - PTA Board Meeting, 5:30pm Media Center

February 6-10 - School Counselor Appreciation Week

February 10 - 3rd Grade Field

February 9 - PTA Spirit Night at Papa John's Pizza

February 13-17 - National Bus Driver Appreciation Week

February 16 - Reading is Fundamental! - Parent Academy (2nd grade performance)

February 16 - PTA General Meeting

February 20 - Vacation Day - No School for Students and Staff
Estimadas familias de Reedy Creek,
Febrero es un mes ocupado para nosotros en Creek. Esperamos con ansias las oportunidades para que nuestros estudiantes se diviertan un poco, difundir una capa extra de amabilidad durante todo el mes y verlos a cada uno de ustedes en nuestro próximo evento de noche familiar la próxima semana.
Como recordatorio, las boletas de calificaciones van a casa el martes. Si tiene alguna pregunta o inquietud sobre el progreso de su estudiante, comuníquese con su maestro antes o durante las próximas conferencias del trimestre. Le pedimos que continúe comunicándose con nosotros ya que su apoyo es esencial para el éxito de su estudiante.
¿Tienes un poco de tiempo el 14 de febrero para echar una mano? El baile de la amistad de 4.° y 5.° grado tiene dos espacios para voluntarios restantes. No dude en registrarse para apoyar el evento como acompañante. Regístrese como acompañante aquí: https://signup.com/go/qEnLPSD.
Tómese un momento para leer sobre los eventos de este mes. Como siempre, gracias por apoyar a nuestra comunidad escolar.
Kenya Moore-Kerr
Principal
Semana Nacional del Consejero Escolar
¡Esta semana, del 6 al 10 de febrero es la Semana Nacional del Consejero Escolar! El tema de este año para la Semana Nacional de Consejería Escolar es "Consejeros escolares: ayudar a los estudiantes a soñar en grande". Tenemos dos consejeras increíbles, la Sra. Hall y la Sra. Dudek. Tómese el tiempo para mostrarles su aprecio por todo lo que hacen por nuestra comunidad escolar.
Mes negro de la historia
Febrero se observa como el mes de la Historia Negra. Black History es nuestra historia y las voces, experiencias y logros negros se integran en el aprendizaje de nuestros estudiantes durante todo el año. Este mes, destacaremos algunas de las contribuciones de los negros y afroamericanos en nuestras comunidades locales y nacionales. Aquí hay algunos recursos adicionales que puede explorar en casa con sus estudiantes:
National Geographic - Mes de la Historia Negra
Raleigh Parks & Rec - Celebre el Mes de la Historia Negra: cosas que hacer y ver
Center for Racial Justice - Guía de recursos del mes de la historia negra para educadores y familias
Museo Nacional de Historia y Cultura Afroamericana - Celebre el Mes de la Historia Negra 2023
Amo el mes del autobús
Febrero es el mes de "Amo el autobús". Aproveche la oportunidad para agradecer a nuestros conductores de autobús que trabajan arduamente. Nuestros conductores a menudo toman rutas adicionales para que nuestros estudiantes vayan y regresen de la escuela. Durante la semana del 13 al 17 de febrero, trabaje con su estudiante para escribir una nota, hacer un dibujo o algo para mostrarles que los aprecia. También puede traer golosinas en la Noche familiar el 16 para celebrarlas.
Semana de la amistad en el arroyo
Del 13 al 17 de febrero, estaremos celebrando y centrándonos en la amistad y la bondad. Los estudiantes pueden participar en nuestra semana de espíritu, en la que cada día tiene un tema de vestimenta. El martes 2/14, los estudiantes tendrán un baile de amistad durante sus especiales en el gimnasio. Se creará una "Estación de afirmación" en el vestíbulo principal con mensajes amables que los estudiantes pueden agregar en papel de corazón. Las lecciones se realizan durante la orientación especial de los estudiantes, destacando importantes habilidades de amistad. ¡Estamos deseando celebrar esta semana tan especial!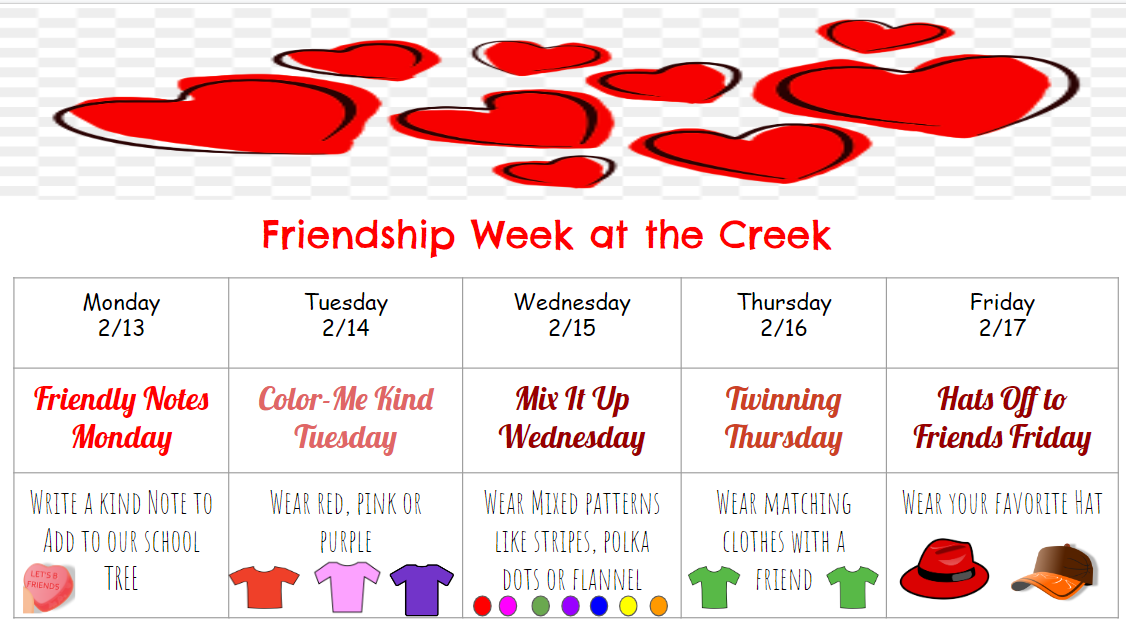 Eventos del día de San Valentín
A medida que nos acercamos al Día de San Valentín, cumpla con las siguientes pautas para enviar artículos a la escuela para celebrar la amistad. Las clases no tendrán fiestas de San Valentín. Por lo tanto, le pedimos que no envíe alimentos el Día de San Valentín (por ejemplo, pastelitos, galletas, etc.). La distribución de tarjetas de San Valentín con dulces preparados comercialmente y envueltos individualmente (libres de alergias, sin maní) es aceptable para que los compartan nuestros estudiantes. Si su estudiante está participando en repartir tarjetas de San Valentín a sus compañeros de clase, debe preparar una para cada estudiante en el salón.
Evento familiar Amor por la lectura
¡Cultivar las habilidades de alfabetización temprana es fundamental para el rendimiento académico y en la vida de los estudiantes! Únase a nosotros el jueves 16 de febrero para una noche dedicada a desarrollar el amor por la lectura. El evento está lleno de opciones para la conexión, la creatividad, la asociación comunitaria, la información y la celebración... ¡No querrás perdértelo!
5: 00-5: 30 es una reunión de PTA seguida de una presentación de 2do grado de "Frog & Toad"
5:30-6:30 son las sesiones de WCPSS Family Academy "Reading Is Fundamental" presentadas en inglés, español y árabe. Se proporcionará cuidado de niños para niños en edad escolar durante esta hora.
6:30-7:30 es Elige tu propia aventura familiar
Conéctese con nuestros socios de la biblioteca pública de Cary y nuestra PTA de RCES

Conozca myON (la biblioteca digital de su hijo)

Ayude a crear la colcha RCES Unity

Participa en nuestro Desafío del Mes de la Historia Negra

Visite las salas de degustación de libros de K/1, 2/3 y 4/5 para explorar textos de nivel de grado y estrategias de lectura con algunas guarniciones deliciosas
Evento de Noche Familiar - ¡La lectura es FUNdamental!
Conozca al conductor del autobús de su hijo y traiga golosinas para celebrarlo

Conozca a nuestros consejeros escolares: traiga golosinas para celebrarlos

Mes negro de la historia
Calendario de eventos de febrero
6 y 7 de febrero: la boleta de calificaciones se envía a casa en las carpetas de los estudiantes

6 de febrero: reunión de la junta de la PTA, 5:30 p. m. Centro de medios

6 al 10 de febrero - Semana de agradecimiento a los consejeros escolares

10 de febrero - Campo de 3er grado

9 de febrero - Noche de espíritu de la PTA en Papa John's Pizza

13-17 de febrero - Semana Nacional de Apreciación al Conductor de Autobús

16 de febrero - ¡La lectura es fundamental! - Academia de padres (actuación de segundo grado)

16 de febrero - Reunión general de la PTA

20 de febrero - Día de vacaciones - No hay clases para estudiantes y personal
عزيزي عائلات ريدي كريك ،
فبراير هو شهر حافل بالنسبة لنا في الخور. نتطلع إلى الفرص المتاحة لطلابنا للحصول على القليل من المرح ، ونشر طبقة إضافية من اللطف على مدار الشهر ، ورؤية كل واحد منكم في حدثنا العائلي القادم الأسبوع المقبل.
للتذكير ، تعود بطاقات التقارير إلى المنزل يوم الثلاثاء. إذا كانت لديك أي أسئلة أو مخاوف بشأن تقدم طالبك ، فالرجاء التواصل مع معلمك قبل أو في مؤتمرات القادمة في ربع السنة. نطلب منك الاستمرار في التواصل معنا لأن دعمك ضروري لنجاح بحثك.
هل لديك القليل من الوقت يوم 14 فبراير لتقديم يد المساعدة؟ رقصة الصداقة للصفين الرابع والخامس بها فتحتان متطوعان متبقيان. لا تتردد في التسجيل لدعم الحدث كمرافق. اشترك في chaperone هنا: https://signup.com/go/qEnLPSD.
يرجى قضاء بعض الوقت في القراءة عن أحداث هذا الشهر. كما هو الحال دائمًا ، شكرًا لك على دعم مجتمع مدرستنا.
كينيا مور كير
رئيسي
أسبوع مستشار المدرسة الوطنية
هذا الأسبوع ، من 6 إلى 10 فبراير هو أسبوع مستشار المدرسة الوطنية! موضوع الأسبوع الوطني للإرشاد المدرسي لهذا العام هو "مستشارو المدارس: مساعدة الطلاب على تحقيق أحلام كبيرة". لدينا مستشاران رائعان ، السيدة هول والسيدة دوديك. يرجى تخصيص بعض الوقت لإظهار تقديرك لهم على كل ما يفعلونه لمجتمع مدرستنا.
يعتبر شهر فبراير شهر التاريخ الأسود. التاريخ الأسود هو تاريخنا ويتم دمج الأصوات والخبرات والإنجازات السوداء في تعلم عالمنا طوال العام. في هذا الشهر ، سنسلط الضوء على مساهمات الأمريكيين السود والأفارقة في مجتمعاتنا المحلية والوطنية. فيما يلي بعض الموارد الإضافية التي يمكنك استكشافها في المنزل مع علمائك:
ناشيونال جيوغرافيك - شهر تاريخ السود
Raleigh Parks & Rec - احتفل شهر تاريخ السود: أشياء للقيام بها ومشاهدتها
مركز العدالة العرقية - دليل موارد شهر التاريخ الأسود للمعلمين والعائلات
المتحف الوطني للتاريخ والثقافة الأمريكية الأفريقية - احتفل شهر تاريخ السود 2023
أحب شهر الحافلة
فبراير هو شهر "أحب الحافلة". اغتنم الفرصة لشكر سائقي الحافلات الذين يعملون بجد. غالبًا ما يسلك سائقون طرقًا إضافية من أجل نقل علمائنا من المدرسة وإليها. خلال الأسبوع الممتد من 13 إلى 17 فبراير ، اعمل مع طالبك لكتابة ملاحظة أو رسم صورة أو بعضها لتظهر لهم أنك تقدرهم. يمكنك أيضًا إحضار الحلوى في ليلة العائلة في اليوم السادس عشر للاحتفال بها.
أسبوع الصداقة في الخور
من 13 إلى 17 فبراير ، سنحتفل ونركز على الصداقة واللطف. يمكن للطلاب المشاركة في أسبوعنا الروحي ، حيث يكون لكل يوم موضوع لباس. يوم الثلاثاء 2/14 ، سيقيم الطلاب رقصة صداقة خلال عروضها الخاصة في صالة الألعاب الرياضية. سيتم إنشاء "محطة تأكيد" في الردهة الأمامية مع الرسائل اللطيفة التي قد يضيفها الطلاب على ورقة القلب. يتم عمل الدروس أثناء توجيه الطلاب بشكل خاص لإبراز مهارات الصداقة المهمة. نتطلع إلى الاحتفال بهذا الأسبوع المميز!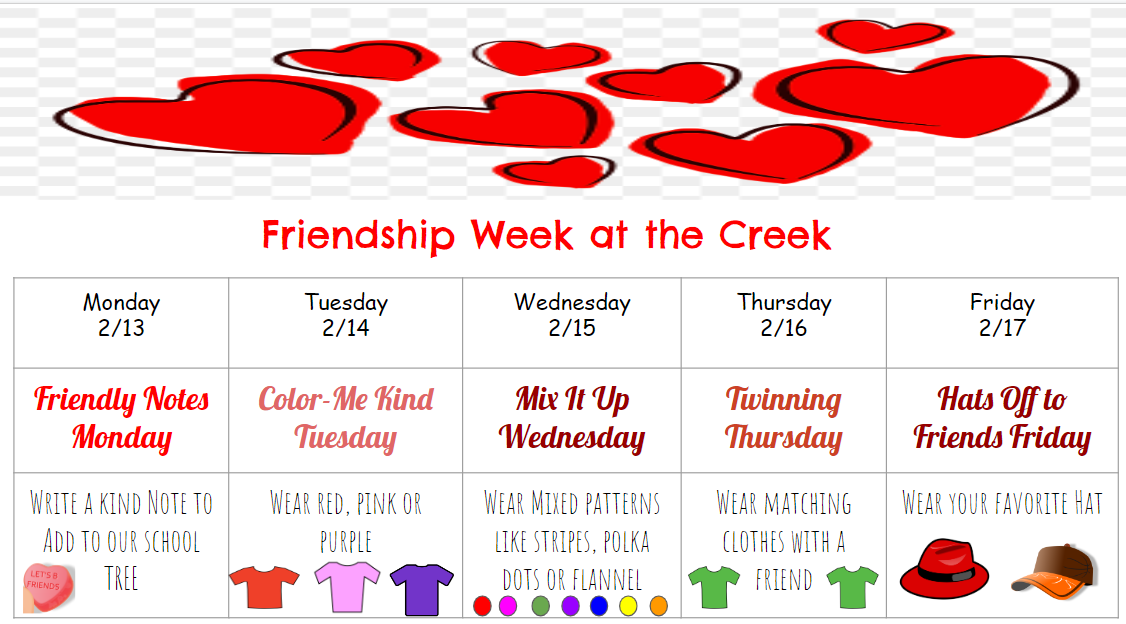 أحداث عيد الحب
مع اقترابنا من عيد الحب ، يرجى الالتزام باتباع الإرشادات لإرسال العناصر إلى المدرسة للاحتفال بالصداقة. لن يكون للفصول حفلات عيد الحب. لذلك ، نطلب منك عدم إرسال عناصر غذائية في عيد الحب (مثل الكعك والبسكويت وما إلى ذلك). توزيع عيد الحب مع الحلوى المحضرة تجاريًا والمغلفة بشكل فردي (خالية من الحساسية - بدون فول سوداني) مقبول لعلمائنا للمشاركة. إذا كان طالبك يشارك في توزيع عيد الحب على زملائه في الفصل ، فيجب عليهم إعداد واحدة لكل طالب في الغرفة.
حب القراءة الأسرة الحدث
إن تنمية مهارات القراءة والكتابة المبكرة أمر بالغ الأهمية لإنجاز الطلاب في الأكاديميين وفي الحياة! انضم إلينا الخميس 16 فبراير في أمسية مخصصة لتنمية حب القراءة. الحدث مليء بخيارات الاتصال والإبداع والشراكة المجتمعية والمعلومات والاحتفال ... لن ترغب في تفويتها!
5: 00-5: 30 هو اجتماع PTA يتبعه أداء الصف الثاني لـ "Frog & Toad"
5:30 - 6:30 هي جلسات أكاديمية الأسرة WCPSS "القراءة أساسية" تقدم باللغات الإنجليزية والإسبانية والعربية. سيتم توفير رعاية الأطفال للأطفال في سن المدرسة لهذه الساعة.
6: 30-7: 30 هو اختيار مغامرتك العائلية
تواصل مع شركائنا في مكتبة Cary العامة و RCES PTA

تعرف على MyON (مكتبة طفلك الرقمية)

ساعد في إنشاء لحاف وحدة RCES

شارك في تحدي شهر التاريخ الأسود

قم بزيارة K / 1 و 2/3 و 4/5 Book Tasting Rooms لاستكشاف النصوص على مستوى الصف الدراسي واستراتيجيات القراءة مع بعض الجوانب اللذيذة
فعالية ليلة العائلة - القراءة ممتعة!
قابل سائق الحافلة الخاص بطفلك واجلب له الهدايا للاحتفال به

قابل مستشاري مدرستنا - أحضر لهم الحلويات للاحتفال بهم

شهر تاريخي اسود
تقويم فبراير للأحداث
6-7 فبراير - Report Card Go Home في مجلدات الطلاب

6 فبراير - اجتماع مجلس إدارة الجمعية ، الساعة 5:30 مساءً المركز الإعلامي

6-10 فبراير - أسبوع تقدير مستشار المدرسة

10 فبراير - ملعب الصف الثالث

9 فبراير - ليلة الروح PTA في بيتزا بابا جونز

من 13 إلى 17 فبراير - الأسبوع الوطني لتقدير سائقي الحافلات

16 فبراير - القراءة أساسية! - أكاديمية أولياء الأمور (أداء الصف الثاني)

16 فبراير - الاجتماع العام لجمعية الآباء والمعلمين

20 فبراير - يوم الإجازة - لا توجد مدرسة للطلاب والموظفين