Return to Headlines
Midweek Principal's Message 12.13.2022
We hope that you will join us for our International Night this Thursday. Students have worked to perform selections for your enjoyment. Teachers have worked hard to plan the events to welcome you back into the building. We truly miss seeing you here and hope that you will join us. Events begin at 5:00pm with a PTA meeting. Signing up using the QR code on the flyer will help us with an estimate of how many people to expect.
Esperamos que nos acompañe en nuestra Noche Internacional este jueves. Los alumnos han trabajado para realizar selecciones para su disfrute. Los maestros han trabajado arduamente para planificar los eventos para darle la bienvenida nuevamente al edificio. Realmente extrañamos verte aquí y esperamos que te unas a nosotros. Los eventos comienzan a las 5:00 pm con una reunión de la PTA. Registrarse usando el código QR en el folleto nos ayudará con una estimación de cuántas personas esperar.
نأمل أن تنضموا إلينا في أمسيتنا الدولية هذا الخميس. لقد عمل الطلاب على إجراء التحديدات من أجل متعتك. لقد عمل المعلمون بجد لتخطيط الأحداث للترحيب بك مرة أخرى في المبنى. نفتقد حقًا رؤيتك هنا ونأمل أن تنضم إلينا. تبدأ الأحداث في الساعة 5:00 مساءً باجتماع جمعية الآباء والمعلمين. سيساعدنا التسجيل باستخدام رمز الاستجابة السريعة الموجود على المنشور في تقدير عدد الأشخاص المتوقع.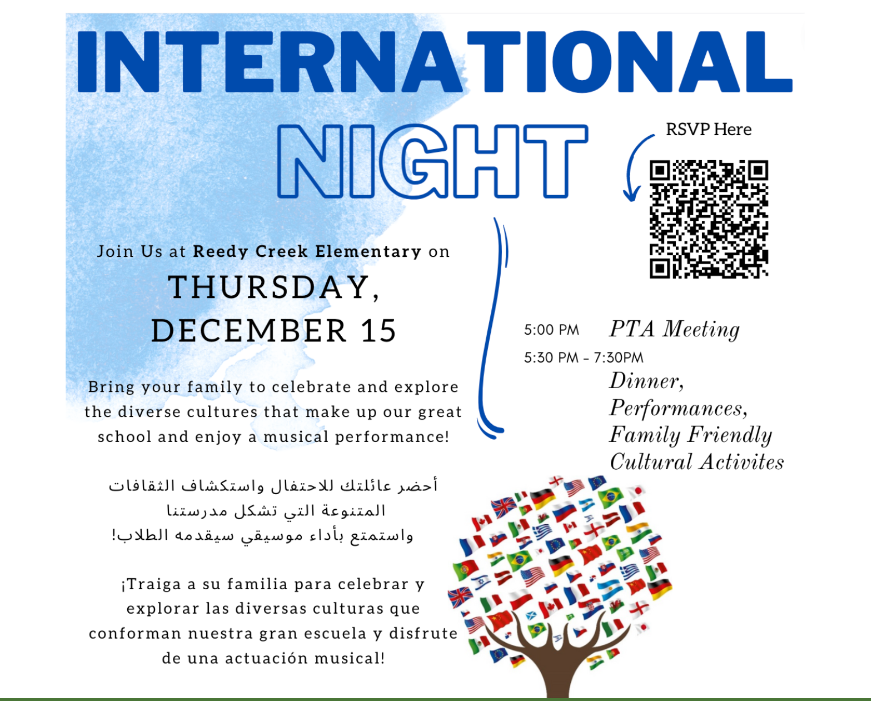 Assignment Strips – Students should have received next school year's assignment information this past week. If you did not receive yours, please reach out to our data manager, Ms. Liria Castillo (lcastillo@wcpss.net).
Tiras de asignación: los estudiantes deberían haber recibido la información de asignación del próximo año escolar la semana pasada. Si no recibió el suyo, comuníquese con nuestra administradora de datos, la Sra. Liria Castillo (lcastillo@wcpss.net).
شرائط الواجب - يجب أن يكون الطلاب قد تلقوا معلومات مهمة العام الدراسي القادم في الأسبوع الماضي. إذا لم تستلم بياناتك ، فيرجى التواصل مع مديرة البيانات لدينا ، السيدة ليريا كاستيلو (lcastillo@wcpss.net).