Return to Headlines
Principal's Message 12.11.2022

Receive push messages by texting "YES" to 67587
Reedy Creek Families,
Our Apex Leadership Remix Party was a success! Our students and teachers danced the time away. Thank you to all who participated and raised money to support our school.
Thanks to our PTA for securing a contractor to take care of the mulch on our campus. Families thank you for quickly signing up to help in our efforts to spread the mulch across the campus. We appreciate your willingness to get the job done. As always, we thank each of you for all the support you provide to our school. Without your donations of time, money, or resources, the ways that PTA supports our school would not be possible. Thank you, Thank you, Thank you!
Quarter 2 interims go home on Tuesday. If you do not receive interims, please reach out to your child's teacher.
As a reminder, Wednesday, December 21st, our scholars get out of school at 1:45pm. Please have your scholar picked up by 2:15 so our staff are able to participate in PD. Scholars will be on Winter Break from December 22nd-January 2nd. We will welcome them back on January 3rd, at 8:45am.
Kenya Moore-Kerr
Principal

Student Ambassadors - Student Ambassadors for 5th and 4th grade have been notified. The process for 3rd graders continues. Interviews take place during their non instructional times. They will be notified the week of the holiday break.
Repeats from last week
As we enter the Winter Holiday Season, please be sure to communicate with classroom teachers via Talking Points if your child will be absent from school.
Register to Volunteer - Don't forget to register to volunteer if you plan to chaperone your scholar's field trip. Confirmation of approval has not been a quick turnaround. If you have lived out of the state or the country, it takes longer to be approved. If you plan to come to the school to volunteer, help us out by completing this form so that we have the system ready for you when you arrive.
Let our staff know that you recognize the amazing work they are doing. In 4 sentences or less, take a moment to explain how a Reedy Creek staff member has helped or made an impact on you or your child this school year. I look forward to recognizing them at our staff meeting or in our weekly staff memo. Record your shout outs here.
Staff favorites - Looking to thank, reward, or acknowledge your gratitude for our staff during the holiday season of giving, feel free to browse their list of favorites here.
The Girls on the Run is hosting a toy drive from November 21st-December 12th. The flyer was shared in last week's message.
Sign up for International Family Night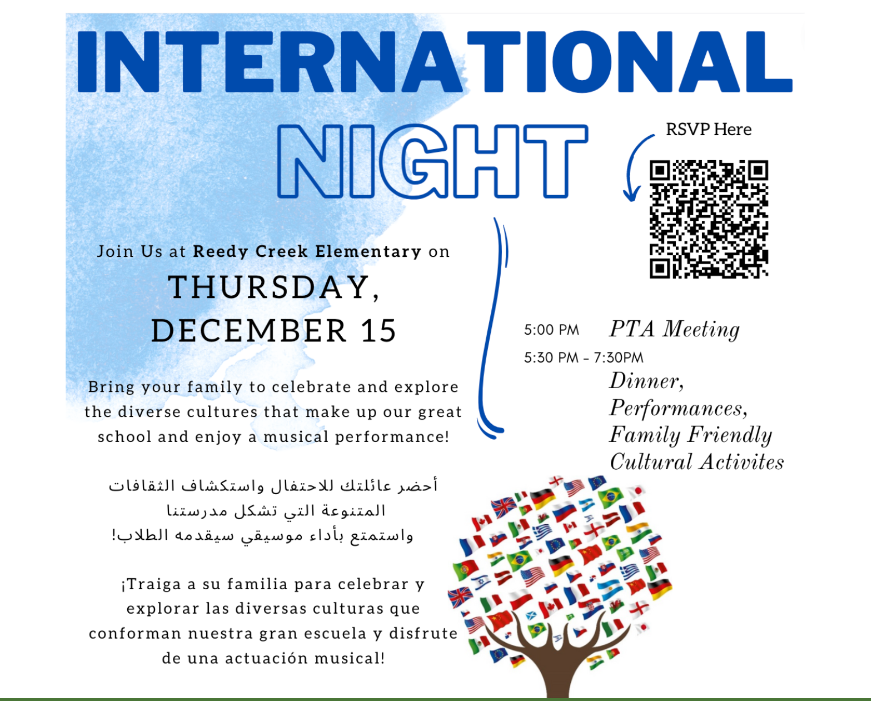 If you would like to eat lunch with your child - sign up here. Refer to previous Principal messages for the details.
Calendar of Events
December 6 - 12 Days until Winter Break activities begin
December 15 - Family Night Event - International Night
December 16 - 2nd Grade Field Trip
December 22 - January 2 - Winter Break
January 3 - 1st day back from Winter break
January 18 - 1st Grade Field Trip
January 30- Feb 3 - Coin Olympics - more information to come from PTA
February 6-10 - School Counselor Appreciation Week
February 13-17 - National Bus Driver Appreciation Week
February 16 - Reading is Fundamental! - Parent Academy
March 16 - Spring Book Fair Family Night
March 20-24 - National School Social Worker Week
March 31 - Teacher workday
April 4 - School Library Media Coordinator Day
April 10-14 Assistant Principal Appreciation Week
April 17-21 - Occupational Therapist Appreciation Week
April 19 - Data Manager Appreciation Day
April 20 - Preparing Your Child for the End of Grade (3-5) - Parent Academy - Grades 3-5th
April 24- 28 - Administrative Assistant Appreciation Week
May 1 - 5 Teacher Appreciation Week
May 5 - School Lunch Hero Day
May 8 - National School Nurse Day
May 18- Speech Pathologist Appreciation Day
May 18 - How to Support Academic Growth Over School Breaks - Parent Academy
__________________________________________________________________________________________________________
Reciba mensajes push enviando un mensaje de texto con la palabra "SÍ" al 67587
Familias de Reedy Creek,
¡Nuestra fiesta de remezclas de liderazgo de Apex fue un éxito! Nuestros estudiantes y maestros bailaron todo el tiempo. Gracias a todos los que participaron y recaudaron dinero para apoyar a nuestra escuela.
Gracias a nuestra PTA por conseguir un contratista para cuidar el mantillo en nuestro campus. Las familias les agradecen por inscribirse rápidamente para ayudar en nuestros esfuerzos para esparcir el mantillo por todo el campus. Agradecemos su disposición para hacer el trabajo. Como siempre, agradecemos a cada uno de ustedes por todo el apoyo que brindan a nuestra escuela. Sin sus donaciones de tiempo, dinero o recursos, las formas en que la PTA apoya a nuestra escuela no serían posibles. ¡Gracias, gracias, gracias!
Los interinos del segundo trimestre se van a casa el martes. Si no recibe los interinos, comuníquese con el maestro de su hijo.
Como recordatorio, el miércoles 21 de diciembre, nuestros alumnos salen de la escuela a la 1:45 p. m. Por favor, recoja a su estudiante a las 2:15 para que nuestro personal pueda participar en PD. Los estudiantes estarán en las vacaciones de invierno del 22 de diciembre al 2 de enero. Les daremos la bienvenida el 3 de enero a las 8:45 a.m.
Kenya Moore-Kerr
Principal
Embajadores estudiantiles: se ha notificado a los embajadores estudiantiles de 5th y 4th grado. El proceso para los alumnos de 3er grado continúa. Las entrevistas se llevan a cabo durante sus horas no lectivas. Serán notificados la semana de las vacaciones.
Repeticiones de la semana pasada
A medida que ingresamos a la temporada de vacaciones de invierno, asegúrese de comunicarse con los maestros de clase a través de Talking Points si su hijo estará ausente de la escuela.
Regístrese como voluntario: no olvide registrarse como voluntario si planea ser un acompañante en la excursión de su estudiante. La confirmación de la aprobación no ha sido un cambio rápido. Si ha vivido fuera del estado o del país, la aprobación demora más tiempo. Si planea venir a la escuela como voluntario, ayúdenos completando este formulario para que tengamos el sistema listo para usted cuando llegue.
Hágale saber a nuestro personal que reconoce el increíble trabajo que están haciendo. En 4 oraciones o menos, tómese un momento para explicar cómo un miembro del personal de Reedy Creek lo ayudó o tuvo un impacto en usted o su hijo este año escolar. Espero reconocerlos en nuestra reunión de personal o en nuestro memorándum semanal. Grabe sus saludos aquí.
Favoritos del personal: si desea agradecer, recompensar o reconocer su gratitud por nuestro personal durante la temporada navideña de donaciones, siéntase libre de navegar por su lista de favoritos aquí.
Girls on the Run organizará una colecta de juguetes del 21 de noviembre al 12 de diciembre. El volante compartió en el mensaje de la semana pasada.
Regístrese para la Noche Familiar Internacional - aquí.
Si desea almorzar con su hijo, regístrese aquí. Consulte los mensajes anteriores de Principal para conocer los detalles.
Calendario de eventos
6 de diciembre - 12 días hasta que comiencen las actividades de vacaciones de invierno
15 de diciembre - Evento Noche Familiar - Noche Internacional
16 de diciembre - Excursión de segundo grado
22 de diciembre - 2 de enero - Vacaciones de invierno
3 de enero: primer día de regreso de las vacaciones de invierno
18 de enero - Excursión de 1er grado
30 de enero - 3 de febrero - Olimpiadas de monedas - más información por venir de PTA
6 al 10 de febrero - Semana de agradecimiento a los consejeros escolares
13-17 de febrero - Semana Nacional de Apreciación al Conductor de Autobús
16 de febrero - ¡La lectura es fundamental! - Academia de Padres
16 de marzo - Noche familiar de la feria del libro de primavera (FSN)
20-24 de marzo - Semana Nacional del Trabajador Social Escolar
31 de marzo - Jornada laboral del profesorado
4 de abril - Día del coordinador de medios de la biblioteca escolar
10-14 de abril Semana de agradecimiento al subdirector
17-21 de abril - Semana de reconocimiento al terapeuta ocupacional
19 de abril: Día de agradecimiento a los administradores de datos
20 de abril - Preparando a su hijo para el final del grado (3-5) - Academia para padres - Grados 3-5
24-28 de abril - Semana de Apreciación de la Asistente Administrativa
1 - 5 de mayo Semana de Agradecimiento a las Maestras
5 de mayo - Día del Héroe del Almuerzo Escolar
8 de mayo - Día Nacional de la Enfermera Escolar
18 de mayo- Día de reconocimiento al patólogo del habla
18 de mayo - Cómo apoyar el crecimiento académico durante las vacaciones escolares - Academia de padres
_______________________________________________________________________
عائلات ريدي كريك ،
كان حفل Apex Leadership Remix ناجحًا! رقص طلابنا ومعلمونا طوال الوقت. شكراً لجميع الذين شاركوا وجمعوا الأموال لدعم مدرستنا.
بفضل PTA لدينا لتأمين المقاول لرعاية المهاد في الحرم الجامعي لدينا. تشكرك العائلات على التسجيل السريع للمساعدة في جهودنا لنشر التغطية عبر الحرم الجامعي. نحن نقدر استعداد لإنجاز المهمة. كما هو الحال دائمًا ، نشكر كل واحد منكم على كل الدعم الذي تقدمه لمدرستنا. بدون تبرعاتكم بالوقت أو المال أو الموارد ، لن تكون الطرق التي تدعم بها PTA مدرستنا ممكنة. شكرا لك شكرا لك شكرا لك!
ربع 2 فواصل العودة إلى المنزل يوم الثلاثاء. إذا لم تحصل على فترات فاصلة ، يرجى التواصل مع معلم طفلك.
للتذكير ، الأربعاء 21 كانون الأول (ديسمبر) ، يخرج علمائنا من المدرسة الساعة 1:45 مساءً. يرجى أن يتم اختيار طالبك في الساعة 2:15 حتى يتمكن موظفينا من المشاركة في PD. سيكون العلماء في إجازة الشتاء من 22 ديسمبر إلى 2 يناير. سنرحب بهم مرة أخرى في 3 يناير ، الساعة 8:45 صباحًا.
كينيا مور كير
المالك
سفراء الطلاب - تم إخطار الطلاب السفراء للصفين الخامس والرابع. تستمر العملية لطلاب الصف الثالث. تتم المقابلات في الأوقات غير التعليمية. سيتم إخطارهم بأسبوع عطلة العطلة.
يتكرر من الأسبوع الماضي
مع دخولنا في موسم العطلات الشتوية ، يرجى التأكد من التواصل مع معلمي الفصل عبر نقاط Talking Points إذا كان طفلك يتغيب عن المدرسة.
سجل في برنامج التطوع - لا تنس التسجيل للتطوع إذا كنت تخطط لرحلة بحثك الميدانية. تأكيد الموافقة لم يكن تحول سريع. إذا كنت قد عشت خارج الولاية أو البلد ، يستغرق الأمر وقتًا أطول للحصول على الموافقة. إذا كنت تخطط للمجيء إلى المدرسة للتطوع ، فساعدنا من خلال ملئ هذا النموذج حتى يكون لدينا النظام جاهزًا لك عند وصولك.
دع موظفينا يعرفون أنك تتعرف على العمل الرائع الذي يقومون به. في 4 جمل أو أقل ، خذ لحظة لشرح كيف ساعدك أحد موظفي Reedy Creek أو أثر عليك أنت أو طفلك في هذا العام الدراسي. أتطلع إلى التعرف عليهم في اجتماع موظفينا أو في مذكرتنا الأسبوعية للموظفين. سجل صيحاتك هنا.
مفضلات الموظفين - تتطلع إلى الشكر أو المكافأة أو الإقرار وامتنانك لموظفيها خلال موسم العطلات من العطاء ، فلا تتردد في تصفح قائمة المفضلات الخاصة بهم هنا.
تستضيف The Girls on the Run حملة ألعاب في الفترة من 21 نوفمبر إلى 12 ديسمبر. تمت مشاركة النشرة الإعلانية في رسالة الأسبوع الماضي.
اشترك في International Family Night
إذا كنت ترغب في تناول الغداء مع طفلك - سجل هنا. الرجوع إلى الرسائل الرئيسية السابقة للحصول على التفاصيل.
تقويم الأحداث
6 ديسمبر - 12 يومًا حتى تبدأ أنشطة العطلة الشتوية
15 ديسمبر - فعالية ليلة العائلة - أمسية دولية
16 ديسمبر - رحلة الصف الثاني الميدانية
22 ديسمبر - 2 يناير - عطلة الشتاء
3 يناير - اليوم الأول من عطلة الشتاء
18 يناير - رحلة الصف الأول الميدانية
30 يناير - 3 فبراير - أولمبياد العملات المعدنية - مزيد من المعلومات قادمة من منطقة التجارة التفضيلية
6-10 فبراير - أسبوع تقدير مستشار المدرسة
من 13 إلى 17 فبراير - الأسبوع الوطني لتقدير سائقي الحافلات
16 فبراير - القراءة أساسية! - أكاديمية أولياء الأمور
16 مارس - ليلة عائلية لمعرض الربيع للكتاب
20-24 مارس - الأسبوع الوطني للعمال الاجتماعيين في المدرسة
31 مارس - يوم عمل المعلم
4 أبريل - يوم المنسق الإعلامي للمكتبة المدرسية
10-14 أبريل أسبوع تقدير مساعد مدير المدرسة
17-21 أبريل - أسبوع تقدير المعالج المهني
19 أبريل - يوم تقدير مدير البيانات
20 أبريل - إعداد طفلك لنهاية الصف (3-5) - أكاديمية أولياء الأمور - للصفوف 3-5
24 - 28 أبريل - أسبوع تقدير المساعد الإداري
1 - 5 أيار اسبوع تقدير المعلم
5 مايو - يوم بطل الغداء المدرسي
8 مايو - يوم ممرضة المدرسة الوطنية
18 مايو- يوم تقدير أخصائي أمراض النطق
18 مايو - كيفية دعم النمو الأكاديمي خلال فترات الراحة المدرسية - أكاديمية أولياء الأمور