Return to Headlines
Principal's Message 11.7.2022

Principal's Message to Families ~ 11/07/2022
Receive push messages by texting "YES" to 67587
Reedy Creek Families,
I hope you all enjoyed an extra hour of sleep! A special thank you for the breakfast donations for the Reedy Creek Elementary staff on Friday, November 4. As always, thank you for your continued support for RCES staff and students. We are so grateful for your generosity shown.
As a reminder, please be sure to mark your calendars:
Tuesday, 11/8 – No School – teacher workday due to the election
Thursday, 11/10 – Early Release (dismissal at 1:45pm)
We ask that we be on time so that our staff can participate in the PD designed to take place on ER days.

Carpool dismissal 1:45pm-2:15pm. Last check out time is 1:15pm to allow staff to prepare for 1:45 dismissal.
Friday, 11/11 – No School (holiday – Veterans Day)
To all the veterans, we thank you for your dedication and service.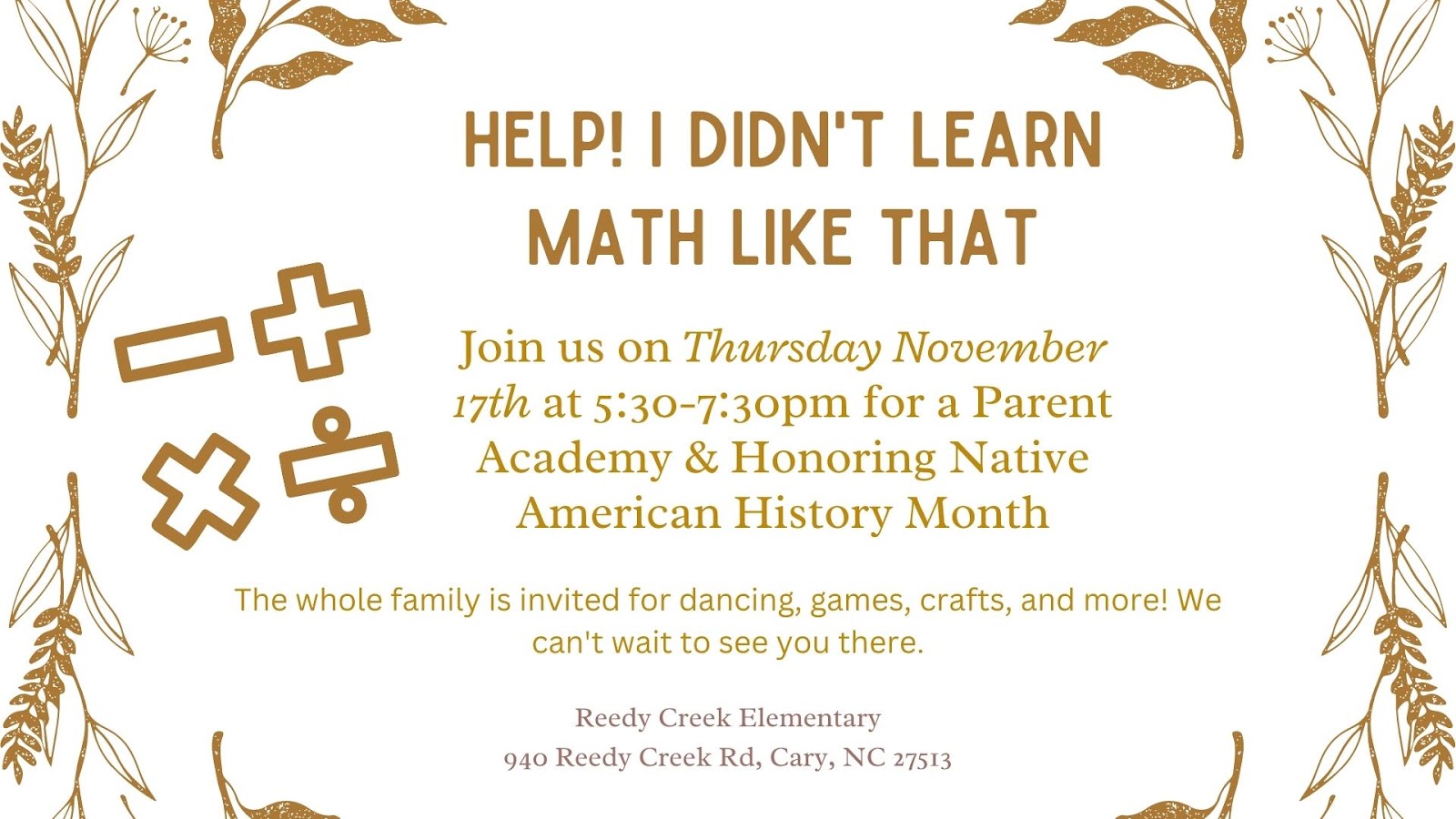 Please read the announcements below.
November 16th is picture makeup day here at RCES!
Mark your calendars for our Family Math Night Event. We hope to see you!
We are excited to announce our first school-wide family night on November 17th from 5:00-7:30pm. This time was adjusted to include our PTA general meeting prior to the start of events. During this event guardians can attend the WCPSS Parent Academy to learn more about how kids learn math in schools today! In addition, we will be honoring Native American History Month. Take time to enjoy a Zumba session, fun math games, and crafts as a family! We can't wait to see you there. As a reminder, our PTA will begin their general meeting at 5:00pm. The parent event starts promptly at 5:30pm.
We need You! Join RCES PTA - https://rces.memberhub.com/store
Register to Volunteer - Please go to any Wake County School to register to be a volunteer if Reedy Creek is not close to where you live. Please use this google document to schedule an appointment on Fridays during the hours of 9:15-9:30am. If a time is needed outside of the ones listed, please call the front office. We look forward to your continued support of RCES!
As a reminder, caregivers who choose to visit during lunch will be asked to eat outside at the picnic tables. Visitors will only be able to eat with their own child during their lunch time. There are no rainy day contingencies. Outside food from restaurants is not permitted. Lunch visits should be communicated with both the office (sign up below) and the teacher (via talking points) at least one day in advance. Once lunch is over, please return to the office to check out. If you would like to eat lunch with your child - sign up here.
Calendar of Events
November 4-8 Parent Teacher Conferences begin
November 4 - Teacher Workday
November 8 Election Day- No School for Students
November 10 Early Release- Dismissal begins at 1:45pm
November 10 - PTA Spirit Night with Papa John's (Grande Heights Drive)
November 11 Veterans Day- No School for Students
November 14 December 2, 2022 - Fun Run Dates
November 15 Quarter 1 report cards go home in Tuesday folders.
November 16 Intervention Coordinator Day - Charity Potts-Rawls
November 16 Instructional Coach Day - Jennifer Zarins
November 17 Today's Math "I Didn't Learn Math Like That" - Parent Academy & other events
5:00-7:30pm
5:00-5:30 PTA General Meeting 5:30-6:30 Parent Academy 6:30-7:30 events
December 15 - Family Night Event - International Night
January 30- Feb 3 - Coin Olympics - more information to come from PTA
February 6-10 - School Counselor Appreciation Week
February 13-17 - National Bus Driver Appreciation Week
February 16 - Reading is Fundamental! - Parent Academy
March 16 - Spring Book Fair Family Night
March 20-24 - National School Social Worker Week
March 31 - Teacher workday
April 4 - School Library Media Coordinator Day
April 10-14 Assistant Principal Appreciation Week
April 17-21 - Occupational Therapist Appreciation Week
April 19 - Data Manager Appreciation Day
April 20 - Preparing Your Child for the End of Grade (3-5) - Parent Academy - Grades 3-5th
April 24- 28 - Administrative Assistant Appreciation Week
May 1 - 5 Teacher Appreciation Week
May 5 - School Lunch Hero Day
May 8 - National School Nurse Day
May 18- Speech Pathologist Appreciation Day
May 18 - How to Support Academic Growth Over School Breaks - Parent Academy
__________________________________________________________________________________________________________
Reciba mensajes push enviando un mensaje de texto con la palabra "SÍ" al 67587
Familias de Reedy Creek,
¡Espero que todos hayan disfrutado de una hora extra de sueño! Un agradecimiento especial por las donaciones de desayuno para el personal de Reedy Creek Elementary el viernes 4 de noviembre. Como siempre, gracias por su continuo apoyo al personal y los estudiantes de RCES. Estamos muy agradecidos por su generosidad mostrada.
Como recordatorio, asegúrese de marcar sus calendarios:
Martes, 11/8 – No hay clases – día de trabajo de maestros debido a la elección
Jueves, 10/11 – Salida Temprana (salida a la 1:45pm)
Pedimos que lleguemos a tiempo para que nuestro personal pueda participar en el PD diseñado para llevarse a cabo en los días de emergencia.

Salida del viaje compartido de 1:45 p. m. a 2:15 p. m. La última hora de salida es a la 1:15 p. m. para permitir que el personal se prepare para la salida a la 1:45.
Viernes, 11/11 – No hay clases (día feriado – Día de los Veteranos)
A todos los veteranos, les agradecemos por su dedicación y servicio.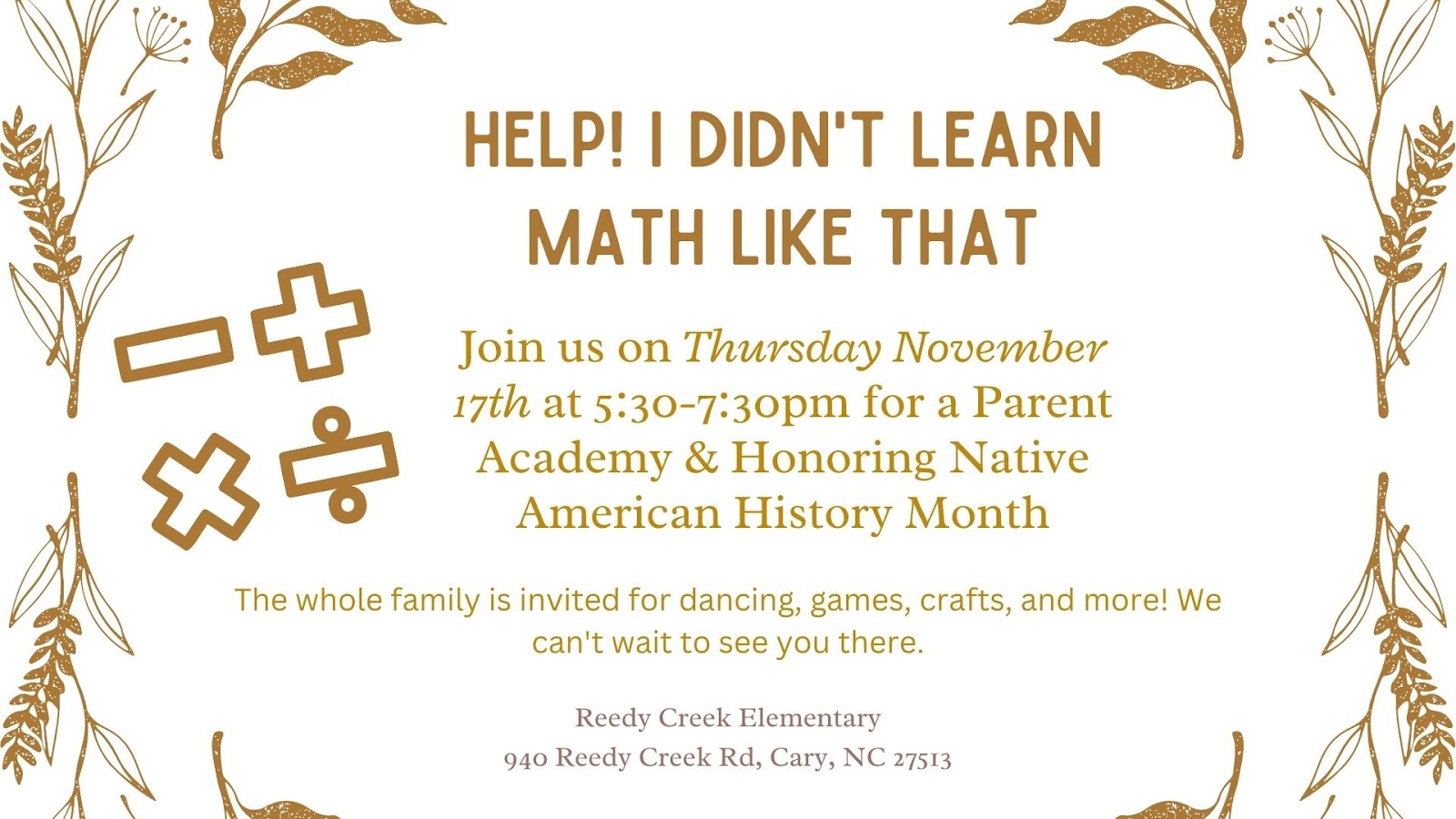 ¡El 16 de noviembre es el día de retoque fotográfico aquí en RCES!
Marque sus calendarios para nuestro Evento de Noche Familiar de Matemáticas. ¡Esperamos verte!
Nos complace anunciar nuestra primera noche familiar para toda la escuela el 17 de noviembre de 5:00 p. m. a 7:30 p. m. Esta hora se ajustó para incluir nuestra reunión general de la PTA antes del inicio de los eventos. ¡Durante este evento, los tutores pueden asistir a la Academia para padres de WCPSS para obtener más información sobre cómo los niños aprenden matemáticas en las escuelas hoy! Además, estaremos honrando el Mes de la Historia de los Nativos Americanos. ¡Tómese el tiempo para disfrutar de una sesión de Zumba, divertidos juegos de matemáticas y manualidades en familia! No podemos esperar a verte allí. Como recordatorio, nuestra PTA comenzará su reunión general a las 5:00 p. m. El evento para padres comienza puntualmente a las 5:30 p. m.
¡Te necesitamos! Únase a la PTA de RCES - https://rces.memberhub.com/store.
Regístrese como voluntario: vaya a cualquier escuela del condado de Wake para registrarse como voluntario si Reedy Creek no está cerca de donde vive. Utilice este documento de Google para programar una cita los viernes durante el horario de 9:15 a 9:30 a.m. Si necesita un horario fuera de los enumerados, llame a la oficina principal. ¡Esperamos contar con su continuo apoyo a RCES!
Almuerzo Visitas
Como recordatorio, se les pedirá a los cuidadores que elijan visitar durante el almuerzo que coman afuera en las mesas de picnic. Los visitantes solo podrán comer con su propio hijo durante la hora del almuerzo. No hay contingencias de días de lluvia. No se permite la comida exterior de los restaurantes. Las visitas de almuerzo deben comunicarse con la oficina (regístrese a continuación) y el maestro (a través de puntos de conversación) al menos con un día de anticipación. Una vez que termine el almuerzo, regrese a la oficina para registrarse. Si desea almorzar con su hijo, regístrese aquí.
Calendario de eventos
4 de noviembre - Jornada laboral de la profesora
4-8 de noviembre Comienzan las conferencias de padres y maestros
7-11 de noviembre Semana de Concientización sobre Psicología Escolar
8 de noviembre Día de las elecciones: no hay clases para estudiantes
10 de noviembre Salida temprana: la salida comienza a la 1:45 p. m.
11 de noviembre Día de los Veteranos - No hay clases para estudiantes
14 de noviembre 2 de diciembre de 2022 - Fechas de carreras divertidas
15 de noviembre Las boletas de calificaciones del primer trimestre se envían a casa en las carpetas de los martes.
16 de noviembre Día del Coordinador de Intervención - Charity Potts-Rawls
16 de noviembre Día del Entrenador de Instrucción - Jennifer Zarins
17 de noviembre Matemáticas de hoy "No aprendí matemáticas así" - Academia de padres y otros eventos 5:00-7:00 p.m. 5:30-6:30 Academia de padres eventos
15 de diciembre - Evento Noche Familiar - Noche Internacional
30 de enero - 3 de febrero - Olimpiadas de monedas - más información por venir de la PTA
6 al 10 de febrero - Semana de agradecimiento a los consejeros escolares
13-17 de febrero - Semana Nacional de Apreciación al Conductor de Autobús
16 de febrero - ¡La lectura es fundamental! - Academia de Padres
16 de marzo - Noche familiar de la feria del libro de primavera (FSN)
20-24 de marzo - Semana Nacional del Trabajador Social Escolar
31 de marzo - Jornada laboral del profesorado
4 de abril - Día del coordinador de medios de la biblioteca escolar
10-14 de abril Semana de agradecimiento al subdirector
17-21 de abril - Semana de reconocimiento al terapeuta ocupacional
19 de abril: Día de agradecimiento a los administradores de datos
20 de abril - Preparando a su hijo para el final del grado (3-5) - Academia para padres - Grados 3-5
24-28 de abril - Semana de Apreciación de la Asistente Administrativa
1 - 5 de mayo Semana de Agradecimiento a las Maestras
5 de mayo - Día del Héroe del Almuerzo Escolar
8 de mayo - Día Nacional de la Enfermera Escolar
18 de mayo- Día de reconocimiento al patólogo del habla
18 de mayo - Cómo apoyar el crecimiento académico durante las vacaciones escolares - Academia de padres