Return to Headlines
Weekly Message 4/24 - 4/28
Weekly Bulletin: 4/24 - 4/28
Desplácese hacia abajo para español

Hello Raven Families,
I hope you all enjoyed the long weekend and our Ravens are ready to hit the ground running Monday morning! We'll see them by 7:25 a.m.
New this week:
It's Administrative Assistants Week! A SPECIAL THANK YOU to:
Ms. Turner, Ms. Velez, Ms. Bunn, & Ms. Horton
iReady Testing - We have our end of the year iReady diagnostic testing on Tuesday and Thursday. It's very important for students to get a good night sleep, eat a healthy breakfest and try their best. This will show us how much growth our students have made this year.

Interims - Will go home this week, please be on the lookout, sign and return to school.

After school tutoring still has spots available, contact your counselor to sign up!

Here at Neuse River, we have some amazing student-athletes! On Wednesday, May 17th at 5:30 PM, we will honor our Scholar Athletes with an awards ceremony! Please RSVP using the link ASAP: https://forms.gle/MwvhUSPGx2W1D6a7A
Athletics:

Monday - Softball vs. Zebulon here at NRMS 4:15 p.m.

Tuesday - Soccer vs. Wake Forest at Wake Forest 4:00 p.m.

Thursday - Soccer vs. Riverbend at NRMS 4:00 p.m.

Thurday - Softball vs. Wendell at Wendell 4:15 p.m.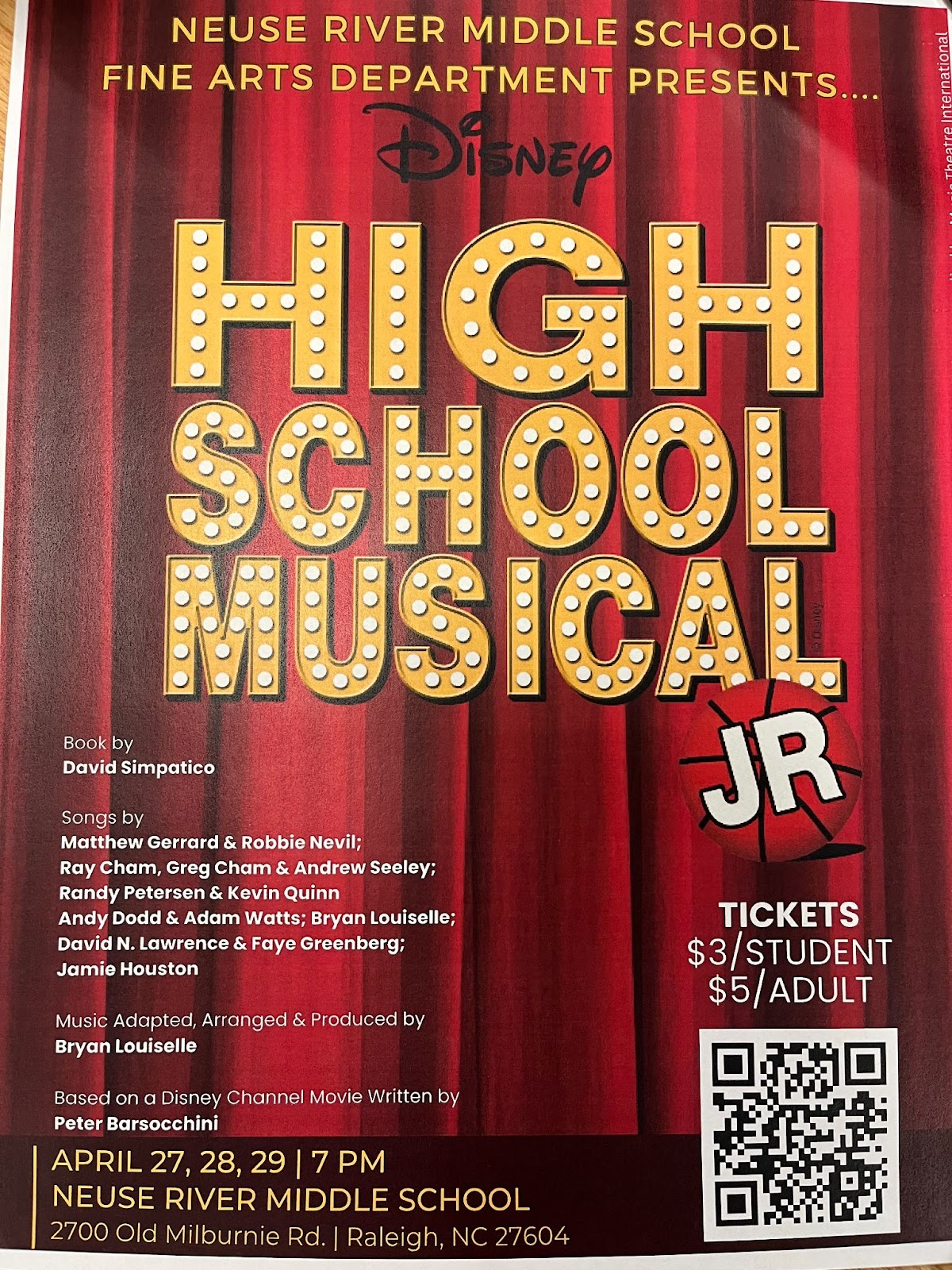 PTA News
PTA Board Elections
We will be holding PTA board elections in May for the next 2023-2024 school year. CLICK HERE If you are interested in serving on the PTA board or if you want more information, please contact us at neuseriverpta@gmail.com. We would like to have parents to help where they can and a board to be able to lead and help our school! Deadline for nominations is May 1st. We will be holding our last pta general meeting & pta elections on Monday, May 15th at 6pm.
Assistance Needed: PTA is also helping plan teacher appreciation week (May 1-5th) and contribute to end of year celebrations for our students. Please email us at
neuseriverpta@gmail.com if you can help in any way!
DON'T FORGET!
EOG dates are 5/12 - 5/26 - Please be sure your student is here.
Teacher Appreciation is 5/1 - 5/5
8th grade dance is 5/19. Permission slips were passed out in homeroom.
STAY CONNECTED!
Like us on Facebook and Twitter to stay updated on important messages about our school. https://www.facebook.com/NeuseRiverMS/
Twitter: @NeuseRiverMS
School Calendars:
Boletín Semanal: 24/4 - 28/4

Hola familias de Raven,
¡Espero que todos hayan disfrutado el fin de semana largo y que nuestros Ravens estén listos para comenzar a trabajar el lunes por la mañana! Los veremos a las 7:25 a.m.
Nuevo esta semana:
¡Es la semana de los asistentes administrativos! UN AGRADECIMIENTO ESPECIAL a:
Sra. Turner, Sra. Vélez, Sra. Bunn y Sra. Horton
Pruebas iReady - Tenemos nuestras pruebas de diagnóstico iReady de fin de año el martes y jueves. Es muy importante que los estudiantes duerman bien por la noche, coman un desayuno saludable y hagan su mejor esfuerzo. Esto nos mostrará cuánto crecimiento han hecho nuestros estudiantes este año.

interino -Se irá a casa esta semana, esté atento, firme y regrese a la escuela.

tutoría después de la escuela todavía tiene lugares disponibles, ¡comuníquese con su consejero para inscribirse!

Aquí en Neuse River, tenemos algunas increíblesestudiantes-atletas! El miércoles 17 de mayo a las 5:30 PM, honraremos a nuestro ¡Atletas Escolares con entrega de premios! Confirme su asistencia utilizando el enlace lo antes posible:https://forms.gle/MwvhUSPGx2W1D6a7A
Atletismo:

Lunes - Softbol vs. Zebulon aquí en NRMS 4:15 p.m.

Martes - Fútbol vs. Wake Forest en Wake Forest 4:00 p.m.

Jueves - Fútbol vs. Riverbend en NRMS 4:00 p.m.

Jueves - Softbol vs. Wendell en Wendell 4:15 p.m.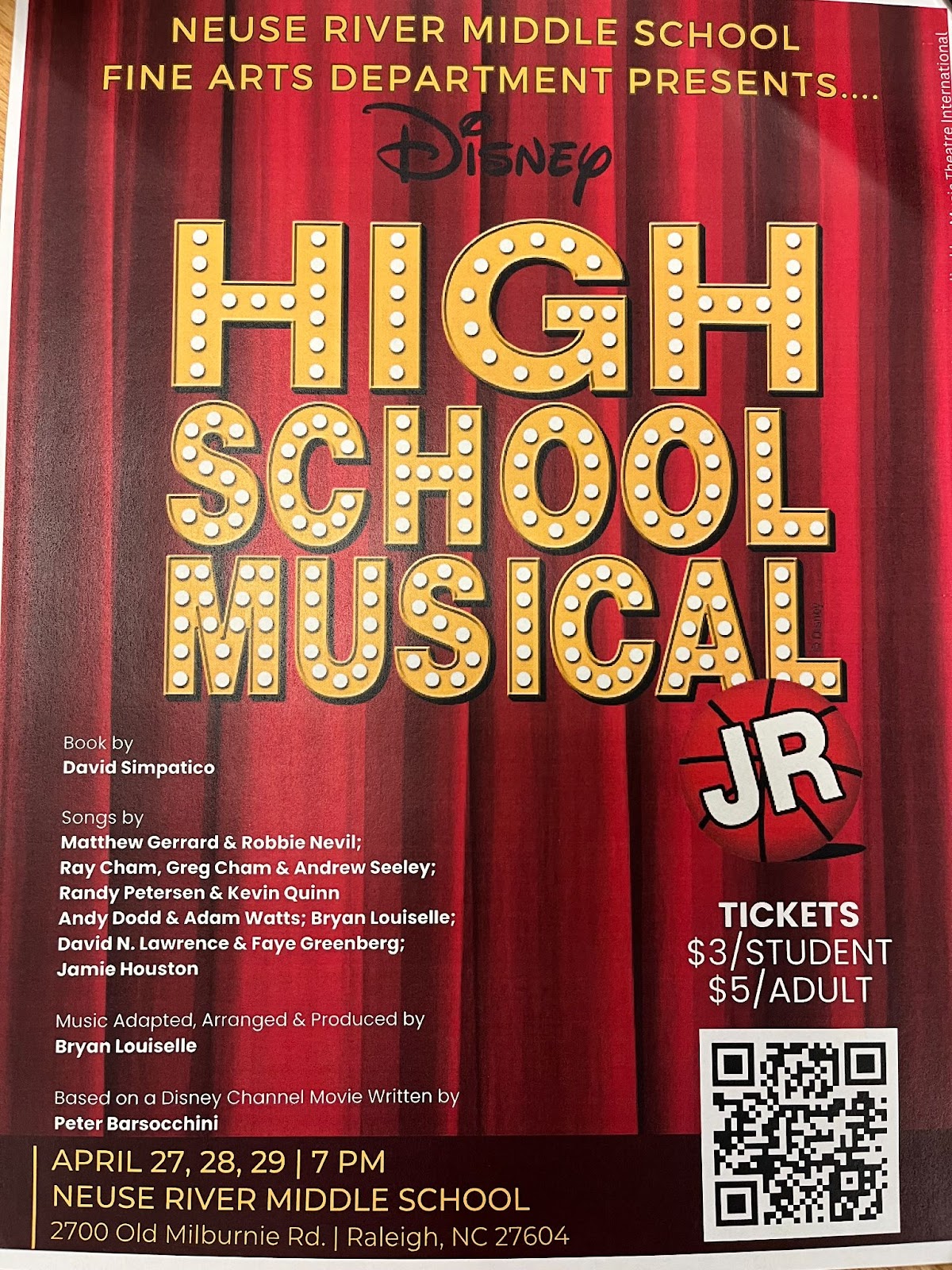 Noticias de la Asociación de Padres y Maestros
Elecciones de la Junta de la PTA
Tendremos elecciones de la junta de la PTA en mayo para el próximo año escolar 2023-2024.HAGA CLIC AQUÍ Si está interesado en formar parte de la junta de la PTA o si desea obtener más información, comuníquese con nosotros a neuseriverpta@gmail.com. ¡Nos gustaría tener padres que ayuden en lo que puedan y una junta para poder dirigir y ayudar a nuestra escuela!La fecha límite para las nominaciones es el 1 de mayo. Tendremos nuestra última reunión general de pta y elecciones de pta el lunes 15 de mayo a las 6 p.m.
Asistencia necesaria: PTA también está ayudando a planificarsemana de agradecimiento a los maestros (del 1 al 5 de mayo) y contribuir a las celebraciones de fin de año para nuestros estudiantes.Por favor envíenos un correo electrónico a
neuseriverpta@gmail.com si puedes ayudar de alguna manera!
¡NO LO OLVIDES!
Las fechas de EOG son del 12 al 26 de mayo. Asegúrese de que su estudiante esté aquí.
La apreciación del maestro es 5/1 - 5/5
El baile de 8vo grado es el 19/5. Las hojas de permiso se repartieron en el salón principal.
¡MANTENTE CONECTADO!
Me gusta en Facebook y Twitter para mantenerse actualizado sobre mensajes importantes sobre nuestra escuela.https://www.facebook.com/NeuseRiverMS/
Twitter: @NeuseRiverMS
Calendarios escolares:
Calendario Escolar 2022 - 2023
Calendario Escolar 2023 - 2024