Return to Headlines
Kindergarten Registration / Inscripción de Kinder
We are thrilled that your family is interested in OR is now part of our Eagle Family! Vandora has a rich history and has been an amazing educational choice for children for the past 60 years! We pride ourselves in helping students SOAR academically and socially, and we ensure that each child leaves 5th grade with the skills they need to succeed in middle school and beyond!
As we begin our journey together, we invite you and your family to our Kindergarten Registration / Orientation Event on Monday, May 6 at 6pm. During this event, parents will have an opportunity to learn about kindergarten and the transition to elementary school from our kindergarten teachers! There will be an opportunity for parents to ask questions, connect with our school nurse, and complete the registration process, as needed. Rising kindergarten students will play together in our kindergarten classrooms during the event. Our kindergarten instructional assistants will supervise them. Representatives from our PTA and our YMCA after school program will be ready to greet you. A limited quantity of Vandora Springs t-shirts will be on sale for $10.00.
We invite you back to campus on Wednesday, June 12 at 10 AM for Popsicles on the Playground! This will be another informal opportunity for rising kindergarten students to get familiar with our campus and get to know some of their schoolmates!
We can't wait to meet you and see your future Eagle SOAR with us! Here's to a wonderful start to elementary school for the high school graduating class of 2032!
Sincerely,
Mrs. Curtis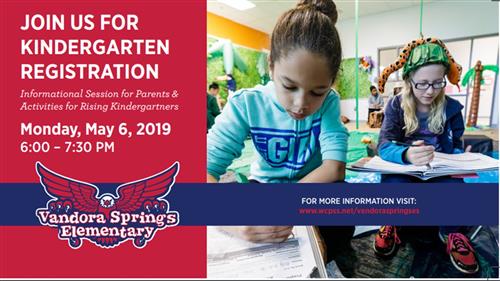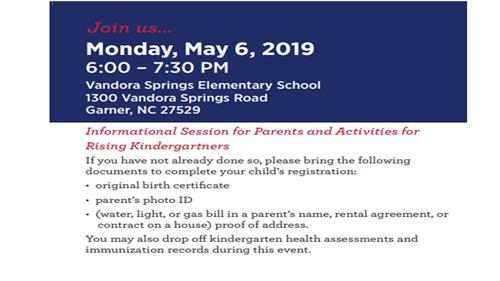 Buenas noches y bienvenidos a Vandora!
¡Estamos encantados de que su familia ahora sea parte de nuestra "familia de águilas"! ¡Vandora tiene una rica historia y ha sido una excelente opción educativa para niños durante los últimos 60 años! Nos enorgullecemos de ayudar a los estudiantes VOLAR académicamente y socialmente, y nos aseguramos de que cada niño salga del quinto grado con las habilidades que necesitan para tener éxito en la escuela intermedia y más allá.
A medida que comenzamos nuestro viaje juntos, los invitamos a usted y a su familia a nuestro Registro / Evento de Orientación para Kindergarten el lunes 6 de mayo a las 6pm. ¡Durante este evento, los padres tendrán la oportunidad de aprender sobre el kindergarten y la transición a la escuela primaria de parte de nuestros maestros de kindergarten! Habrá una oportunidad para que los padres hagan preguntas, se conecten con la enfermera de nuestra escuela y completen el proceso de registro, según sea necesario. Los estudiantes de kindergarten en ascenso jugarán juntos en nuestros salones de kindergarten durante el evento. Nuestros maestros asistentes de kindergarten los supervisarán. Los representantes de nuestro PTA y nuestro programa después de la escuela YMCA estarán listos para saludarlo. Una cantidad limitada de camisetas de Vandora Springs estará a la venta por $ 10.00.
¡Lo invitamos a regresar al campus el miércoles 12 de junio a las 10 am para hacer paletas en el patio de juegos! ¡Esta será otra oportunidad informal para que los estudiantes de kindergarten en ascenso se familiaricen con nuestro campus y conozcan a algunos de sus compañeros!
¡Estamos ansiosos por conocerte y ver tu futuro Eagle SOAR con nosotros! ¡Aquí está un maravilloso comienzo para la escuela primaria para la clase de graduados de preparatoria de 2032!
Sinceramente,
Mrs. Curtis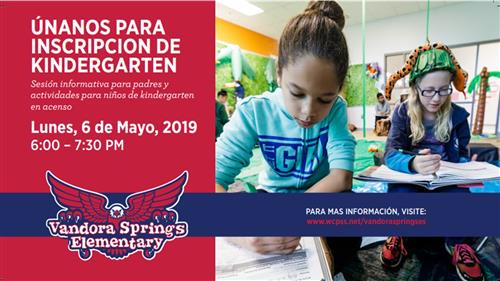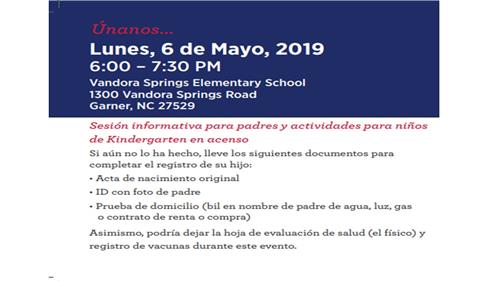 -------------
Kindergarten Registration is open! If you have a rising kindergartner, please visit https://www.wcpss.net/kindergarten to begin the registration process. We encourage you to share this link with any of your friends or neighbors who also have rising kindergarteners. If families ask you about our school, please encourage them to visit our website https://www.wcpss.net/vandoraspringses, give us a call at 919-662-2486, or schedule a tour!
Inscripción de Kinder: Si tiene un estudiante de kindergarten para el año escolar 2019-2020, visite https://www.wcpss.net/Page/38254 para comenzar el proceso de registro. Le animamos a compartir este enlace con cualquiera de sus amigos o vecinos que también tendrán estudiantes de kinder. Si las familias le preguntan sobre nuestra escuela, anímelas a que nos llame al 919-662-2486 para programar un recorrido.