Return to Headlines
Kelly O'Hara is the 2017-18 Special Education Teacher of Excellence
Sept. 29, 2017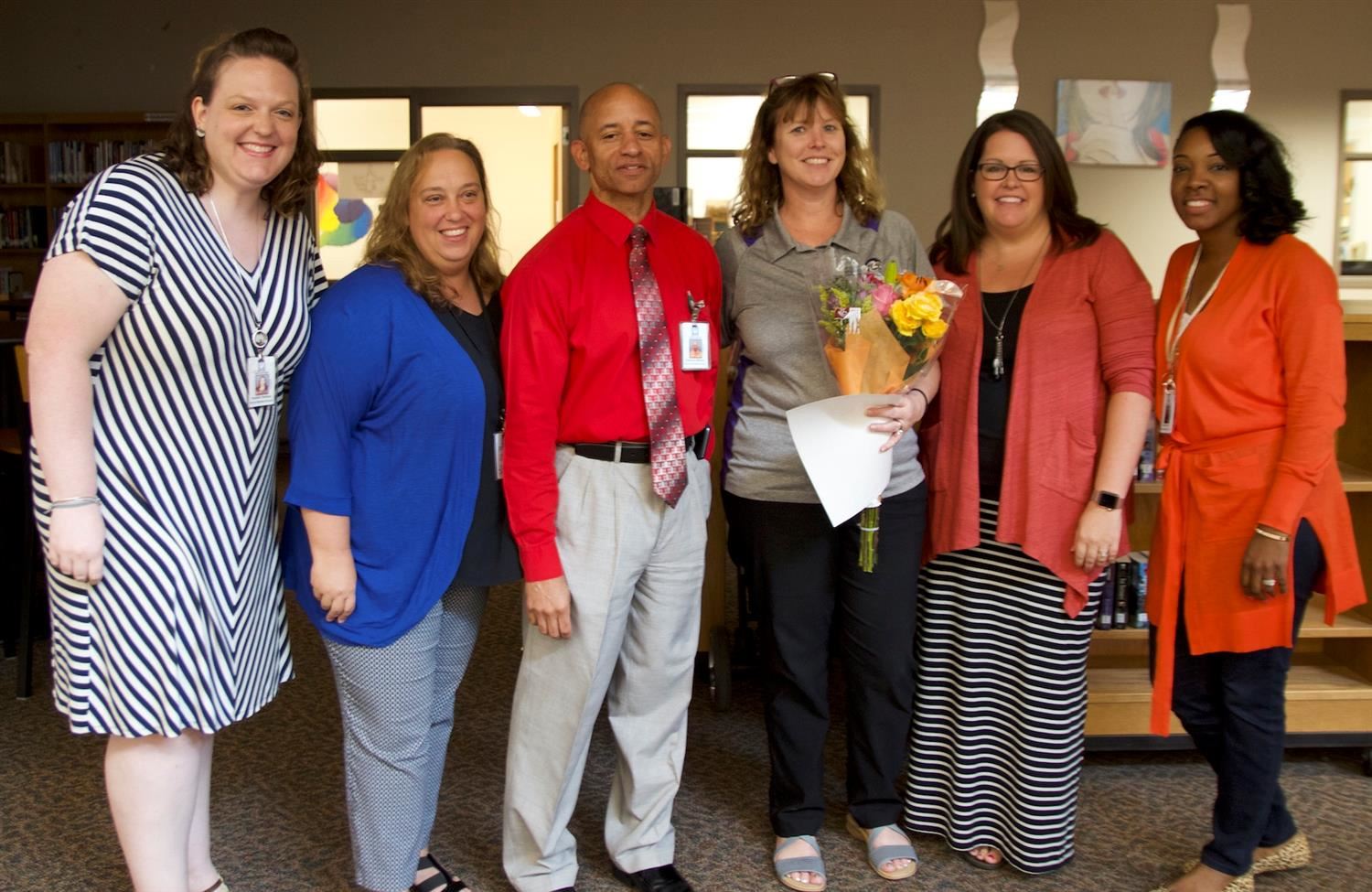 Kelly O'Hara, an Occupational Course of Study teacher at Holly Springs High School, is the 2017-18 Special Education Teacher of Excellence for the Wake County Public School System.
The award is given annually to the top special education teacher in the district.
She was surprised with the announcement today during a faculty meeting at Holly Springs High School.
"Ms. O'Hara would likely attribute her students' successes to the students themselves or to the great team of people working with them," Principal Brian Pittman wrote in nominating O'Hara for the award. "Make no mistake, both the students and the team are extraordinary. What Ms. O'Hara does not see is how her leadership elevates everything and everyone around her. Each interaction I have with Ms. O'Hara makes me want to be a better principal, advocate, and problem solver for students of all abilities."
O'Hara has taught for 16 years at all three levels. This is her third year at Holly Springs High.
"In the OCS classroom, Ms. O'Hara has achieved the goal of all students graduating on time with a diploma and with concrete options of how to continue their learning and work," Pittman wrote. "She accomplishes this by not only having a strong sense of purpose but also by ensuring that her students share an understanding of and a passion for that same purpose. Specifically, Ms. O'Hara works to ensure that students master their learning objectives and that they do so with a focus on tangible opportunities following graduation. Students are consistently graduating with opportunities and confidence not that they can be successful but rather that they WILL be successful."
O'Hara started an enterprise business where students are building leadership skills and work experience, Pittman wrote. She also volunteers her time outside of school, including with the local Civitans chapter, with whom she recently organized a fair for parents of students with special needs so they could learn more about resoures available to them through WCPSS.
Take a look at this video of the surprise announcement.