BYOD- Bring Your Own Device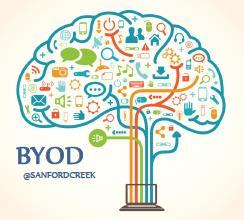 Mission- BYOD at Sanford Creek supports the WCPSS Mission through the purposeful use of devices for students to collaborate and communicate as creative, critical thinkers. BYOD will improve instruction as it supports a culture of continuous improvement, risk-taking, and innovation that is focused on student achievement.

BYOD is an option, not a mandate Parents have the choice to provide devices for their children to use during the school day.
BYOD allows for students to learn the way they live. BYOD is available to students to support learning, enhance instruction, and provide the best possible outcome for student learning. BYOD empowers each student to be a responsible citizen of the 21st century. More importantly, BYOD supports our school mission.

Bring Your Own Device (BYOD) at Sanford Creek will provide personalized student access to a world of information.