Welcome to the Turner Creek Media Center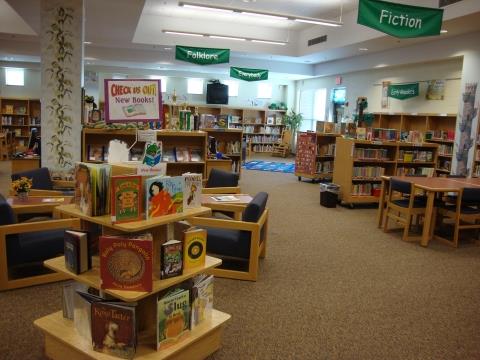 Everyone at Turner Creek is welcome at the TCE Media Center. Through our varied collection of over 13,000 items we try to meet the needs and interests of readers of all levels. Our aim is to develop and nurture life-long learners through exposure to a wide variety of literature, print and online resources. We teach information literacy skills that help our students enjoy reading, as well as skills to better access, utilize, and evaluate information sources.
Schedule

The Media Center is open for student checkout from 8:45 a.m. – 3:30 p.m. on school days. We operate on a flexible schedule which allows students to visit the library as often as needed to meet their reading needs. Students in grades 3 -5 may come to the Media Center for book checkout individually, in small groups, or as a class during the school day, depending on teacher discretion.Students in kindergarten, first and second grade visit the Media Center one day a week for checkout. Students also come to the Media Center for collaboratively planned, curriculum-related media lessons. Kindergarten and first grade students visit us as a whole class on a weekly schedule.

Lending Policies

Circulation policies depend on the age of the student. Kindergarten is allowed to check out one book at each visit. First and Second Graders are allowed to have two books at a time. Third through Fifth graders are allowed to have three books/magazines for independent reading, with additional checkouts allowed for research/class projects. We do not charge overdue fines, but we ask that students return books as soon as they are finished. If books get lost or damaged families will need to pay replacement costs – please help us teach your child responsibility by returning books promptly.

Programs

Battle of the Books

In conjunction with the AIG program we sponsor a Battle of the Books Club for both fourth grade and fifth grade. Battle of the Books challenges students to read great books and then participate in a quiz bowl competition to showcase their knowledge. Working in teams, each student taking part in the Battle makes a long-term commitment to read at least 5 books from a chosen list and then competes in the "battle" in February answering questions about the books. The club will meet during the school day, on a monthly basis. Each month we will hold book discussions on the selected books from the list. Participating students will improve their teamwork and comprehension skills, practice question writing and get the opportunity to read great books! Monthly Book Club discussions are open to ALL fourth graders or fifth graders who have read the titles. This offers an opportunity for students who cannot make the long-term commitment to a Battle Team.


Book Fair

Our Book Fair is scheduled in the late fall. We use a variety of companies that offer high quality children's books at reasonable prices. This is the major fundraiser for the Media Center collection – at least 25% of all profits come back to the school and are used to buy books and materials to build our collection. The PTA helps us run the Fair, and provides volunteers.


Media Helpers

Media Helpers is a student job open to fifth and fourth grade students. Media Helpers work during our busy morning checkout time, assisting students with finding books and helping man the Circulation Desk. It is a fun job, and a great way to improve understanding and use of a library.




Volunteer Opportunities

We have MANY volunteer opportunities in the Media Center – from shelving books and assisting students, to processing new books and repairing damaged ones. We also depend on many volunteers to run our Book Fair in the fall. Whether you have a little or a lot of time to share, please contact us if you are interested in volunteering. Thanks.