Faculty's Finest Nominations and Winners
Parents and students are welcome to nominate staff members to be acknowledged as our Faculty's Finest based on their knowledge of what the staff does every day. We all know our Leopard staff gives so much to help build the leaders of tomorrow. Faculty's Finest is a way for parents and students to recognize a staff member in our building who is going above and beyond to support the overall student achievement of our learners. The goal of Faculty's Finest is to not only recognize the efforts and successes or our educators but to help maintain a positive climate and morale within our school.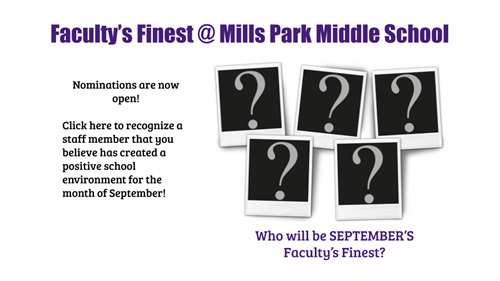 Please click below to nominate a Mills Park staff member as Faculty's Finest! You may nominate more than one staff member each month. Simply fill out a form for each nominee.

Faculty's Finest Nomination Form (September)

Faculty's Finest Nomination Form (Opening October 20th)

Faculty's Finest Nomination Form (Opening November 15th)
Congratulations to our September Faculty Finest!