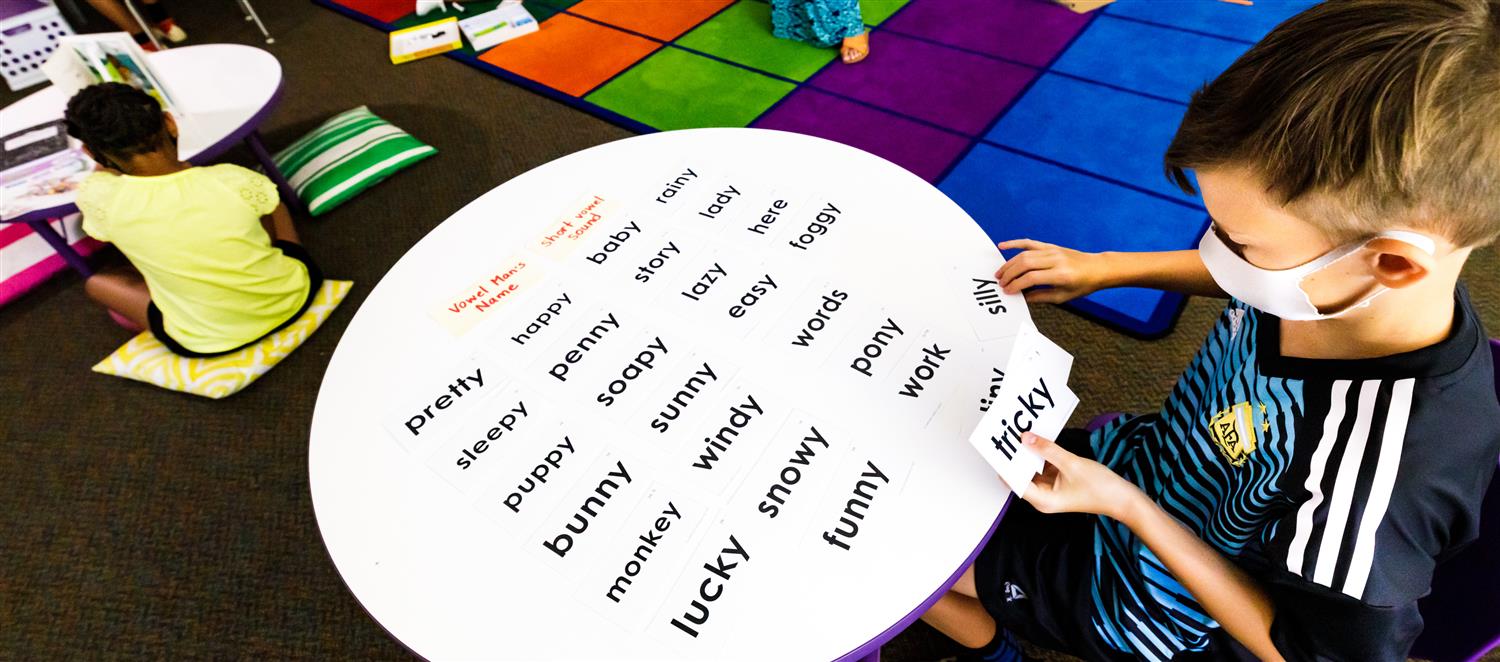 Introduction
These protocols are based on guidance from the Centers for Disease Control and Prevention (CDC), North Carolina Department of Health and Human Services (NCDHHS), Wake County Public Health, and the North Carolina Department of Public Instruction (NCDPI).

Our top priority in all decisions is the health, safety, and well-being of our students, employees, and school communities. If and when the circumstances surrounding the COVID-19 pandemic change, this guidance may also change.

To learn more, click on the topic below to expand the information.
Cloth Face Coverings >

North Carolina requires a face covering of your choice for all employees, adult visitors, and K-12 students at all times, even when 6 feet or farther from other individuals, including:

inside school buildings and anywhere on school grounds, including outside; and
while traveling on buses or other contract transportation vehicles.

Cloth face coverings remain strongly recommended for pre-K students if appropriate for that child, but are not required for them.

A face covering must be secured safely over the nose, mouth, and under the chin.

State health officials strongly recommend face coverings for all people over the age of two.

Face coverings are not required for individuals who:

Cannot tolerate a face covering due to developmental, medical, or behavioral health needs
Are actively eating or drinking
Are strenuously exercising
Are seeking to communicate with a hearing impaired person in a way that requires the mouth to be visible
Have found that a face covering is impeding visibility to operate equipment or a vehicle
Are children whose parent, guardian, or responsible person has been unable to place a face covering safely on the child's face

Face coverings are an additional step to help slow the spread of COVID-19 when combined with everyday preventive actions and social distancing in public settings.

Face coverings will be provided for students who do not have access to one. If given a reusable face covering, it is the responsibility of the family to wash it when needed and bring it back to reuse it.

Please also review face covering best practices on the CDC website with your child and help them practice wearing face coverings appropriately for extended periods of time.

Schools may give students a brief face covering break if they can meet all of the following conditions:

Outside only

Spaced 8-10 feet from all other individuals, including employees
Students should remain stationary in the same space
Students should all face the same direction

Handwashing >

Handwashing is one of the best ways to protect yourself and your family from getting sick. The CDC recommends everyone wash their hands often with soap and water for 20 seconds. Avoid touching your eyes, nose, and mouth with unwashed hands. Teachers will be teaching handwashing in the classroom, incorporating handwashing breaks into the school day, and reinforcing handwashing during key times
throughout the school day such as before eating, using the restroom, and touching shared objects.

Hand-Sanitizing Stations >

Washing hands with soap and water is the best way to get rid of germs in most situations. If soap and water are not readily available, individuals are encouraged to use an alcohol-based hand sanitizer (containing at least 60% alcohol). Schools will provide hand-sanitizing stations at every school entrance and exit, in the cafeteria, in every class, and on every bus and transportation vehicle.

If your child has sensitivities to hand sanitizer, please communicate this with your child's teachers so they can provide your child other opportunities to clean their hands.

Social Distancing >

Schools are taking actions to ensure all campus spaces and buildings support health and safety. These actions include: signage and floor markings to remind students of social-distancing practices, strategic furniture placement in classrooms and changing the typical "traffic flow" inside school buildings to promote and facilitate social distancing in hallways, bathrooms, and during times of transition.

Before and after school, we ask students to avoid congregating on campus. Employees will direct students to clear the hallways and parking lots and leave campus in an effort to encourage social distancing.

Cleaning and Disinfecting >

Buildings will be cleaned and disinfected throughout the day and every evening. The CDC defines cleaning as removing germs, dirt and impurities from surfaces or objects. Disinfecting kills germs on surfaces or objects. Students are not permitted to assist with cleaning and disinfecting.

Classrooms

Disinfecting supplies will be provided to each classroom to support the cleaning of desks and other high touch surfaces between classes, after lunch, and the cleaning of shared program materials/equipment as desired. After school each day, desks and other touch points will be disinfected.

Restrooms

Custodial Services will clean and disinfect all restrooms using approved procedures a minimum of four times daily, and after school hours.

Meals

If students eat in the cafeteria, Child Nutrition Services will clean and disinfect seats and tables before and after each meal. If students eat in the classroom, students and staff are expected to clean up after themselves by placing all trash and recyclables in the bins placed in the hallways. Bins will be located near multiple classrooms.

Response to Presumptive, Suspected or Positive COVID-19 Illness

Affected areas will be closed and thoroughly disinfected. Custodial staff will notify the School Administrator, COVID-19 Coordinator, or Care Center Attendant when the area is ready to be re-opened.

Visitors >

Only essential visitors will be allowed on school campuses in an effort to protect the health and safety of our community by minimizing the
number of people on sites.

All efforts will be made to keep necessary visitors to a minimum, including the use of virtual or telephone meetings with families and guests.

If it is essential to have family members or visitors enter the facility, they must go through the same health screening process as students and employees. All visitors are required to follow guidelines in the Cloth Face Covering section of this document. Any meetings with a family member or visitor must follow social-distancing guidelines.

Water Fountains >

In response to COVID-19, students will be prohibited from drinking directly from water fountains.

All students are encouraged to bring their own bottled water or reusable water bottles. All water bottles should be clearly labeled with the user's name. It is the students' responsibility to keep track of their water bottles and take them home for regular cleaning.

If students needs water and do not have a water bottle, they may ask an employee for a cup to get water from the water fountain.

Transportation >

Seating capacity on buses will be consistent with state guidelines.

All K-12 students are required to wear a face covering at all times while in a vehicle, unless they meet one of the exceptions listed in the Cloth Face Covering section. If an employee or student does not have a face covering, one will be provided.

Hand sanitizer will be available on all school transportation vehicles for safe use by employees and older children.

Touch points, including doors and windows, grab handles, arm rests, hard seats, door handles, and seat belt buckles, will be disinfected between each bus run with an EPA-approved disinfectant for SARS-CoV-2, the virus that causes COVID-19. Every bus will be cleaned between morning and afternoon runs and at the end of each day.

Cafeteria >

Our child nutrition employees will continue to prepare food in our school kitchens following very strict food safety and sanitation procedures required by the United States Department of Agriculture (USDA), Occupational Safety and Health Administration (OSHA), NC Department of Health and Human Services (NCDHHS), and NC Department of Public Instruction (NCDPI). All meals will be individually packaged for direct service to students.

Through December 31, breakfast and lunch will be available at no cost for all students. Meals are currently available at curbside and community locations listed at wcpss.net/food.

Information about applying for Meal Benefits for the 2020-21 school year can be found at wcpss.net/meals. Students eligible for reduced-price meals will receive their breakfast and lunch at no cost for the 2020-21 school year. Applications can be completed online at MySchoolApps.com, or a paper application can be requested by calling 919-588-3535.

Our menus will continue to feature student favorites, fresh Got To Be NC farm-to-school fruits and vegetables, and will provide the protein, whole grains, low-fat dairy, fruits and vegetables that are important ingredients in a nutritious meal.

More information regarding Child Nutrition Services is available in our Child Nutrition Reopening Guide for Parents.

Athletic and Co-Curricular Activities >

The school board has approved this schedule for the gradual return of athletic activities. This is a summary of health and safety protocols for student-athletes and staff. Contact your school for more detailed information and workout schedules.

Forms

The following documents are required for athletic participation. These documents should be submitted prior to attending their first athletic pre-season activity.

Field Trips >

For the upcoming school year, in-person field trips have been suspended to ensure the safety of our students and employees.