Join Our Learning Community
Who We Are

Smith Magnet Elementary is a certified school for the International Baccalaureate Primary Years Programme. We pride ourselves on the fact that this program allows us to develop globally-minded students with strong abilities to problem-solve through the use of critical thinking skills.

As a member of the Smith Community, you can expect to explore the world through virtual field trips, hands-on inquiry-based lessons and quality instruction from trained PYP educators.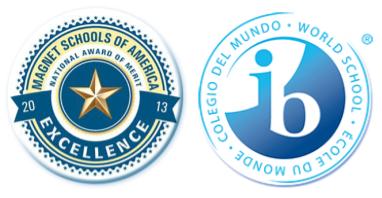 Core Components of the IB Programme

(Taken from IBO organizational handouts)

The IB Primary Years Programme, for students aged 3 to 12, focuses on the development of the whole child as an inquirer, both in the classroom and in the world outside.

The Programme

Encourages international-mindedness in IB students
Encourages a positive attitude to learning by engaging students in inquiries and developing their awareness of the process of learning so that they can become lifelong learners
Reflects real life by encouraging learning beyond traditional subjects with meaningful, in-depth inquiries into real issues
Emphasizes, through the learner profile, the development of the whole student – physically, intellectually, emotionally and ethically

The IB Primary Years Programme frames the learning activities of the school community. Typically, the framework is flexible enough to incorporate national curriculum, requirements. It is used in national and international, state and privately funded schools.

Please visit this link for more information: www.ibo.org