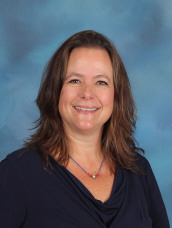 Phone:
Email:
Degrees and Certifications:
Ms.

Martin-Byers

School Counselor

eMail: amartin-byers@wcpss.net

This is my third year at Olive Chapel Elementary and I am grateful to be a part of the OCE team. This year I will be working with all tracks via individual, small group and classroom guidance. I graduated from NCSU with a Bachelors in Sociology and a Master's in Education/School Counseling. I am also a part time clinical therapist which allows me to help others outside of the school environment. I live in Apex with my two son's ages 15 and 19 along with two of the sweetest dogs named Scooter and Ivy. My hobbies include anything outdoors...running, hiking, walking, biking, kayaking, swimming, gardening, and camping just to name a few. My stress reliever is baking, cooking, running, and meditation. My passion is practicing mindfulness and helping children learn mindfulness as well, which is part of one of many in class guidance programs Mrs. Geiss and myself will be teaching this year. It is my goal to help kids rise above any perceived obstacles that keep them from growing into loving, respectful, kind, smart, and compassionate human beings. It is my philosophy that all children have the potential to learn and it is our job as educators, parents, as well as our community to make sure we do all we can to help them become successful on all levels of growth. I am looking forward to a great year. Thank you for trusting me with your children for it is a great honor.