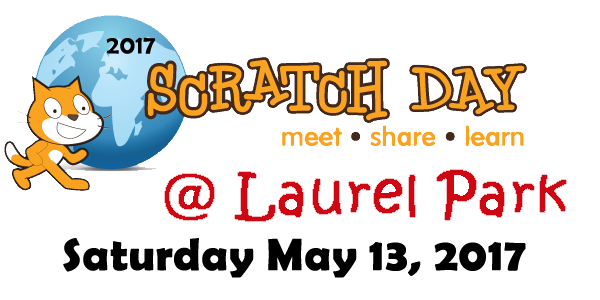 What is Scratch?
Scratch is a computer programming language created by MIT's Lifelong Kindergarten group. Using Scratch, programmers (scratchers) can create animations, videos, games and almost anything that can be created by higher level programming languages. Scratch is designed with learning and education in mind. As young people create and share projects in Scratch, they develop important design and problem-solving skills, learning how to think creatively, reason systematically, and work collaboratively.

Scratch can be used in many different settings: schools, museums, community centers, and homes. It is intended especially for 8- to 16-year-olds, but younger children can work on Scratch projects with their parents or older siblings, and college students use Scratch in some introductory computer science classes. For more information visit the official site at scratch.mit.edu

What is Scratch Day?
Scratch Day is a special day where Scratchers congregate to meet, celebrate, share and learn. Scratchers collaborate on different projects, share their ideas and experiences, and overall, have fun.

Scratch Day at Laurel Park Elementary School
Scratch Day 2017 will take place Saturday, May 13th @ LPES 9:30 AM - 3:00 PM. The Laurel Park Scratch Day will be an all day event and will consist of the following:

9:30 - Meet and greet as scrathers (students) and parents arrive
10:00 - Brief presentation to the parents explaining what Scratch is, how we use it in school
10:30 - Break Out Session 1 - Programming Teams begin working on a programming challenge. All teams will be presented with the same programming challenge. Students will create a story board of their program, gather the characters (they can be imported images or original creations) and start to program.
12:15 - Lunch - will be provided
1:00 - Break Out Session 2 - here teams will continue to create their solutions to the challenge, write the scripts, and create the program. For those who finish we will have a secondary challenge for them to solve.
2:30 - Wrap up

w This year we will be having a Lego WeDo expo as well. Students will be able to reserve time to show there parent(s) what they have been doing in Robotics Club. As well and the finch robot.

How do I sign-up
Students need to form programming teams of 2 or 3 scratcher. Students wishing to attend must register (Starting April 1 st) here before May 7rd.

What if I want to be on a team, but don't have a team?
If you want to be on a team and having trouble find other team members, let Mr. Schwartz know and he will help you form a team.

Do parents have to stay?
No, the event will be well supervised as all events at LPES are. We do ask that parents stay for the introductory presentation at 9:30, and return at 2:30 as we wrap-up.

Questions?
Ask Jeff Schwartz @ jschwartz@wcpss.net or stop by the computer lab before or after school.