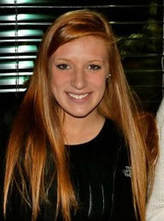 Phone:
Email:
Degrees and Certifications:
I graduated Magna Cum Laude in May 2013 from East Carolina University, with a bachelor's degree in Elementary Education. My concentration was mathematics. I received my academically gifted licensure from ECU in the Summer of 2014. I graduated with my Masters degree in Reading Education in May 2016 from East Carolina University.
Mrs.

Brittany Caruso

My name is Brittany Caruso. I was born in New York and then lived in Pennsylvania. Even though we moved around, I actually spent the majority of my childhood in Apex, NC and grew up attending Wake County Public Schools. I now live in Holly Springs, North Carolina with my husband and our fur-baby Russo. Russo is a one year old puppy that we adopted from Peak Lab Rescue. He is a golden retriever, yellow lab, german shepherd mix (yes-that is a mouthful!) He loves swimming, snuggling and chewing every tennis ball around. He keeps us very busy but we love him very much! My parents, two brothers, sister-in-law, nephews and grandparents live in the area as well so we get to see them very often. Being an aunt is the greatest gift I could ever ask for! I love spoiling those boys!

When not at school, I love crafting! I like seeing something and trying to recreate it or finding something at the thrift shop/yard sale and turning it into something great. I also make personalized gifts for family and friends. We are huge hockey and football fans in our household. However we are a house divided when it comes to favorite teams! I am a diehard Pittsburgh Penguins fan as well as a Steelers and Penn State fan. My husband is a diehard New York Rangers fan as well as New York Giants and Yankees fan. We do both love the East Carolina Pirates, especially since that is where we met! I also love watching movies, relaxing and shopping. I love traveling and spending time with my family on vacation. My favorite vacation was when I backpacked Europe for a month. I was able to explore five countries (Portugal, Spain, Italy, Scotland and Ireland) and overall twelve different cities. It was a life changing experience! My family also loves to travel. We have grown up camping in many different places including: Maryland, Florida, South Carolina, North Carolina, the beach, the mountain, lakes, etc. We mostly enjoy camping in Myrtle Beach, South Carolina during the summer.