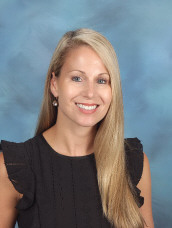 Phone:
Email:
Degrees and Certifications:
Mrs.

Erin May

Olive Chapel Elementary Assistant Principal

eMail: emay@wcpss.net

I have been the proud assistant principal at Olive Chapel Elementary for the past six and a half years and have called O.C.E. my home since 2004 where I started my career. After graduating from Meredith College in Elementary Education and Child Development, I taught first grade for six years and loved the joy of teaching the little ones and helping to build a solid foundation and love of learning in students. During my time as a first grade teacher, I was actively involved in leadership opportunities and enjoyed it so much that I decided to pursue a Master's Degree. I received a scholarship to attend graduate school full-time with the Principal Fellows Program and graduated with a Master's Degree in School Administration at North Carolina State University in May 2012. In looking for the right opportunity, I decided that upper grade experience would help me grow as an educator and leader. I found myself back at Olive Chapel to teach fourth grade for a year and a half before I was promoted to assistant principal.

I live in Raleigh with my husband Nate and our two girls, Ella and Eva, and stepson, Collin. Ella is a proud first grader at Olive Chapel and Eva is a precocious 3 year old wishing she could go to school with us. My stepson, Collin, attends Wake Technical Community College studying manufacturing. We love enjoying the warm weather by going to the beach or pool in the summer and traveling whenever we can.

As an educator, I believe that in an ever changing world, we must do whatever it takes to prepare students for the unknown. This means creating an environment where we foster collaboration, critical thinking, creativity, and communication. We must set the bar high and build positive relationships so that all students and staff will want to meet the high expectations set. I love being an educator and I hope to inspire and empower the others that I work with so that all students grow.