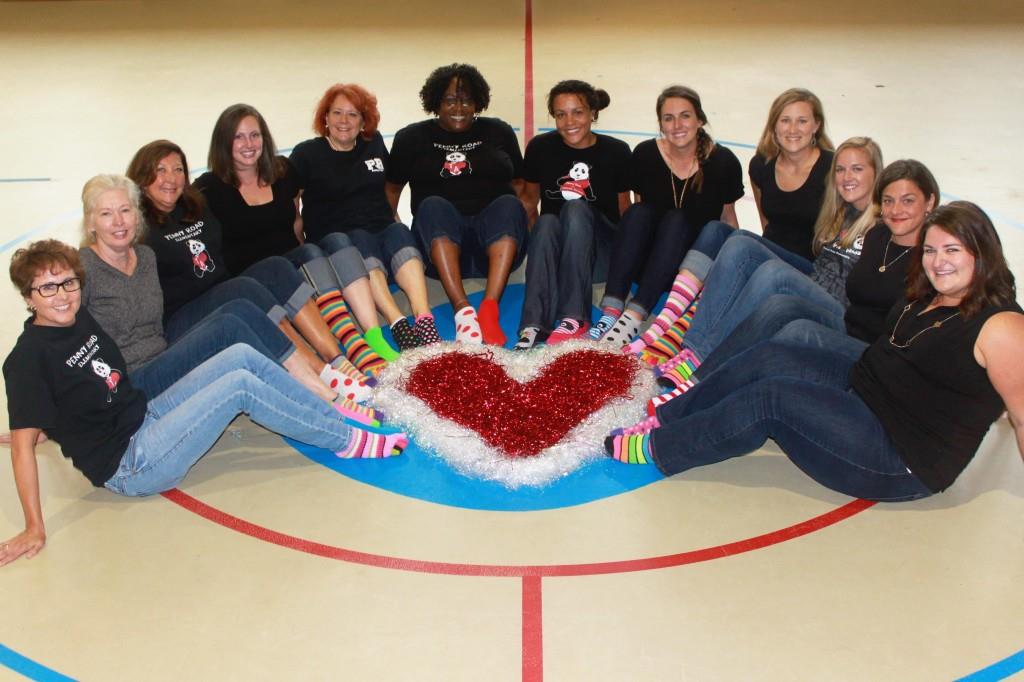 Heather Brush: I was born and raised in Florissant, MO. I lived in Manhattan, KS for 10 years prior to moving to NC in 2012. I graduated from Kansas State University and began my teaching career in 2008. This is my 3rd year at Penny Road and my 7th year teaching. I am the proud mother of two beautiful girls. In my spare time I enjoy being active, traveling, spending quality time with my family, reading, and cooking.

Paula Izquierdo: I was born and raised in Brooklyn NY. I was educated at the University of Florida. I moved to NC in 1988. I have been part of an elementary school faculty since April 1982. I have been at Penny Road since it opened and I am the only person left from the original staff! My free time is spent with my family and three fur babies! I am the proud grandmother of two girls, Ava (just turned two in August) and Harper (born in June). I also have two grand dogs, Roy and Rosie.

Amanda Montoya: I was born and raised in Biloxi, MS. I graduated from a tiny little place called Millsaps College in 2011 and moved to North Carolina in 2012. Currently I am enrolled at NCSU for graduate school and am working towards my Masters in Special Education. I have been in the special education world for 3 years and have been at Penny Road for 2 years. I love being involved with my church and different volunteer organizations but nothing can beat a day at the beach! I am so excited to see old students, meet new students and watch them all grow this school year!

Jeanna Leauma: I grew up in Clarksburg, WV. I earned my bachelor's degree at Slippery Rock University. This is my 17th year teaching special education. I have experience in Clark County, Nevada, Poway Unified School District in Rancho Bernardo, California and here in Cary, North Carolina. My experience includes self contained programs with students with language impairments, middle school resource, and CCR. Penny Road E.S. is a wonderful place to teach, as this will be my 9th year here! I look forward to watching my students gain self-confidence and figure out that learning can be fun!

Karen Merchant: I have worked with special needs children and their families for over 10 years. With a background in Special Education I received my MS in Occupational Therapy in 2009. I have worked in both a private clinic and the school setting. I have two little ones and a wonderful husband that keep me busy outside of work. I love soaking up the outdoors.

Taylor Gibson: I was born in Wisconsin but moved to Cary, NC when I was 8 and have been in the surrounding area since. I went to NC State University for my undergraduate and graduate degrees. I student taught at Penny Road in the ID Mild I classroom before graduating with my Masters of Arts in Special Education. I was lucky to get the opportunity to spend 5 weeks teaching English at a school in China. I enjoyed every minute of it! My first job out of school was a resource position at an elementary school down the road. I am so excited to be back at Penny Road and can't wait for an awesome school year!

Amanda Powers: Hey everyone! This is my third year teaching; my second here at Penny Road as the K-2 CCR teacher. I received my bachelor's degree in education from East Carolina University. My hometown is Currituck, NC (near the OBX), and moved to Cary, NC last summer. Being that I am new to the Cary area I have been spending my time getting to know the surrounding area, traveling, hanging out with family and friends, and playing with my dog Benjamin. I am looking forward to an amazing year here at Penny Road Elementary! Go Pandas!!

Holly Buswell: I have been a school psychologist in the Wake County Public School System for the last nine years. Prior to this, I attended Western Carolina University for both my Bachelors and Masters degrees. Since joining Wake County, I have had the opportunity to work with the Low Incidence population and students with visual impairments. My "behavioral saw" stays sharpened with Functional Behavior Assessment consultations, and Behavior Intervention Plan development. I am also able to serve teachers and staff by assisting with literacy Universal Screening assessments, and subsequent data analysis. Often this leads to targeted intervention development, with supporting progress monitoring. My membership on the School Improvement Plan, Data, and Intervention Teams allows me additional opportunities to support my school sites. The traditional role of psycho-educational evaluations still remains a significant part of my day-to-day job, which allows me to collaborate with the speech-language pathologist, occupational therapist, and other SPED staff on a regular basis. When I'm not serving Penny Road as their school psychologist, I live in Holly Springs with my husband, two children, and Irish Terrier. In my free time I enjoy: reading, spending time with friends and family, baking, and cheering on the NC State Wolfpack!!