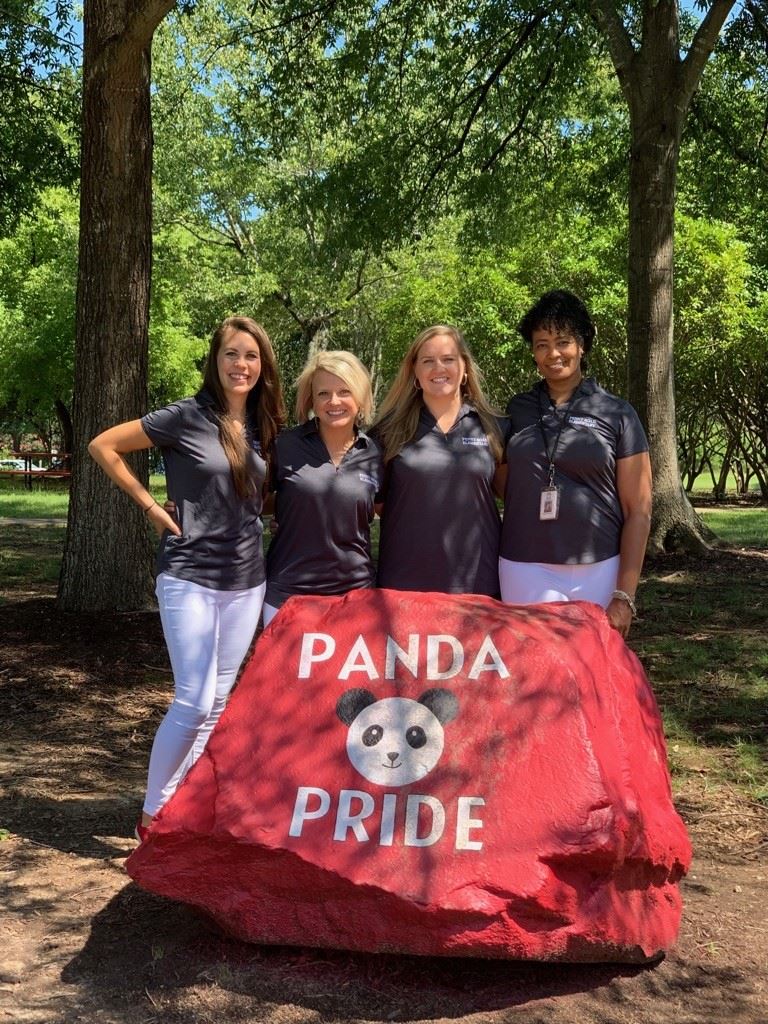 We're so glad your child is now part of our First Grade family!

Grade Level Chair: Mrs. Poole: This is my 6 th year teaching at Penny Road Elementary but my 7 th year teaching. As many of you know I taught Special Education here at Penny Road for 3 years but before that I was a 1 st grade teacher in Camden County, NC. I am originally from a small, rural town in Pennsylvania, but I moved to the OBX with my parents when I was 10 years old. I am the youngest child of a blended family of 7 children. It was always fun growing up with so many brothers and sisters. After high school I attended East Carolina University, majoring in Elementary Education. Throughout college I was a member of the ECU Ambassadors which allowed me to volunteer with the boys and girls club, Special Olympics, and Special Populations. In my free time and on weekends you can usually find me completing projects around the house, going hiking with my two dogs (Buxton and Benjamin), watching and attending sporting events with my husband (Scott), traveling and most of all visiting with my family. In my classroom, I love to develop creative, engaging lessons where students are empowered to take control of their own learning. I enjoy doing hands-on explorations with my students and allowing them to guide discussions based on their experiences or observations. When visiting my classroom, you will rarely see students working silently at their seats. Although there is a time and place for independent, silent work, I believe students learn most by interacting and engaging with their peers while completing tasks to reach an educational goal.


Mrs. Daniel: It's rare you hear this around here these days, but I was born and raised right here - my childhood home is 5 minutes from PRE. After graduating from Appalachian State in 2007, I was offered a job at Penny Road and immediately felt at home - I love everything about being a Panda! I now live in Fuquay Varina with my two sweet girls and my wonderful husband. I enjoy family movie nights, playing board games, and anything outside! I love teaching - being able to foster a love of reading, a spark of creativity, and the importance of a growth mindset make my job ever-changing, but my heart so happy. Building a classroom community where we all feel welcome, respected, and excited to learn is important to me each and everyday.

Mrs. Hughes: I grew up on a farm in Lewisburg, West Virginia. I went to college at West Virginia University. I graduated in 2015 with a master's degree in Elementary Education. I have taught fifth, fourth, second, and now first grade! I absolutely love teaching, and cannot imagine having a better career. When I am not at school, you can find me hiking or watching football with my husband and our beagle, Sadie.

Mrs. Jordan: I think I knew I wanted to teach small children as a preschooler. There was a tiny, little girl in my class who was much smaller than me. I helped her learn her numbers and alphabet and recall how excited she was to learn them (and how excited I was to help her)! I must have caught the bug way back them. Although academics is certainly a huge focus of learning, I am also very passionate about helping children discover their special gifting(s) and nurture them in who they are called to be. I call my students "Jewels" because they are uniquely created and have a special purpose for being born. I hope to help them realize this about themselves and help them to desire to be life-long learners. Another theme in my class is appreciating and accepting other's differences. I am a native of Wilmington, NC, however, I have resided in Wake County for the past 10 years. I have 3 wonderful children who are my treasures; Viana, Ka'la, and Jamie. They are each gifted in their own rite and very athletic. My other passions include helping others toward living a healthier lifestyle, reading, graphic design, and ANYthing crafty. I am so blessed and thrilled to be here at Penny Road Elementary! I feel right at home here.