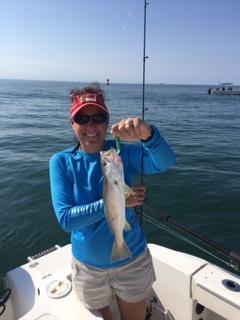 Bonjour, Hola, and Hello! Welcome to our fourth grade classroom. I am thrilled with the opportunity to work with you and your child this year. I love teaching and am passionate about helping every child learn and experience success. My journey to teaching must have began as early as elementary school. I can't remember a day I didn't want to go to school. After High School I graduated from North Carolina State University and the University of North Carolina at Charlotte. I also earned my National Boards Certification. I especially love teaching 4th grade because we learn about North Carolina. Ballentine continues to be a great place for me to grow as a professional and a wonderful place that supports students enthusiasm for learning.

My husband Dale and I are both Native North Carolinians. I grew up in Kannapolis, a suburb of Charlotte. Kannapolis is the current home of the North Carolina Research Campus. My husband is from Raleigh and is retired! Dale keeps busy, but is willing to volunteer for our classroom. We enjoy cycling, running, swimming, fishing and boating.

I look forward to active year together. I know that working together this will be a fabulous year of learning.
Animal Detective

Posted by

Kathy Wall

on

1/19/2017

NC Candid Critters

Posted by

Kathy Wall

on

1/19/2017

What's The Best Thing to Do On a Snow Day, Wonderopolis

Posted by

Kathy Wall

on

1/8/2017

Get Ready For NC Candid Critters

Posted by

Kathy Wall

on

1/7/2017

Where Does Your Water Come From

Posted by

Kathy Wall

on

1/6/2017

Colonial Holiday

Posted by

Kathy Wall

on

12/20/2016

Share Some Positive

Posted by

Kathy Wall

on

12/16/2016

Hour of Code

Posted by

Kathy Wall

on

12/8/2016

Native Americans

Posted by

Kathy Wall

on

11/14/2016

Pirate Day

Posted by

Kathy Wall

on

10/10/2016